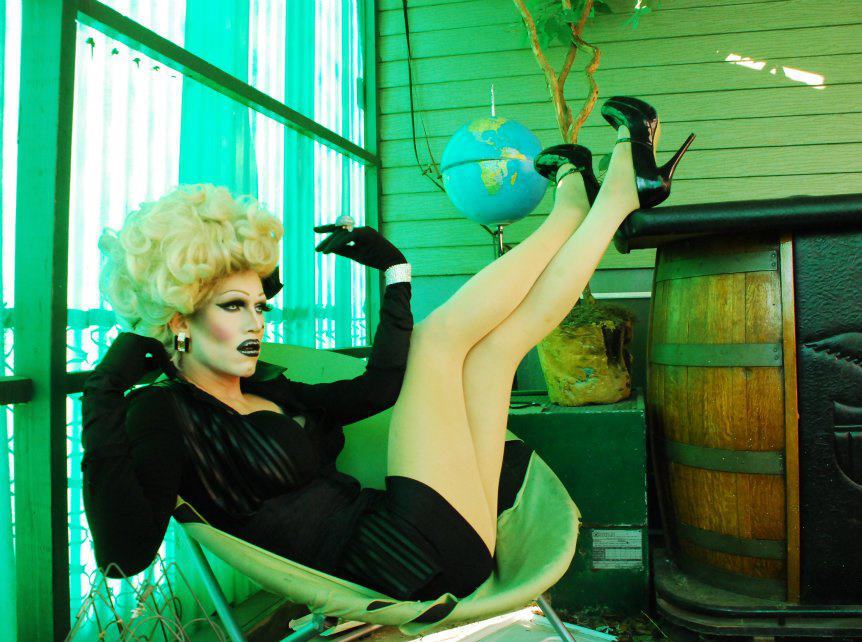 Nark/Kevin Kauer has made it official: This year's HUGE "Hey Tranny It's Tranny" Pride party at Neumos on Friday, June 22nd is now SOLD OUT!! But, fans of RPDR Superstar Sharon Needles need not fret…you'll have one more opportunity to check out the Goth Drag Princess in her only Seattle appearance for the year. Miss Needles, her partner in life/crime, Alaska Thunderfuck and some of the other performers at "Hey Tranny" are also going to pop by The Grill on Broadway's pre-func event that same night.
The Grill's "Pre-Pride Freak Out Party" is sponsored by Patron and gets underway at 7pm that night (and goes until midnight) with hostess Mama Tits and performances by Sylvia O'Stayformore, the Haus of Lady Dude and DJ Disco Vinnie. Sharon Needles, Alaska Thunderfuck and TBD other "Hey Tranny" stars will be available for a meet n' greet and photo ops prior to their departure for their show at Neumos at 8pm. Please note Ms Needles and Company will NOT be performing at this pre-func event! It's an opportunity to bask in her awesomeness; revel in it! (AND, this is a FREE event; NO Cover!)
In other Drag-a-Licious and Pride related news, Ms Needle's runner up in this past season of "RuPaul's Drag Race", the divine Chad Michaels, will ALSO be coming to Seattle for an appearance that week, this time on Thursday, June 21st and at a special Pride edition of Neighbours' "Dirty Pop" with DJ Drew G and Aleksa Manila. Sadly, neither the Facebook invite nor Neighbours' irritating and dated website have much info as to times or cover charges. Even more strangely, Ms Michaels' photo is really SMALL on the poster…uh, Neighbours, she's a drag superstar and hugely popular and you're undoubtedly paying her a large amount of money to appear at your event; (we've heard what her quote is, and it's a LOT!) It might behoove you to actually focus the poster on Chad Michaels…and provide more information 'cause she's a beloved performer.
Just sayin'….
Tags: Chad Michaels, Dirty Pop, Hey Tranny It's Tranny!, Sharon Needles, The Grill on Broadway