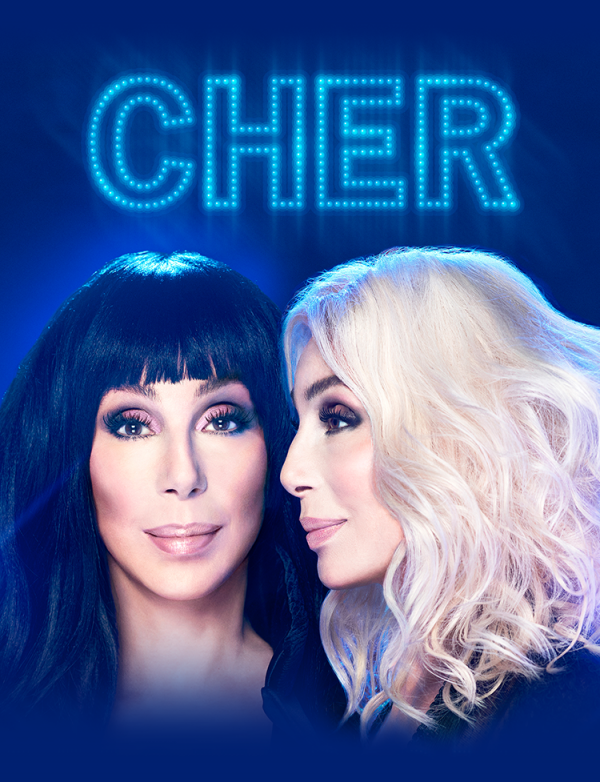 You will Believe in….well, 
CHER!
Seattle Men's Chorus will celebrate all things Cherilyn Sarkisian La Piere Bono Allman, the Queen Diva of Pop Music for 50 years, with their annual spring concert at McCaw Hall. It's for two shows only, on March 30 and 31st with over 200 SMC members on hand PLUS very special guest star CHAD MICHAELS from RuPaul's Drag Race. 
All the poo you could want and snag tickets HERE!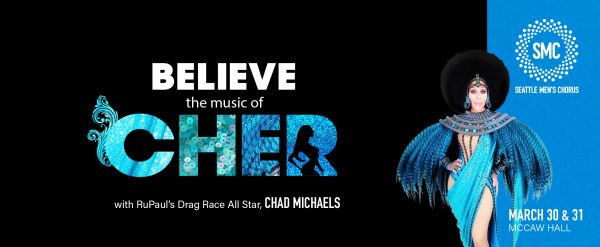 Seattle Men's Chorus Performs 
Believe: The Music of Cher March 30 & 31, 2019
 Special Guests: Chad Michaels, Winner of RuPaul's Drag Race All Stars,Young Singers from Washington Middle School
SEATTLE, WA –For two performances only, more than 200 singers from Seattle Men's Chorus (SMC) will bask in six decades of #1 hits. Believe: The Music of Cher runs at Seattle's McCaw Hall on March 30, 2019 at 8pm and March 31, 2019 at 2pm. It features a special appearance by the nation's premier Cher impersonator Chad Michaels who hair-flipped his way to the championship of RuPaul's Drag Race All Stars.
As part of the choruses Youth Engagement Program singers from Washington Middle School will join SMC on stage on Sunday March 31 to create a multi-generational chorus and premiere a new work. Together, under the guidance of composer Jim Papoulis, and published by Hal Leonard, the new piece evolved from the young singers' collective thoughts, fears and hopes revealed in a 2018 workshop. 
With 100 million albums sold and countless reinventions, no other diva compares to the Goddess of Pop and her groundbreaking success as a music, movie, and style icon. If I Could Turn Back Time, Believe, and Strong Enough are just a few of the Cher hits SMC will perform. As always, SMC packs their performances with all the songs, sparkle and sequins you'd expect for the ultimate tribute.

Tickets to McCaw Hall Seattle performances are $25-$81 and available at www.seattlechoruses.org or over the phone at (206) 388-1400. The Seattle area box office is open Monday through Friday, 11:00AM-6:00pm.
In September 2012, Chad Michaels joined the cast of RuPaul's Drag Race All Stars which pits the best Drag Queens in the business against each other. Needless to say, Chad rose to the top and became the winner of the $100,000 Grand Prize, and was the first person to be inducted into the "Drag Queen Hall of Fame"! Chad Michaels has dedicated 20 years to the exciting art of Celebrity Impersonation. Most notably, Chad's tribute to Cher has earned him international acclaim and granted him the opportunity to collaborate with, and entertain for, industry favorites including David Foster, Elton John, Cyndi Lauper, Christina Aguilera, Gwen Stefani, Tori Spelling, Perez Hilton, and even the Diva herself, Cher. Chad's career profile includes a two-year engagement with the Las Vegas production of Norbert Aleman's An Evening at La Cage and tours of the UK and South America. Television credits include the Cher E! True Hollywood Story, the Cher A&E Biography, MAD TV, Tori and Dean – Inn Love, Women's Murder Club, and Comedy Central's Gene Simmons Celebrity Roast. Chad continues to be in demand on the national night club and corporate circuit by delivering fresh and exciting re-creations to clients and audiences alike. Chad Michaels is a seasoned performer who hopes to leave you uplifted, entertained, and always wanting more! Chad recently impressed everyone with his performance as "Cher," for the legendary Cher, on The Talk. Even Cher herself was impressed! Chad lives in San Diego, CA, with his partner, Adam. 
A
bout 
the Youth Engagement Program for 
Seattle Men's Chorus/Seattle Women's Chorus
In 1994 Seattle Men's Chorus and Seattle Women's Chorus launched the 

Youth Ticket Program

 to 

provide cultural and personal enrichment opportunities for self-identified LGBTQ youth and allies

. In recent years the program has evolved into a broader reaching Youth Engagement program that incorporates 

motor coach transportation for youth organizations

 to events

, 

a performance and composition-focused collaboration with the Washington Middle School, and a partnership with TeenTix to m

anage 

low-cost 

ticket requests

 for all Seattle-area teens

.
A
bout Seattle Men's Chorus/Seattle Women's Chorus
The internationally renowned Seattle Men's Chorus (founded 1979) and Seattle Women's Chorus (founded 2002) comprise the largest community chor

al

 organization in North America.

 

Both choruses stand out as the largest LGBTQ-identified men's and women's choruses in the world. 

The choruses comprise one of 

the Pacific Northwest's largest, most vibrant and successful music organizations, 

performing in Seattle's most prestigious venues for an annual

 audience of more than 30,000 patrons

. Flying House Productions is the not-for-profit organization that governs and manages the Choruses. Collectively there are over 600 singing members along with staff, volunteers, and associate members who support both Choruses. They are a leading voice for the LGBTQ community and offer more than 30 outreach events and main stage concert performances annually.
Our Mission
Our voices transform society through innovative and entertaining programs that build community, illuminate the experiences of LGBTQ people and their allies, expand inclusion, and inspire justice.
A more harmonious world that celebrates the unique identities and talents of all people.
(Visited 11 times, 1 visits today)