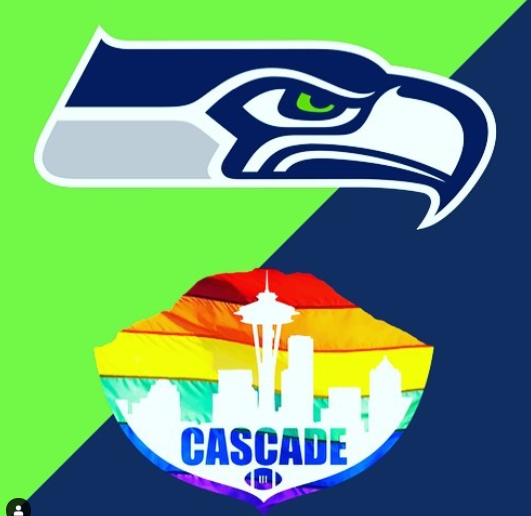 Via Press Release:
Cascade Flag Football Association (CFA), Seattle's premiere flag football league for the LGBTQIA+ community, announced today a new sponsor – the Seattle Seahawks. The sponsorship begins with the 2019 season and includes a financial contribution on behalf of the Seahawks in addition to other benefits that will further enhance the experience of CFA players, game officials, and fans.
"We embrace the opportunity to support causes and organizations who encourage and celebrate a love of the game and foster a positive environment for people to connect with others in our community," said Jeff Richards, Seahawks VP of Marketing and Community Engagement, "We are proud to support the CFA and their commitment to an inclusive flag football league within the Seattle community."
"This is an exciting time for Cascade Flag Football. In addition to furthering our mission to make the sport accessible to a more diverse audience, we are actively working to expand our impact in the greater sports community. With the support of the Seahawks, we hope to not only further improve our mission, but increase what we are able to do within the greater community," Brian Hawker, CFA Commissioner.
This partnership continues a recent trend of sponsorships with professional NFL teams and their local programs. Specifically, the Minnesota Vikings sponsorship of the Minnesota Gay Flag Football League (MNGFFL) and the Denver Broncos and New England Patriots sponsorship of the last two national Gay Bowl tournaments, hosted in their respective cities.
Founded in 2016, the CFA formally brought LGBTQIA+ and ally flag football to the Seattle area. Since its founding, the organization has more than doubled in size, moved from playing in Seattle's suburbs to playing in the heart of Seattle's gay scene in Capitol Hill, built two national travelling teams, and entered into a partnership with the Master in Sports Business Leadership program at Seattle University.
Registration for its spring 2019 season is now open, with first games beginning March 23. Games will be played on Saturdays at the Bobby Morris Playfield in Cal Anderson Park. Prospective players and individuals wanting more information about CFA can visit www.cascadeflagfootball.org.
(Visited 2 times, 1 visits today)