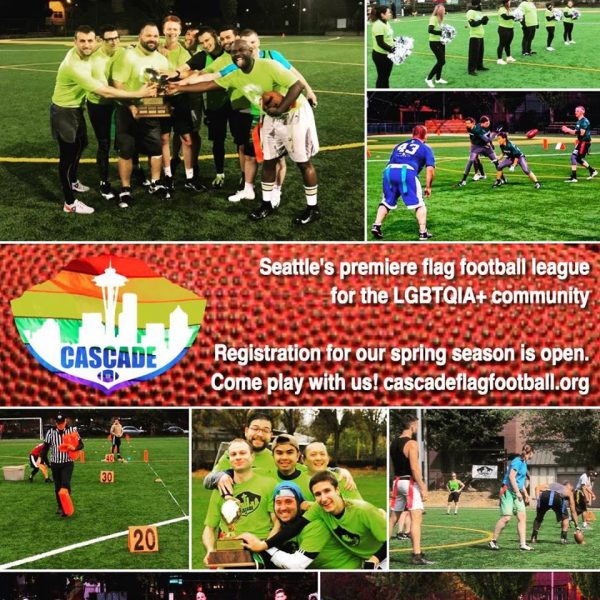 If so, Cascade Flag Football's Spring Season is upon us and so is registration to participate in the season which begins March 23 and goes through May 18th. 
For those of you ready to sign up, then go HERE to do so. If you're looking for more info, Cascade Flag Footballers will be out and about on Capitol Hill THIS Saturday night (February 23, 2019) doing a pub crawl to spread the word and answer questions about the league. They'll kick off the night at Madison Pub at 8pm, then head to queer/bar at 9pm, RPlace at 10 pm and MIGHT make stops at Pony/Diesel/Cuff/CC's…they'll eventually end up Neighbours. 
Look out for them and here's more info below:
Join Cascade Flag Football Association's 2019 Spring Season. 

Beginners are welcome!

We have players of all skill levels, so regardless if you're completely new to the sport, or you're a well seasoned veteran, you have found your place with Cascade Flag Football!

The season will consist of a 2 week preseason, 6 weeks of regular season games, and post season play.  We will also have 1 scheduled bye-week / weather make-up during the season.
Teams have seven players on the field during the games, with the remaining team members on the sidelines, and are rotated in,
Registration fees are $75 for the season and include annual membership in the Cascade Flag Football Association

All skill levels are welcome.  Knowing your skill level helps captains to build balanced teams and provides everyone with the best chance to learn and have fun.  Give your best estimate if you're unsure of your skill level.

All players register as free agents and complete:

a skills self-evaluation to assist captains in forming balanced teams.
review and if appropriate agree to the  necessary waivers,

Teams members are picked by captains through a draft.

If you are interested in being a quarterback for your team, please indicate if you want to be primary or secondary QB.

Scholarships are available to help with the registration fee for players unable to afford it.  Please contact scholarships@cascadeflagfootball.org for more information.  Your request will be kept confidential.
(Visited 3 times, 1 visits today)