Yes…
TRAINWRECK!
This year, the Academy Awards should give itself an Oscar for "Most Fuck Ups in Producing A Damn Awards Show". It's been one disastrous decision after another from the Academy of Motion Picture Arts and Sciences, (aka "AMPAS") the fahncy name for the trade group that's been putting on the Oscars for over 90 years, honoring excellence in motion pictures that mostly make people cry.
Let's list this year's cock ups, shall we?
They weirdly hired not particularly funny comedian KEVIN HART to host this year's show…despite the fact he's kind of a bro-dude kind of comedian with little to no appeal for older women/arty types/the geighs who make up the core Oscar watching audience. Did AMPAS think hiring Hart would bring in millions of dudebros to watch the Oscars because he was hosting? And, of course there was a huge backlash against this hire since Hart has already been called out for homophobic jokes in his act.
They announced they weren't going to have all the songs nominated for Best Song (a dumb category anyway) performed on the show. Of course, Lady Gaga was all set to perform HER song from A Star is Born but Gaga did herself proud and basically told the Academy that they needed to showcase ALL the nommed songs and not just ones associated with big stars like herself and if they didn't, she was out. They caved.
Telling the winners from last year, they wouldn't be asked to present awards in this year's show, including Supporting Actress winner Allison Janney. After an outcry, they caved yet again.
Deciding that 4 "lesser" categories would be presented during commercial breaks to help speed up the show. The industry was outraged and demanded that all awards be given out live. The Academy caved.
I might be missing a couple more…it's easy to lose track after months of constant fuck ups. Of course, most of the problem can be attributed to the fact that AMPAS is freaking out because the Oscars, the traditionally hugely rated telecast that earns them the lionshare of their budget, has been losing viewers steadily over the last few years and they're desperate to "re-capture" those big ratings.
Which isn't going to happen.
It all boils down to changing tastes and, no surprise here, millennials are demonstrating that they're just not that into awards shows. Ratings are down for ALL of them, including past much watched shows like the Grammy Awards and the MTV Awards. A generation raised on "Everyone is a Winner!" isn't as into silly awards as previous generations. Not to mention they don't have much patience for long winded shows with endless commercial breaks.
Yes. Like breakfast cereal, top sheets and fabric softener, you can blame Millennials for the slow demise of Award Shows.
(I mostly keed. But, the demise of once popular things isn't really a "blamable" offense. Tastes change over time. Award Shows ARE kinda silly.)
That said, many people do still enjoy watching them…especially the starriest one of all, the Oscars. If you're not hosting/attending a private party (do people still do those? They used to be very popular and also seemed to have died out…) then here are options in the Seattle metroplex to watch the Academy Awards with a bunch of strangers while drinking expensive booze.
Note: As far as I know, all the events listed here are LGBTQ or LGBTQ friendly.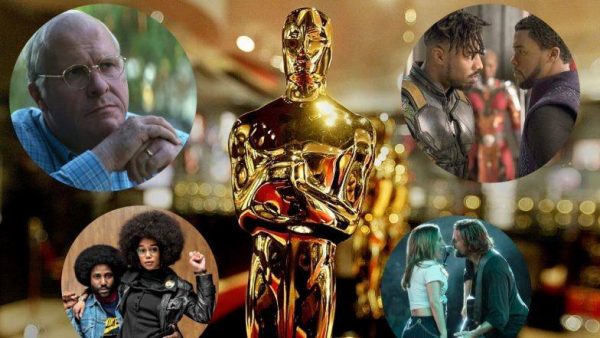 2019 Oscars at OutWest 5401 California Ave SW/West Seattle. LGBTQ Venue 3pm to 10pm
Time to pull out your best Oscar gowns for our 8TH ANNUAL HOSTED OSCARS EVENT OUTWEST this SUNDAY! We are opening early at 3:00pm so YOU don't miss a glamorous moment!

Come watch the show with academy trivia and prizes at commercial breaks in your black ties and gowns with the Oscars starting around 5:00pm…..who will you get best dressed?

TRIVIA! PRIZES! FREE PARKING! FREE SNACKS! FREE ENTERTAINMENT! FREE WIFI! FREE FUN!
The Clock-Out Lounge and MAP Theatre will be hosting a live viewing of the 2019 Academy Awards at The Clock-Out Lounge this year!

This is a free event open to all. Table seating is first come first serve.

Sunday Feb 24th
3:30 – 9:00PM
Doors open at 3:30 for Red Carpet Coverage. The Academy Awards show starts at 5pm
Join us for our annual Oscars viewing event! The show starts at 5:00.

Compete for prizes during our BINGO game, get 50% off select wine bottles and enjoy some special craft cocktails.
Come and celebrate the best night in film, hosted at Backyard by drag royalty, Queen Andrew Scott!

Games and prizes throughout the evening for correct ballot predictions, commercial-break trivia, and our very own red carpet runway. Best Picture-inspired food and drink specials to be featured. Free popcorn!

PLUS: Dress to impress for our costume contest! There are two categories—formal wear and nominee inspired—with a special award for winners.

Individual GA tickets are $5 and reserve you a seat. Large VIP Tables (seats 5-7 people) are $50 and include a bottle of bubbly. Small VIP Tables (seats 2-4) are $25 and also include bubbles.

We will show red carpet style right at 4 followed by the live broadcast at 5 so COME EARLY to find your seat, fill out a ballot, and catch all the fabulous fashion.

Prizes include CASH, gift cards, and other surprises we can't tell you about!
Ticket includes access to the party, one drink ticket, food, and festivities.
 
Academy Awards Party: Doors open at 2:00 pm, red carpet at 4:00 pm, and the show begins at 5:00 pm!

Dress to impress, our celeb photographer Eric will be snapping pics from 4:00 to 6:00 pm.

Starring…. Absolut and Red Bull Drink Specials!

No cover and Pick the Winner / Win a Prize

Join us on February 24 for our Black Tie Red Carpet Oscars Viewing Party with MCs Waxie Moon & Rebecca Mmm Davis.

Tickets on sale NOW: https://www.brownpapertickets.com/event/4068242
21+

$15 Adv / $20 Day Of
$95 VIP Package, which includes:
* Four tickets
* Reserved seating
* Table service
* Bottle of Bubbly
* Unlimited truffle popcorn for TV watching
* Swag
* Photo with your hosts Waxie Moon and Rebecca Mmm Davis

Contests and prizes for:
* best gown
* best suit
* best dressed Hollywood couple.
* Pick all 24 category winners correctly win the grand prize!

Plus: Red Carpet Photos
Loews Hotel 1000 and Santa Margherita Wines invite you to the 1st annual Oscar Night Viewing Party. Join us for the 91st Annual Academy Awards as you view the star-studded evening from the comfort of our stylish Bell Lounge. The Oscars may not have a host this year, but let us be yours for the evening.

Guests will receive:

-A welcome glass of champagne or wine

-Passed hors d'oeuvres throughout the night

-A gourmet popcorn station

-A dessert station

-Oscar bingo & trivia for prizes

-A best dressed contest
Oscar Party at Lumber Yard Bar 9619 16th Ave SW/White Center/SW Seattle. LGBTQ Venue. 5pm to 9pm
Come Join us as we show this years Oscars! We will show it upstairs and in the Lounge. We will be serving Free Nibbles and Drink specials. Grab your ballot and win a Lumber Yard gift certificate for the most correct predictions.

Join us on February 24th, at 5pm for the Oscars viewing party, hosted by Seattle burlesque sensation, Lucy Lips! The show starts at 5pm but Happy Hour starts at 4pm. Enjoy drinks specials, tasty fried chicken sandwiches and complimentary popcorn while the show plays on the giant screen at queer/bar!

Stick around after the show for Genderf_ckt, Seattle's monthly trans/queer/Enby variety show + babefest, hosted by the one and only, Kara Phoebe!
Join us at CC's for the 91st Annual Academy Awards Sunday February 24th, in witnessing one of film's biggest nights. In the category of Best Music (Original song), special performances will include performances from: Jennifer Hudson, Bradley Cooper/Lady Gaga, Gillian Welch and David Rawlings and the legendary Bette Midler. All of which will be shown on all 25 screens including our 90 & 110" HD screens with sound!!
Hollywood celebrates Hollywood on the biggest night of the awards season.
Which films will take home the coveted statue? Who will dress to impress? Will the best song presentations be delightful or awkward? So much fun to be had watching The Oscars on our big screen.
Hosted by nobody!

This is a free event. No need to buy tickets. Show up, order some food and drink, and enjoy the night!
(Visited 1 times, 1 visits today)