DRAGAPALOOZA®
LIVE-SINGING DRAG ROCK EXTRAVAGANZA
HITS SEATTLE PRIDEFEST JUNE 22, 2017
America's top Drag Stars usher in new era of live streaming entertainment
as they stop lip-syncing and start singing with a LIVE band
at DRAGAPALOOZA on June 22nd at Seattle's historic Egyptian Theatre.
DRAGAPALOOZA has been selected as an official event for SEATTLE PRIDEFEST 2017.
Seattle, June 1, 2017 (www.dragapalooza.com) – DRAGAPALOOZA is an exciting new twist on a worldwide phenomena. Traditional drag queen shows generally feature a performer lip-syncing to pre-recorded music, whereas DRAGAPALOOZA features a cast of talented drag queens and television stars singing with a live rock band. It is equal parts rock concert, musical theatre, fashion show and cabaret. The headliners of DRAGAPALOOZA peel the tape off traditional drag performance and expose their raw talent!
The first DRAGAPALOOZA, held in Southern California this past January, broke the box office record for the historic El Portal Theatre in North Hollywood by being sold out two nights in a row and garnering positive reviews from fans and press alike. The live show features numerous stars from cultural juggernaut RuPaul's Drag Race, including Season 4 winner Sharon Needles. The performing headliners are some of the brightest and dynamic live performers in the world of international drag.
"I'm going to smash my Gibson guitar and sweat my own wig off," exclaims fan favorite and Season 7 alum Trixie Mattel, whose debut album "Two Birds" recently debuted at #2 on the iTunes Top Albums chart. "Being part of Dragapalooza is everything I've been working towards as a performer. It's the perfect blend of my drag and musical inspirations," said Derrick Barry, Season 8 finalist, and Las Vegas Strip icon. Rhea Litré, who hosts a weekly revue at The Abbey in West Hollywood, CA, was a special surprise guest at the January show and is returning as a full cast member to the Seattle show, along with Drag Race Season 8 alum, and Seattle hometown hero Robbie Turner.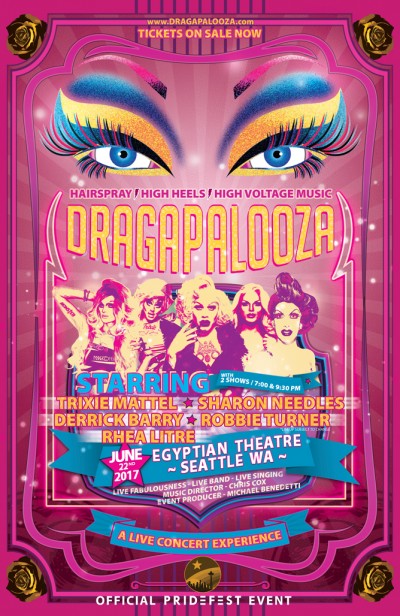 "Seattle was my home for many years, and it's a city I adore. When we first started the DRAGAPALOOZA tour discussions, Seattle was our top priority and I am truly thankful that we are partnering with SEATTLE PRIDEFEST. Our show is about having fun and experiencing something beyond your imagination. Get ready Seattle!" said Michael Benedetti, the show's co-creator and executive producer. Benedetti is the president of Executive PR and Talent, a full service booking and management agency.
Grammy nominated music producer Chris Cox serves as the show's co-creator and musical and artistic director. "I had the opportunity to perform in nightclubs with a few of these girls, as well as working with Derrick Barry in the recording studio, and I was blown away by how naturally talented there were. I wanted to help provide a platform that can showcase those talents. We're presenting an exciting group of entertainers that are more than flashy outfits and pretty faces. It's so exciting," said Chris Cox, his enthusiasm on par with his co-producers Michael Benedetti and Los Angeles event producer Ann Potenza, who handles sponsorship and media requests for the show.
DRAGAPALOOZA will hold two separate performances on June 22, 2017, the first show at 7:00pm and the second at 9:30pm. Tickets range from $20 general admission up to $250 for a full VIP experience, which includes an artist meet and greet and photos on stage with the cast. There are two special "Diamond Level" seats where the participants will get to join the cast on stage and be part of the live performance.
Five Senses Reeling Events is a Seattle-based event production company that specializes in bringing well known and up and coming LGBTQ (and allied) artists to cities throughout the northwest. "When we saw the uniqueness of the show, the all-star line-up and success that the show had in Los Angeles, we knew then that we had to bring DRAGAPALOOZA to our cities in the Northwest. By partnering with SEATTLE PRIDEFEST and becoming an official event of PRIDE, we got even more excited as the exposure and reach of the event has grown by leaps and bounds," said promoter Jason Brotman. "Is it PRIDE week yet?!"
Tickets are available at www.dragapalooza.com/tickets
(Visited 1 times, 1 visits today)