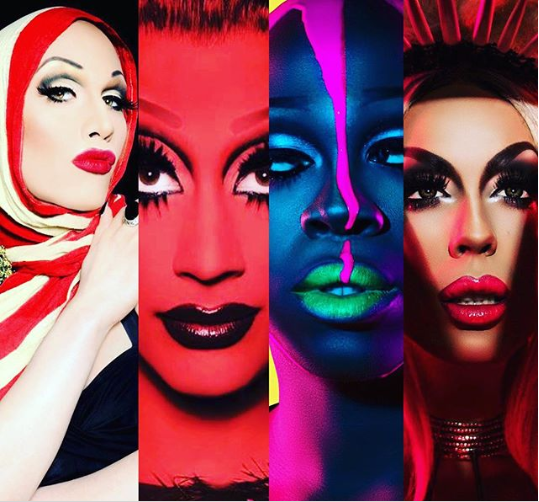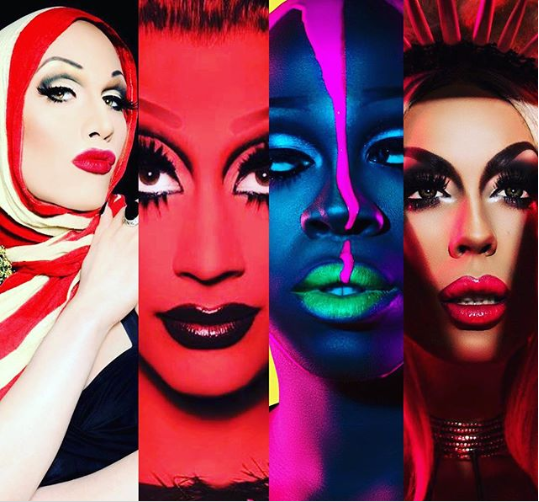 Bitchez are ON CRACK!!!!
That was my response after seeing Entertainment Weakly's recently published ranking of all the winners of the various configurations of RuPaul's Drag Race…both the winners of all 10 regular seasons plus the 3 All-Star competitions. And, while I entirely agreed with their top AND bottom choices, (apparently made by EW writer JOEY NOLFI, who I'm sure is a lovely yet deluded person), I have a LOT to say about all the ones in-between. 
If you want to see the EW article, sadly you have to click on this link to go to their page full of fucking annoying pop ups….another thing that enrages me. Hey! Let's do quick survey! If you go to a website and it's full of too many pop ups and videos and nonsense that impede your user experience and slow your device down, do you GO BACK to that site very frequently? I sure as hell don't….
Apologies for the digression.
Back to EW's terrible horrible RPDR rankings…
Their #13 choice is the trainwreck known as:
13) Tyra Sanchez (Season 2)
aka, the dumb beeATCH who threatened to blow up DragCon this year but then brushed it off with "I'm just JOKING!!!!" Poor dim Tyra…she's not had the career she would have liked to have had. Since she was the winner of a very early season, the pickings and booking money weren't at the levels that they later became. But, I also know she shot herself in the foot "back in the day", during her winning year by over pricing her gigs and asking for airfare/hotel for her entourage of "back up dancers". Clubs weren't ready to pony up $5 to $7k in those days for RPDR stars so she lost out by being in the wrong place and wrong time. (And, you might also argue, that like many Queens of Color, she's been shut out of the RPDR super fandom but that's a discussion for another rant…)
Tyra did have talent and she certainly was a flawless LOOKING queen but bad luck, poor decisions and increasingly poor choices made of late with her social media and public declarations and threats of violence have tarnished her image. She sadly deserves to be in the bottom spot for those choices.
AND, I also fully agree with the #1 choice: BIANCA DEL RIO, the winner of Season 6 of RPDR. I mean….duh! The Clown Queen of Drag Comedy is still selling out shows worldwide and while not everyone adores her rude, non pc brand of insult comedy, there are many more who enjoy her frankness and quick wit…as well as her ability to poke holes in sacred cows ranging from current politics to RuPaul herself.
Bianca is HAPPY to tell her story about how RuPaul stole Lady Bunny's air conditioner back in the 80s…
So….#13 is spot on and #1 is spot on….what about EW's 11 choices in-between?
FUCKIN' AWFUL!
Mostly-ish.
Here they be:
12. Violet Chachki (season 7)
11. BeBe Zahara Benet (season 1)
10. Aquaria (season 10)
9. Chad Michaels (All-Stars 1)
8. Sasha Velour (season 9)
7. Jinkx Monsoon (season 5)
6. Sharon Needles (season 4)
5. Raja (season 3)
4. Alaska Thunderf—ck (All-Stars 2)
3. Trixie Mattel (All-Stars 3)
2. Bob the Drag Queen (season 8)
To start, I'm not sure if it's even fair to have AQUARIA ON such a list…I mean, the poor bitch has only been crowned for like a WEEK! She hasn't had a chance to do much of anything, good OR bad, other than annoy the millions of people who didn't want her to win Season 10. AND, I have little to no opinion on her for the simple reason I didn't WATCH season 10 and I haven't seen Aquaria perform in person yet.
As for #'s 12 and 8: VIOLET CHACHKI and Sasha Velour, I'm kinda ok with them being in the lower half…no offense to either of them but I rank glamour queens lower than performance queens ALWAYS. And, I'm going to annoy people by sticking Miss Raja from Season 3 in this group, too because while she is a brilliant stylist, would you really pay much money to see a Raja PERFORMANCE?
And, I feel guilty for sticking talented gals in the bottom half but…not that much.
Violet just seems to wear outfits.  She actually does belong at #12.
Let me think some more about Sasha.
I'd stick CHAD MICHAELS AT #11…the old school Cher impersonator is entertaining, if you like Vegas style drag impersonators.
I don't.
Let's put BEBE ZAHARA BENET at #10…a TINY improvement from the EW list where they have her at 11. She was "nice" on Season One but…
Nice is kinda boring. And, she returned to All-Stars 3 this year and she was still nice…and, still boring.
EW put RAJA at an astounding #5…I'm going to annoy her fans by plunking her at #9. I was always pissed off it was obvious she was going to win on her season (3)…it was overly produced to shove her down our throats as the winner (though, they kinda did that with Bianca on Season 6, too….)
At #8….hold on to your cocktails….I'm putting TRIXIE MATTEL which EW very queerly ranked way up at #3 for…unfathomable reasons.  I do "like" Trixie but….as I described her on my original Facebook rant about the EW article: "Trixie is 'Bozo the Depressed Folk Singing Clown' "
A little goes a long way. And, she didn't even REALLY win All-Stars 3….that crown rightfully belongs to BenDeLaCreme.
(And, I know it's her signature look but….I hate that damn make-up.)
And, let's stick AQUARIA in the middle for now, at #7, since we don't know enough about her. But, one false move and DOWN you GO, gurl….
Getting back to SASHA VELOUR…let's put her at #6. For now.  I think she still has more tricks up her sleeve. Hopefully.
# 5 is….hmmmmm. Tough spot. I'm going to annoy all the SHARON NEEDLES haters by putting her here. I think she HAS made some terrible/stupid/dumb/awful choices along the way, in an effort to be a "shock queen" but I've looked into some of the allegations (the racist/nazi stuff) and some of that is circumstantial based on photos taken out of context. But, Sharon's STUPID choice of words at times, including "n word" dropping isn't cute and it does behoove her to address that better publicly. Do I think she's really a racist who hates people of color? No, I don't. (But, obviously I'm not a person of color. And, I don't know her personally.) Has she offended people with poor choices? Yes, she has. Is she talented? Definitely. Should she work a bit harder at mending fences? Yes, she should.
Moving on.
Entertaiment Weekly's BIZARRO choice of having BOB THE DRAG QUEEN at #2 was really one of the main things that made me insane about their list choices. REALLY? BOB THE DRAG QUEEN. THE SECOND BEST RPDR WINNER????
REALLY?
Bob DOES have talent; funny and quick witted with great charisma. I've always said, he would be great on a television sitcom.
But…
Poor Bob ISN'T as gifted as other funny RPDR queens. I've seen his stand up and it's clever at times but….long winded. And, Bob also has a tendency to be a motor mouth incapable of shutting up while onstage with others and has a really nasty habit of upstaging other performers but not to his benefit. He just comes across as desperate (and, I'm basing this personal observation mainly on his annoying performance in the Peaches Christ parody of "Hocus Pocus" in the fall of 2017. Bob kept pulling focus while onstage with Peaches and Jinkx…disrespectful and it derailed the show. IMO.)
Also: Bob isn't always the best at looks or make-up (which can be said of a certain Ms Monsoon, as well…)
I'm going to give Bob the #4 spot but he has a weak hold on it…Aquaria or Sasha could shoot up here if they shine.
#3 is obviously ALASKA THUNDERFUCK. She's funny, fresh and talented. She can shock but unlike her former lover Sharon, she knows how to shade that shock. She's a popular star who earned that popularity with her charisma, uniqueness, nerve and talent. She's a real All-Star.
Now…onto the fury.
Yes. I'm biased about my #2 which Entertainment Weekly SO FUCKING ODDLY STUCK AT #7!!!!! HALFWAY!!!!!???!!???
WHAT. THE. FUCK??!?!?!?!?
IN WHAT WORLD IS JINKX MONSOON LESS TALENTED THAN RAJA THE FASHIONISTA, BOB THE DRAG QUEEN WHO CAN'T STOP TALKING, AND TRIXIE THE DEPRESSED FOLK SINGING CLOWN?!?!?!?!?
No.
Again, bias. Hometown gal. Know her. We're "friendly acquaintances". Helped make a movie about her. Blah, blah, blah.
Still. HELLA talented across MANY fields. Funny as fuck. Can act. Can sing (or sell a number). Great charisma. Versatile. Creates her own theater shows. Make up and outfits were pretty bad back in the day, but very much improved. Bianca's huge success makes her the obvious #1 but Jinkx is CAPABLE of similar success.
And, Jinkx's one movie is still WAAAAAAAAY better than BOTH those awful shitty movies Bianca made….
Truth.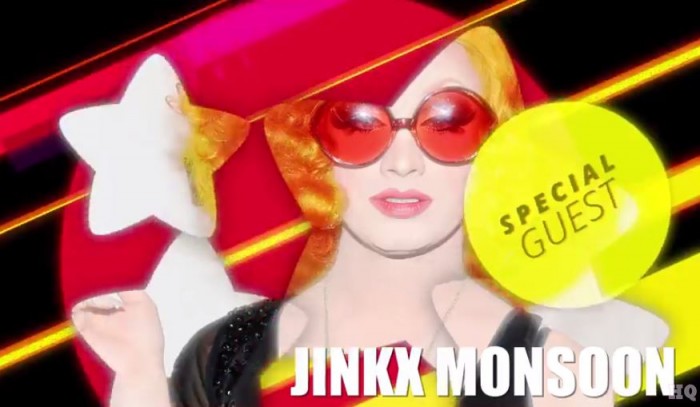 The Strangeways Definitive List of Ranked RuPaul Drag Race Winners 2018 Edition
13. Tyra Sanchez (Season 2)
12. Violet Chachki (season 7)
11. 
Chad Michaels (All-Stars 1)
10. BeBe Zahara Benet (season 1)
9. 
Raja (season 3)
8. 
Trixie Mattel (All-Stars 3)
7. 
Aquaria (season 10)
6. Sasha Velour (season 9)
5. Sharon Needles (season 4)
4. 
Bob the Drag Queen (season 8)
3. 
Alaska Thunderfuck (All-Stars 2)
2. 
Jinkx Monsoon (season 5)
1. Bianca Del Rio (season 6)
(Visited 3 times, 1 visits today)