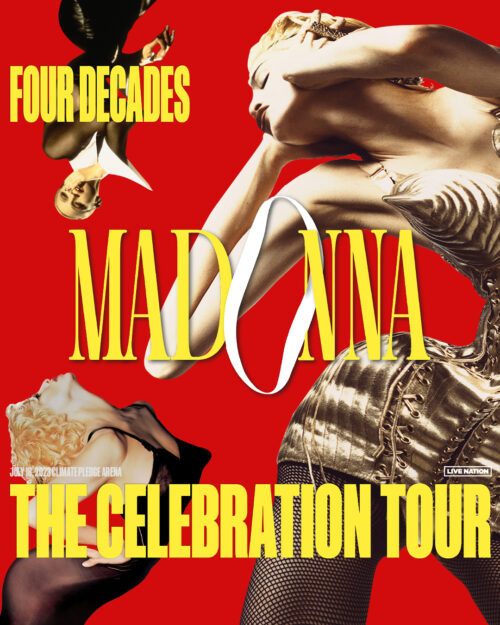 Everyone's favorite sixtysomething Material Girl is back on the touring bus.
Yes, the iconic MADONNA confirmed the rumors today that she will be returning to global stages this year for her "The Celebration Tour" featuring her many hit songs from her 40 year career as a recording artist.
The diva announced via a video that mimicked her 1991 documentary film "Truth or Dare" featuring Madonna and a gaggle of celebrity "pals" having a party where comedian Amy Schumer challenges Madonna IN a game of 'truth or dare' and dares Madonna to do a greatest hits tour.
For some reason, Jack Black was also there.
So was Bob the Drag Queen, the winner of RuPaul's Drace Race Season 8 in 2016 who has been announced as being…the opening act? Part of the show? We're not quite sure what exactly Bob's role will be, but he'll be part of the tour which is the reason why Bob cancelled the remainder of his OWN Sibling Rivalry Tour with Monet X. Change last week. Apparently, Bob's role is big enough that he needs to be in rehearsals with Madonna for the next several months prior to the start of The Celebration Tour in July.
As for the tour, pre-sale advance tickets have already started going on sale including for the Tuesday, July 18th show at Seattle's Climate Pledge Arena. The tour will play select dates in North America through October 7th before hitting Europe for dates through the end of 2023. More advance tickets are dropped this Thursday, then General Admission tickets this Friday.
We've already seen hardcore Madonna fans snapping up tickets on our social media…though we've also seen others post things like "No, thanks!" largely due to being annoyed by past Madonna concerts. The diva has a bad reputation for starting her shows an hour or two behind the scheduled start time…
Maybe Bob the Drag Queen was hired to entertain the crowds while Madge gets ready!
(Visited 25 times, 1 visits today)