The buzz is in the air.  The hype is being built.  Something new and exciting is on the horizon.  Then after the second month, it's boring.  I have seen this happen to many a nightlife venue/concept in the last 20 years.  The shiny new toy marketing wears off faster than the your latest bedroom conquest these days.  You build it and they will come for a minute, then you have to put your money where your mouth is and give the community something to look forward to.  I believe the "same thing, same way, all the time" approach to business was meant for operations, not events.  I ask Seattle to step up its game.
Club owners who pump all their savings into their hopes and dreams, but don't come up with a sound marketing plan are just pissing their money away.  I have seen so much money wasted on sound systems and bar design with little or no revenue pumped into booking events.  I don't believe the boys and girls seeking entertainment will stay longer than one drink to see a cool bar design.  You have to give them meat!  Knowing what kind of meat Seattle wants is the question.
I worked for a club owner in my early years who was convinced that the popularity of his bartenders were the key to his success.  He had virtually zero turnover and a packed bar every day, not just weekends.  He never booked DJs.  He simply played music videos.  This was a very 'Purr' approach to the stand and model bar.  It worked for most of the 90s.  Then a bar opened down the street where we could get $3 martinis for happy hour followed by a different style cabaret show.  This kept our attention.  Sure the popular bartenders got customers in for one or two drinks, but nobody said, Let's go to Woody's."  They were saying, "Let's go visit Bill."  There is a problem with the bar at that point.  'Bill' should be the icing on the cake.  How does a bar stay relevant?  How does it re-capture the spotlight?  Is it worth taking this journey into ownership in the highly competitive nightlife business?
I will tell you a little story, when I was in Washington DC, I was the co-owner of a small nightclub.  Take it from me, it is definitely a lot of stress and hard work.  I had a shitty location outside the gay community.  (Imagine if Lobby was located in Pioneer Square.)  Yes, that was my obstacle.  How do I get the market to come to my venue?  Booking events that the community wanted was key.  I spent money on names.  International gaylebrities, reality tv stars, and local popular community leaders were booked.  I hosted everything from Bear Happy Hour to Jello Wrestling. I even hosted a foodie event called flavor tripping.  I believed that if I didn't have something going on, then why be open?  This taught me a lot about marketing and promoting. This is the difference between a successful bar and the status quo.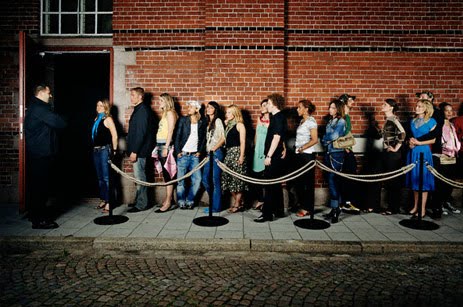 I am not saying I have all the answers.  What works in one market, will fail in another.  My problem is I have developed some pride in Seattle for just being here a short time and when my east coast friends visit me, I want to take them on bar tours.  I don't want to say "well, we can go anywhere cause it is all the same."  That is how I feel these days.  We need to up our game. I was excited when the Social and Evo finally opened.  I assumed these venues were going to reinvent nightlife in Seattle.  I was excited to see what Evo had up its sleeve for their cabaret concept.  I was excited to potentially hear a DJ Tony Moran spin at Social.  I know for a fact that I am not the only member of our community who has been let down by the event programming in these beautiful spaces.    I am excited for the new Q, which is set to open in September 2012.  They appear to be doing the build out and media posts in the manner which I have seen very successful clubs follow during the opening process.  We will flood that bar with a lot of expectations just as we did when The Social and Evo opened.  What do you want to see?  What do you expect?  What do you want?  I can tell you what I expect.  I expect fast, fun bartenders, a meticulous design and layout, international DJs at least once a month, and EVENTS!!  I feel like the recipe isn't hard, it just needs to be executed. I expect Q to capitalize on their nightclub operations experience and really WOW our community.  Is there room for another nightlife venue in Seattle?  Absolutely!
I have been asked by those who know me from back east, "Why don't you open something?"  "Are you going to run a bar again?"  I know how much work it can be.  Am I up to that challenge again?  I don't know.  I do know one thing for sure, if I build it, I will make for damn sure I will do everything in my power to listen to the needs of the city I serve and plan accordingly.
(Visited 1 times, 1 visits today)