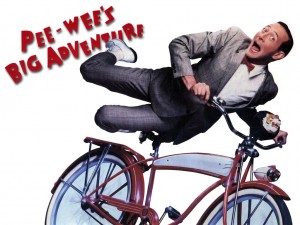 Summer is definitely here…well, you can't tell by today's mediocre weather but another harbinger of Seattle summer is the yearly outdoor film series in Cal Anderson Park put on by Three Dollar Bill Cinema. It's kicking off tonight at dusk (8:30pm-ish) but get there before that to grab prime seating AND to enjoy pre-film entertainment by 12HR Notice DJs and their Shopping Cart Soundsystem. It also behooves us to remind you that this event is FREE but you can buy lovely snacks, rent cushions and/or donate money to Three Dollar Bill Cinema to support all their awesome programs including the upcoming Seattle Lesbian & Gay Film Festival in October.
This year's outdoor screening theme is all about hitting the road with four classic "road movies" on tap. Things kick off tonight with the beloved 1985 comedy, "Pee Wee's Big Adventure" starring our favorite eternal adolescent Pee Wee Herman and directed by Tim Burton.
PEE-WEE'S BIG ADVENTURE
When Pee-Wee Herman's sweet ride is stolen, he hits the road in hot pursuit, encountering the wildest cast of characters this side of the Alamo in this wacky comedy-adventure that put director Tim Burton on the map. (1985, 90 min.)
The film series continues next week with the Elvis Presley/Ann-Margaret romp, "Viva Las Vegas", followed the next week by "The Wizard of Oz" and wrapping up on Friday, August 17 with the deliciously naughty, "Priscilla, Queen of the Desert". They're all winners in our book, but we're most looking forward to "Priscilla" and the likelihood that a couple hundred people will be dancing along with Bernadette, Mitzi and Felicia as they make their way across the Austalian Outback in a dilapidated Winnebago…
Also: the ping pong ball scene.
Tags: Cal Anderson Park, Family Friendly Events, Free Events, Outdoor Summer Film Series, Pee Wee's Big Adventure, Three Dollar Bill Cinema