Three Dollar Bill Cinema has kindly released a list of screenings for the upcoming Seattle Lesbian & Gay Film Festival that are likely going to fill up so it might behoove you to snap up tickets if these films are on your "Must See" list…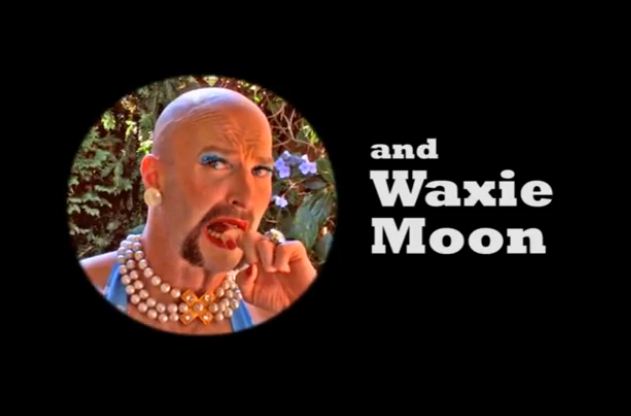 1) It's not a shock that "Waxie Moon in Fallen Jewel" is a hot ticket item…it's a locally made film by Wes Hurley and it stars our own beloved dancing, gender blending, multi-talented diva icon Waxie Moon. AND, it features an all-star local cast of talent including Sarah Rudinoff, Marya Sea Kaminski, Nick Garrison and many, many more, (even little Miss Jinkx Monsoon has a couple cameos in it…). It COULD be selling out because it has a cast of hundreds, or it could also be scores of fans desperate to see their favorite local performers. OR/OR, it could be the awesome party that will follow the screening on Friday, October 19th. Regardless, don't dawdle if you wanna go experience the charms of Ms Moon and Friends. (PS: It has an AMAZING soundtrack written and performed by local artists.)
2) Even though "Cloudburst" played the Seattle International Film Festival this year, the Canadian made film by Thom Fitzgerald is apparently a well-regarded, little charmer. That, or a lot of people missed it when it was here earlier… This Centerpiece Gala also screens on Friday, Oct 19th, immediately BEFORE the "Waxie Moon in Fallen Jewel" event and also at Pacific Place. You might as well make it a full night of LGBTQ cinema. This well reviewed cinematic treat stars two Academy Award winners: Olympia Dukakis and Brenda Fricker, and it's about two Golden Gal Lady Loving Ladies who have to go on the lam in order to be a couple. It's a "Thelma & Louise" for the senior set! (But, without the Grand Canyon…)
3) This is about the 17th mention we've made about "Bear City 2: The Proposal" which screens THIS coming Friday, October 12th so we won't babble on too much about it, but it's evident that fans of the original film will be out in force to see what the adorable bears from the first film are up to now…Apparently, they're in Provincetown for a wedding and they've added some name actors to the cast including Kathy Najimy and Kevin Smith. AND, two of the actors from the film are scheduled to attend!
4) It doesn't screen until the final day of the Festival; Sunday, October 21st, but the documentary "Seventh Gay Adventist" is generating a lot of heat. Here's the synopsis:
Faith, identity, and sexuality collide as three diverse gay and lesbian Seventh-Day Adventists struggle to follow both their church and their hearts. His five-year-long ex-gay experience behind him, David seeks to fit his new boyfriend into his family and community. Marcos, a deposed Brazilian pastor, fights to reconnect with his calling and win back his job. Sherri wants to give her own kids the same upbringing she had despite her church's response to her love for another woman. Each is working to find a sense of place and belonging in the fastest growing Christian denomination in the United States.
5) Finally, the Lady Loving Ladies who love and appreciate short films made just for them, are apparently snapping up tickets to this Saturday, the 13th's screening of "Girls Shorts" at the Egyptian at 12:30pm. Click the link for the line-up and to buy tickets. The Egyptian is a big cinema, so it's impressive that a film shorts package is selling so well. Obviously, the women of Seattle are avid film fans.
DON'T DAWDLE if you want to see these films!!! Click the links to buy tickets to these films and to check out all the films on the SLGFF website.