What to do, what to do…it's Thanksgiving Eve and while many of us are going "over the river and through the woods" to Grandmother's House, there are also folks more likely to be staying local and perhaps dropping by Tranmother's House tomorrow for ToFurky and Gluten-Free Stuffing. If that's the case, you might be wandering out tonight, and maybe tomorrow as well, so it's good to know what's the buzz for the next couple of days.
For Cranberry Eve, ie tonight, Wednesday, November 21st, you have a number of options…Q is hosting a "Pre T-Day Dance Party" with DJ Nark and Blueyedsoul starting at 9pm. Here's the poo:
11/21/12 9:00pm – 2:00am
A special dance party dj'd by Nark (The Playground) and Blueyedsoul (The Woods), sure to be a hoppin' night! Come out and get some cardio in before you get your meat and potatoes on. 9pm-Close, $7 after 10pm, free before.
Meanwhile, The Cuff has DJ Stacey Cooks spinning starting at 10pm and The Seattle Eagle has DJ King of Pants kicking things off at 8pm for their pre-turkey funk parties.
The Wildrose is going the Karaoke route with host Sarah starting at 8:30pm and Neighbours is offering up their usual Undergrad night with guests Drew Paradisco & DJ PBear / Trent Von / Ian Powers for the 18+ crowd.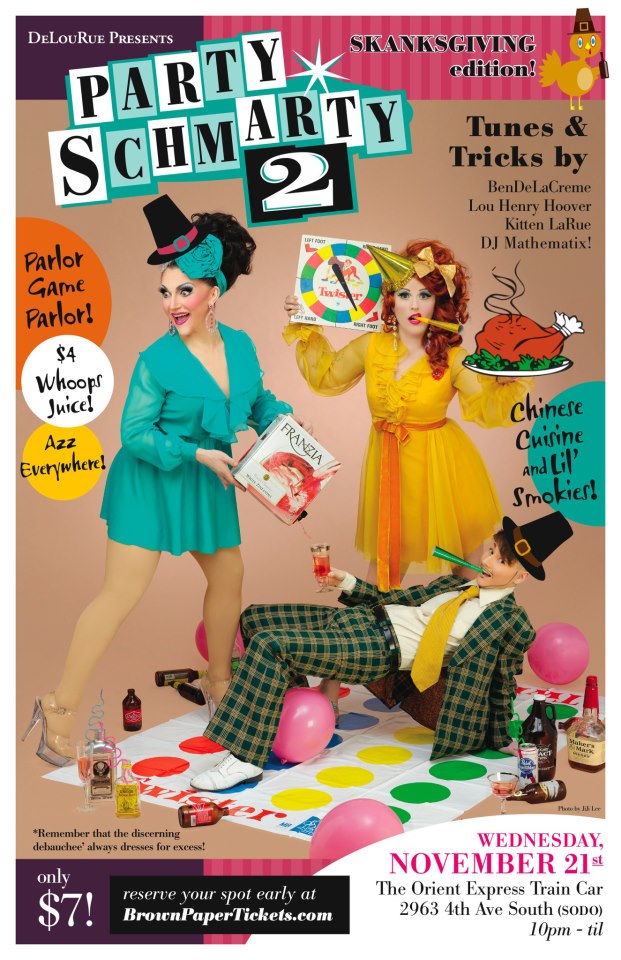 If you're looking for something artier/fartier and skankier, then the kids at DeLouRue Productions have just what you're looking for…they're doing another installment of their "Party Schmarty" events at The Orient Express in SoDo but this one is the "Skanksgiving Edition". What the hell is Ben DeLaCreme and Company up to?
Seattle's "Sophisticated Sh*tshow for the Swanky Skankster" returns for a pre-tofurkey-day gobble-a-go-go!

Kitten LaRue (co-creator of legendary club night TRAINWRECK!) and drag superstars BenDeLaCreme and Lou Henry Hoover join forces with DJ Mathamatix of LICK fame to bring you the weirdest, bangin'-est, most tucked away cornucopia of showbiz dance-party realness ever to hit a train car/Chinese restaurant on Thanksgiving Eve!All this delight for only $7!

The Orient Express Train Car (2963 4th Ave S, SODO)
Who wouldn't want to get drunk before going to Grandma's house the next day? It makes family holidays so much more bearable!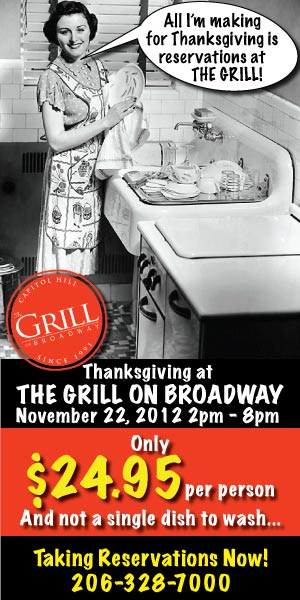 If you don't want to visit the fams, or bother with going to ANY trouble for your Thanksgiving needs on the day itself, you always have the lovely option of Thanksgiving Dinner at The Grill on Broadway from 2pm to 8pm…it's delicious and a bargain at only $24.95 for all you can chow down.
As for Thanksgiving night, some venues are open and some are not…We know The Crescent, The Eagle, Neighbours are all open and Pony is offering up a special T-Day Dance with DJs Pavone and Pretty Baby starting at 9pm and as usual, no cover. As for other venues, we know Q is closed and ElektroPop isn't happening….it might behoove you to go check websites/Facebook pages for your other favorite haunts to find out what is open and what is not. We'd do it for you, but we have yams to glaze.
Oh, and please remember to NOT drive and drink. You shouldn't anyway but they also step up patrols during the holiday season to nab dummies who drink/drive so not only do you NOT want to kill someone while drunk driving, you also really don't need the hassle of a DUI.
Happy T-Day everyone!
Tags: Thanksgiving, Thanksgiving Events