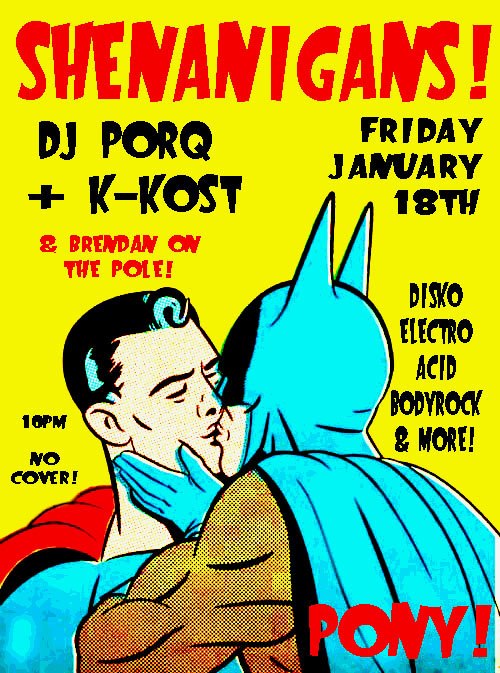 Choices are hard.
You have lots of them tonight (Friday, January 18) in the "We Love The Nightlife" Department…
Mr. Nark is back with some mo' DickSlappin' at The Eagle. DJ Trouble and hot Portland Go Go Boy Ross are special guests along with the usual displays of perversion and gelatin shots…It's 10pm to 3am and only $5. Even oldsters like Mr. Strangeways find this to be a helluva lot of fun.
Nark frequently wins the naughty homo event poster sweepstakes, but this week we have to give it to Pony and their lovely homoerotic art work for Shenanigans…we're guessing it's the work of the very talented Mr. Marcus… Anyhoo, DJ Porq and DJ K-Kost will be doing their music thing while everyone's favorite little woodland creature/dead ringer for a young Czar Nicholas, beloved local Go Go Boy, Brendan will be shakin' it on the pole. Doors also at 10pm and as usual, no cover.
We're not sure what it's all about, but we love the name of the event…The Wildrose is offering up GLAMSLAM with DJ Kipprawk and $5 Fireballs all night. Not sure about a cover, but if there is one, we're guessing it's $5.
Meanwhile, at The Social, their STUPID, FUCKING VALET PARKING will be probably once again fucking up traffic on Olive Way…WHY are they allowed to get away with BLOCKING traffic to offer valet parking to the assholes dumb enough to go there?!?!?!? WHY?!?!?!?!? Call your local city councilperson and COMPLAIN if you've inexplicably been stuck in traffic for this FUCKTARDED reason!!!!
And, do I really have to tell you that all these events are 21+?
Tags: Dickslap, DJ Porq, Glamslam, NARK Magazine, Pony, Shenanigans, The Seattle Eagle, The Social, The Wildrose