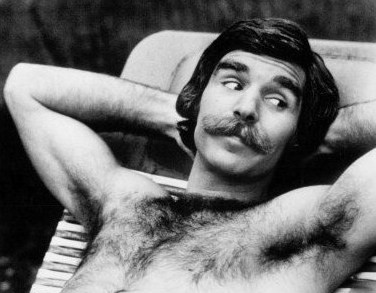 He wasn't gay, but a generation of gay men grew up watching porn legend Harry Reems. To modern eyes, he's a bit too short, too hairy, too…well, Jewish looking to be a porn superstar, but for those of us who appreciate the short, hairy and Jewish, he was a demigod of sexy masculinity appearing in hundreds of porn films and becoming a major media celebrity in the 1970s as the male star of the notorious film "Deep Throat" and for the prosecution of Mr. Reems for appearing in that film. Big Hollywood stars like Warren Beatty and Jack Nicholson stood up for Reems during the trial, and he had hopes of a non-porn film career, but his famous friends faded away after the trial. Reems' co-star Linda Lovelace was not prosecuted; she later wrote a memoir "Ordeal" detailing years of abuse at the hands of her husband/manager Chuck Traynor and strongly condemned the adult film industry as sexist and misogynistic. Lovelace died in 2002 after a car crash. The 2005 documentary, "Inside Deep Throat" examined the making of the film and the ensuing controversy and featured Harry Reems as one of its principal interview subjects.
Harry Reems, who left porn in the 80s, battled various addictions and eventually became a born again Christian living in Utah and selling real estate, died yesterday, March 19 from pancreatic cancer at age 65.
Here's a video clip of Reems on a Canadian talk show discussing his prosecution/conviction on the Deep Throat conspiracy charges…he's very articulate but the odd host and the fact that one of the other guests is comedian John Candy makes this look like a sketch from the old SCTV show.
A toast to Harry Reems…aka Herbert Streicher. Even if you hate porn but like freedom of speech, Mr. Reems was a pioneer in the war against censorship.
(Visited 193 times, 1 visits today)