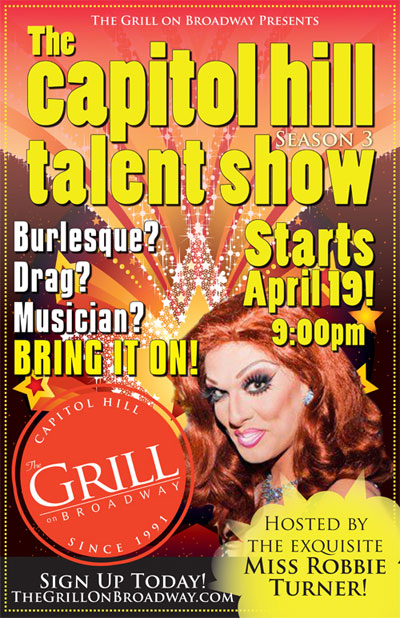 If you missed it last time 'round, you missed seeing the insanely talented Karin Parks walk away with the Grand Prize. Since she's not competing this time, more folks will have a chance, but there is a rumor she's judging in the final round!
The Grill is offering up competition in three categories: Drag/Burlesque, Live Music and a third "Wild Card" category for the assorted sword swallowers, interpretive dancers and other acts that dazzle and amaze, but aren't exactly Drag or Music specific.
The first of six preliminary rounds begins on April 19, 2013 at 9:00pm – hosted by Miss Robbie Turner, accompanied by the musical stylings of DJ Tony Burns and DJ Skiddle.
Competitors sign-up form is HERE. Participation is open to anyone over the age of 18, and participants are reminded to provide their own backing tracks, props, etc. and are responsible for cleaning up after themselves should they make a mess of the stage.
One would think that since finalists are determined by audience response, it behooves a performer to bring a bunch of friends to stack the audience in their favor… just a thought…
(Visited 1 times, 1 visits today)