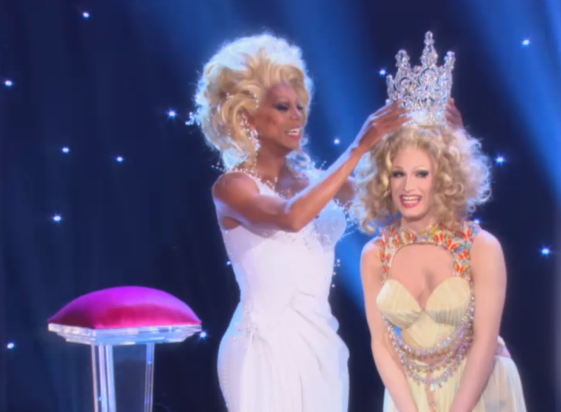 Ah, the end of Season 5 and the official coronation of our own Miss Jinkx Monsoon… how have you enjoyed the first week of Monsoon Season, bitches?
As we've recapped the episodes of this season, let's take a look back at the competition that made this season so. fucking. entrancing!
After being at the Hollywood Premiere of this season, and meeting all these gorgeous queens, it was almost hard to watch these girls on TV – I'd almost always say "But she was so nice in person!", although it does make sense how skittish Roxxxy was when she was talking to us on the pink carpet when she saw our little "Seattle Gay Scene" tag on the carpet.
From the first episode, we could almost determine who would be in it for the long haul, and who'd be out in the first half of the season. Of course, there were a couple surprises along the way – frankly, I counted Roxxxy out early on, but for the most part, predictions here at SGS headquarters were pretty on the money.
Let's take a look at this season's lineup, shall we?
#1 – The Sacrificial Lamb: Penny Tration – This one really broke my heart, to be candid. But that first challenge just brought her down. Do yourself a favor and Google her, watch her videos, and get to know the queen that didn't get enough screen time.
#2 – The Littlest Queen: Serena Cha Cha – Meh. In the two episodes she was on, she referred to her "art school" education more than a few times, and yet we saw nothing artful at all.  But, she's very young. Give her a couple years to get her polish on, and we might see a very different performer.
#3 – The Girl With a Secret: Monica Beverly Hillz – She was clearly in a dark place about something, and in her last episode she shared her secret that she wasn't just a drag queen, she was actually a transgendered woman. She unburdened her soul on national TV, which can be no small feat, and she's only looking better and better since then.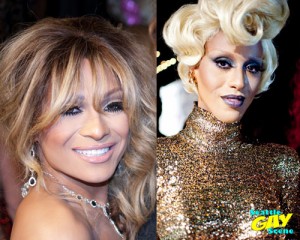 #4 – The Doomed Duet: Honey Mahogany & Vivienne Pinay – At the Hollywood premiere, Honey Mahogany looked like a glass of champagne still bubbling – so gorgeous I could barely contain myself. Same story with Vivienne Pinay – absolutely smashing. But, both these queens just didn't quite click with the process. Honey could fit perfectly into Seattle's Drag Community, and Vivienne could too, for that matter. But the show isn't for everyone – there is a game to be played there. And in the first double-elimination in show history, they both learned that hard lesson.
#6 – La Borinqueña: Lineysha Sparx – Probably the hottest boy there, and a mighty hot queen… maybe it was a language barrier or cultural hump that she couldn't quite clear, but she's got a career ahead of her. And plenty of time to study up on her herstory…
#7 – Candy Coated Yawns: Jade Jolie – Ugh. From the annoying laugh, to the pseudo club-kid couture, Jade made my brain hurt. Any freshman Psych 101 student in the world could see the insecurity and crushing need for approval that seeped from every pore. It didn't help that she didn't just OWN her porn-performing past, she tried to minimize it. Girl, please. If Rob Lowe can get over it, so can you. Her boring performances and overcompensating cuntiness in the work room didn't endear her to many.
#8 – The Circus Girl: Ivy Winters – This was the first elimination since Penny that actually made me sad. I kinda wondered how long she'd survive, but she was so damned cute, and such a fun performer to watch. But after her lackluster performance as Marilyn Monroe during the snatch game, we knew her days were numbered.
#9 – Pageant Thing #1: Alyssa Edwards – We've been pretty vocal about how bored we are with the "pageant queen" aesthetic. She's crazy as a shithouse rat, and we were all WAYYYY over the Coco vs. Alyssa drama, but she'd kinda redeemed herself as being not entirely unlikeable. It was time, and with talks of a spinoff in her near future, she'll be just fine.
#10 – Pageant Thing #2: Coco Montrese – The other half of the pageant-based pseudo scandal followed in the next episode. Coco was full of vitriol and shade, and couldn't ever get the difference between painting for stage, and painting for TV (not that it wasn't a challenge for several of the competitors…) But, whether she knows who Little Edie is or not, she has a fine career in Vegas that will be paying her bills for quite some time.
#11 – The Perpetually Over It Girl: Detox Icunt- by the time this episode aired, we were all a little concerned who could possibly be in the top three – at this point, there were no obviously throw-aways, although Roxxxy had made herself into an utterly unlikeable character a la Phi Phi O'Hara, so we were pretty sure she'd be staying around just to provide some drama. Ultimately, Detox floundered in this episode with an inspiration-free acid green dress, but our own dear Jinkx wasn't far behind, delivering on the low-end in the candy dress challenge. But when the Lip-Sync For Your Life was to Yma Sumac's MALAMBO No. 1, we knew Jinkx wasn't going home. We here at SGS seriously fucking worship Detox- and her monochrome 40's starlet look at the Finale had us all gagging – but she was clearly undone by her "over it" attitude that was just a little uncomfortably reminiscent of Paris Hilton in better clothes.
The Holy Trinity: Jinkx Monsoon, Alaska Thunderfuck and Roxxxy Andrews – clearly we were all #TeamJinkx from the minute such a hashtag existed, but seeing her up against Alaska and Roxxxy nearly made us squee with delight. We would NEVER be so shady as to say "Well, of course she won! Look at her competition!" but we certainly all thought it. Roxxxy's gorgeous, don't misunderstand, and when we met her in LA, I personally stared at her makeup in AWE! Talk about Peanut Butter! And Alaska, LOVE! Gorgeous! Funny! But always seemed to not quite hit it hard enough…
So, after much anticipation, endless tweeting and hyper-specific hashtags, Seattle's own Jinkx Monsoon is crowned as America's Next Drag Superstar… well, duh, we all thought. Of course! We've known that she's amazing for quite some time. And frankly, we also all kinda knew that this day was coming… that one day Jinkx would no longer be our amazing little secret that we keep hidden here in Seattle. She now belongs to the world, and we're immensely proud of her for it.
What does this mean for the future for Seattle's Drag World? RuPaul has clearly been made aware of Seattle's drag community – not that she hasn't been for a few seasons now, because you know some local queens have auditioned for the show. But now there's not only been a Seattle girl ON the show, but one who has WON the much-coveted title, and the right to really big appearance fees for at least a year! My dear queens, you should know by now, the bar has been raised.
Here at SGS, we love drag in all it's permutations and expressions – clearly. And we see a ton of it here, and we've seen some less than stellar performances in the last couple years. Understand that if you really want this to be your career, or at the very least be taken seriously while you're doing it, there's no more half-assed performances where you forget to use your face to emote. There's no more looking bored half-way through your own number. There's no more chewy lip-syncing to overplayed and overwrought club music whilst clomping around the stage like a spastic clydesdale. There's no showing up drunk and/or high. Those days of phoning it in have passed. Elevate, polish and shine. Or take your basic-drag ass home, and break out the albolene.
For now, the spotlight is on Jinkx, but it's also on Seattle. Now's the time to make your publicity machine work for you.
In RuPaul's own words, "I don't wanna see no half-steppin'."
(Visited 1 times, 1 visits today)