We feel a bit sorry for Three Dollar Bill Cinema, our friends who produce the Seattle Lesbian & Gay Film Festival AND the upcoming Translations Film Festival which runs Thursday, May 9 through Sunday, May 12. We're having ridiculously NICE weather and nice, sunny, warm weather in Seattle is not conducive to film festival going. Who the hell wants to sit in a dark movie theater on one of Seattle's rare gorgeous days?
But, you should. Translations is one of the few film festivals in the world focusing on films about the transgendered community. Film fanatics get few opportunities to see many of these unique films. And, obviously, it's a centerpiece event for the trans community. It's not like there are 85 trans-centric events a year…every opportunity to gather the community together is an important one.
Translations isn't just for the trans community, however. At heart, it's simply a chance to see a lot of great film. The festival kicks off on Thursday, May 9th with just such a great film…or rather a great multi-media event.
Opening Night – LIVE "Gender Failure" (May 9, Harvard Exit Theatre, 7:15 p.m.)

"Gender Failure" is a live multimedia performance of original music, video and spoken word by trans artists Ivan Coyote and Rae Spoon, featuring animation by Seattle's own Clyde Peterson.  "Gender Failure" explores and exposes the prolific pair's failed attempts at fitting into the gender binary.  Equal parts hilarious and heartbreaking, Coyote brings her razor-sharp timing and powerful narrative to the piece, while Spoon adds an ethereal voice and poetic turns of phrase to the dynamic duo's now seven-year old partnership.
And, some other highlights of the festival:
Closing Night — MELTING AWAY 

(May 12, Northwest Film Forum, 7:15 p.m.)

MELTING AWAY explores the depths of family ties and the meaning of forgiveness.  When Assaf's parents discover women's clothing under the teen's mattress, they kick him out of the house.  Four years later, with Assaf's father dying, his mother hires a private detective to find Assaf. Instead, the investigator finds Anna (Chen Yanni, nominated for an Israeli Oscar), a Tel Aviv cabaret singer who seems uninterested in a reunion but later contrives a secret plan to visit her family. Winner of the Audience Choice Award for Best Feature at the 2013 Boston Jewish Film Festival and the 2013 Seattle Jewish Film Festival.

Other Highlights:

IT GETS BETTER 

(May 10, Northwest Film Forum, 7 p.m.)  Transgender filmmaker Tanwarin Sukkhapisit creates an authentic and moving film with three intertwined story lines that grow increasingly tighter as the drama progresses.  Gorgeous scenery, spectacular performances and entertaining club routines compliment the message behind the stark realities of relationships, family and seeking acceptance: it does get better.

TURNING 

(May 11, Northwest Film Forum, 2 p.m.)

, 

is a sensual and moving exploration of femininity and the basic desire of belonging.  The experimental documentary is an examination of the critically acclaimed European touring collaboration of musician Antony Hegerty, of the renowned band Antony and the Johnsons, and videographer Charles Atlas, featuring 13 remarkable women, most of whom are transgender or queer.

 

Ticket Information:

Individual tickets: Festival pass, $60.  Opening Night: $16 in advance; $20 at the door.  Single tickets:  $10.

 

Three Dollar Bill Cinema Members save $2 on full-price tickets.

 

Youth and Senior Tickets: $8. Youth are 21 and under; seniors are 65 and over. Please present ID at the box office.
Here's the full line-up for the festival. Go to the website for more information and to purchase tickets or a full festival pass.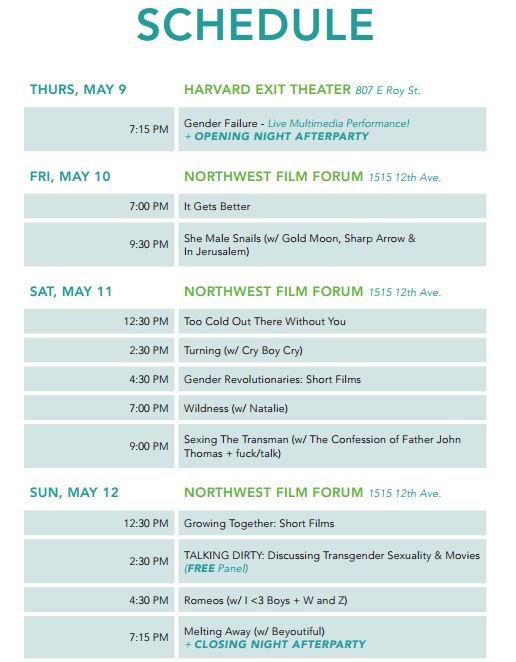 (Visited 1 times, 1 visits today)