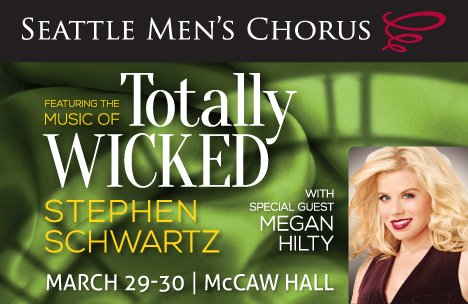 We sang their praises last week but we feel compelled to remind you NOW that the Seattle Men's Chorus has a delightful concert this weekend featuring the music of acclaimed Broadway composer Stephen Schwartz that will showcase songs from his hits including PIPPIN, GODSPELL and WICKED. And, since WICKED is obviously his most recent/currently beloved hit show, the concert is being called TOTALLY WICKED, so you can expect several numbers from that hit show, including, we surmise, DEFYING GRAVITY and POPULAR.
It also features the adorably talented MEGAN HILTY as very special guest star and you have TWO opportunities to experience this concert treat, Saturday, March 29 at 8 pm AND Sunday, March 30 at 2 pm with both shows performed at McCaw Hall at Seattle Center. Tickets still available for BOTH shows; grab them HERE!
And, folks with younger kids who might not be quite ready for a full length concert experience have the option of Seattle Men's Chorus and Seattle Women's Chorus annual CHILDREN'S CONCERT which is a FREE event happening on Saturday afternoon at McCaw Hall (and NOT featuring Ms Hilty). It's a special program designed for families with kids of all ages and there are also special Creative Play Workshops prior to the show. You do need to reserve your free seats AND spots in the workshops. Go HERE to sign up. 

We're also giving away a pair of tickets to the SUNDAY, March 30th performance at 2 pm. Click on the Facebook link over to your right, and if you haven't already LIKED us, please do so. The tickets will be given away on our FB page!
Tags: Seattle Men's Chorus, sgsapp, SMC, Ticket Giveaways, Totally Wicked