The floodgates for Seattle Pride 2014 have definitely opened with bits and pieces released over the last couple weeks. But, the flood is a'risin' with today's news about Nark Magazines line-up for his annual GENDER BLENDER party/fundraiser. This year the party is moving to Pride Thursday, June 26 and funds are being raised for Gay City Health Project and Gender Justice League. The venue is going to be Neighbours. The entertainment: pretty amazing.
Headlining and hosting will be our drag superstar, BENDELACREME fresh off her "RuPaul's Drag Race" Season Six experience. She'll be joined by her co-star, JOSLYN FOX for RPDR 1-2 punch. As mentioned earlier this week, "NEW YORK" AKA TIFFANY POLLARD, the co-star  of Vh1's "Flavor of Love" will be the VIP host. Hot DJ Tiffany Roth, aka Midnight Magic will be the main DJ.
The musical guest is the rising hot new star, LE1F, recently seen on "The Late Show". The openly gay hip hop artist is known for his work producing and performing on "Fuckin the DJ" by Mykki Blanco and his hot, new, just released EP, HEY.
Other musical performers include BOY FUNK & RAP GIRL, and PURPLE CRUSH. Local talent taking the stage will include local stars like Amoania, Adé, Mama Tits, Dieana Dae, Cherry Sur Bête, Olivia LaGarce and Cherdonna Shinatra. Riff-Raff and Roy G Biv will also be spinning.
Since it's Neighbours, the 18+ crowd can enter from 2 am to 4 am for their own set of performances.
And, if that wasn't enough awesome sauce, Nark Magazine is staging an entire weekend of Pride-y Fun. It kicks off with GENDER BLENDER on Thursday, June 26 then heads to The Seattle Eagle on Friday the 27 with DICKSLAP PRIDE. Nark and Company will return to the High Seas for Daytime Boat Party on The Islander Yacht  on Saturday the 28th and it all wraps up on later that night (Saturday, June 28) with the closing party at the new, hot basement club venue Kremwerk, which is located on Minor on the same block as Re-bar. Additional talent for these events will be announced soon.
But, you CAN be smart and buy your VIP tickets to Gender Blender NOW as well as a full weekend pass to attend EVERY Nark Magazine Pride 2014 event. Bop over to StrangerTickets to snag them while you can. Note that these Early Bird tickets for GB are for VIP only; General Admission will go on sale at a later date.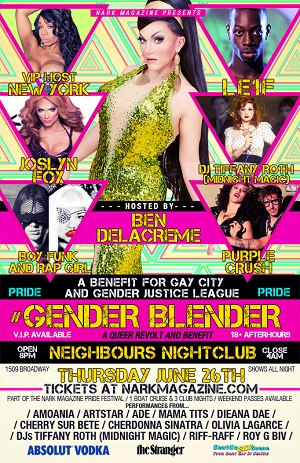 (Visited 1 times, 1 visits today)