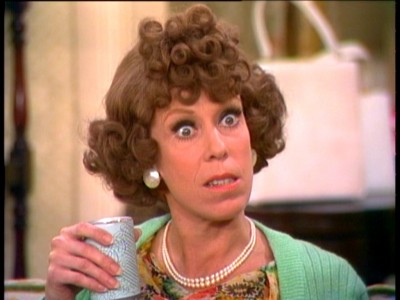 Our icon is coming to Seattle this Friday. 
The One.
The Only.
Miss Carol Burnett.
If you don't adore Carol Burnett, there is something seriously wrong with you. 
You are dead to me.
The Queen of Comedy, Now & Forever, the legendary television/film/stage performer is coming to Seattle Theatre Group's Paramount Theatre on Friday, May 9, 2014 for a 7:30 pm, LAUGHTER AND REFLECTION WITH CAROL BURNETT….which is a sweet name for what is essentially a Q&A between the audience and Carol that mimics her famed opening to her classic variety show. 
And,  you just know she'll do her famous "Tarzan" yell.
More on the show and our Queen:
LAUGHTER AND REFLECTION WITH CAROL BURNETT
A Conversation with Carol where the Audience Asks the Questions

If there is one thing this renowned entertainer can do better than anyone else, it's talk at length, impromptu, before a live audience. Laughter and Reflection, Burnett's "off-the-cuff" banter with the audience, is a format that grew out of the question-and-answer sessions she shared with her studio audience on each episode of The Carol Burnett Show. As a weekly visitor in America's living rooms, Burnett always opened her show with a few minutes of hilarious banter with the audience. This is a rare opportunity to talk to Carol in the same enjoyable and intimate audience-interactive format. Carol told us, "I love the spontaneity of these evenings. I never know what anybody is going to say or do or ask, so it keeps me on my toes." Come with your questions and share in the fun with one of the country's most loved and respected performers.

Carol Burnett, award-winning actress and best-selling author, is widely recognized by the public and her peers for her work on stage and screen, most notably The Carol Burnett Show. Named in 2007 by TIME magazine as one of "100 Best Television Shows of All Time," The Carol Burnett Show ran for 11 years, averaged 30 million viewers per week, and received 25 Emmy Awards, making it one of the most honored shows in television history. But it is Ms. Burnett's artistic brilliance, her respect and appreciation of her fans, and her graciousness, integrity, warmth, and humor on and off screen that have made her one of the most beloved performers in entertainment and one of the most admired women in America.
Mr. Strangeways worships the ground Carol Burnett walks on. Her classic Saturday night variety show was a highlight of his childhood years and it STILL holds up today.
There are a million sketches I could post from the Burnett show but I'm going to go with this "naughty" outtake with Vicki Lawrence and Carol in a "Mama's Family" sketch.
Tickets STILL available!!! GRAB THEM!!!
(Visited 1 times, 1 visits today)