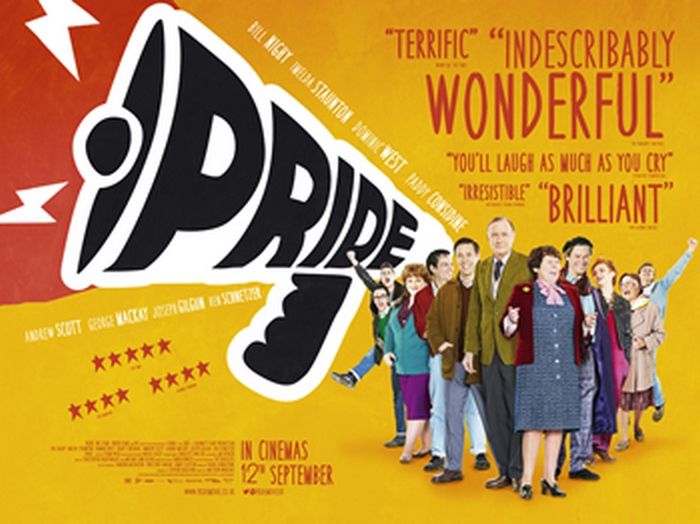 The 2014 Seattle Lesbian & Gay Film Festival runs October 9 through 19 so we technically can't say that a special sneak peek screening of the award winning film Pride, happening Thursday, October 2 is the actual kick off to the popular queer film festival produced by Three Dollar Bill Cinema, but it actually/kinda/sorta is. At the very least, it should get everybody revved up for the 19th annual festival which was just honored as a Grand Marshal in this year's Seattle Pride Parade.
More about Pride:
Get ready to cheer for this special benefit screening of the film that won the Queer Palm prize at Cannes.

PRIDE is inspired by an extraordinary true story and stars a brilliant ensemble cast, featuring Bill Nighy and Imelda Staunton.
It's the summer of 1984, Margaret Thatcher is in power and the National Union of Mineworkers is on strike, prompting a London-based group of gay and lesbian activists to raise money to support the strikers' families. Initially rebuffed by the Union, the group identifies a tiny mining village in Wales and sets off to make their donation in person. As the strike drags on, the two groups discover that standing together makes for the strongest union of all.
The film screens Thursday, October 2 at the Harvard Exit Theatre, 807 E. Roy Street on Capitol Hill at 7pm. Grab your individual tickets HERE but a SLGFF Full Series Pass will also get you into this event/screening. Grab passes HERE so you don't miss a thing!
AND, this screening is co-sponsored by Seattle PrideFest with an after party at Poppy, just around the corner from Harvard Exit at 622 Broadway East.
Check out the trailer:
(Visited 1 times, 1 visits today)