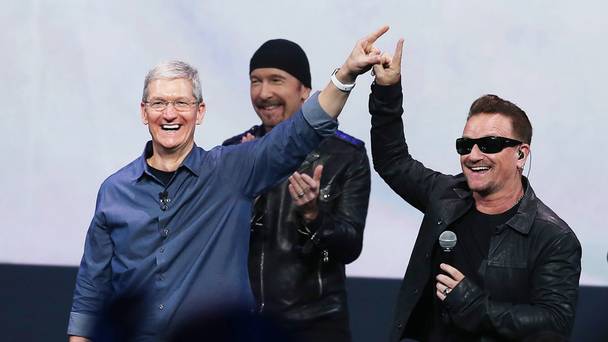 Middle Aged White Guys making odd sartorial choices…
September 9th 2014 started out like any other day with the added excitement that we were all about to hear about the new iPhone 6 and any other products that Apple was going to throw at us. After we all sat on the edge of our seats to for Apple CEO Tim Cook to tell us what we needed to buy to be cool, we were treated with the announcement that everyone with an iTunes account not only will receive the new U2 album Songs of Innocence, but it is already in our iTunes accounts. Oh Joy. While I know Tim Cook and Bono were probably trying to finally have their Oprah moment, the reception of a free album from the Irish Nickelback was less than warm.
Having put off listening to this album for the better part of a month I decided last night that it was time to listen to this album and track my physical and emotional experiences so you don't have to (you can thank me later, I take payment in the form of cupcakes). After getting home from work I grabbed my headphones, locked myself in my room and prepared myself to go where no one else really wanted to: into U2's Songs of Innocence.
Track 1- The Miracle (of Joey Ramone):
This track sounds like any generic U2 single with the staple "woooohooohooo" yell that has found its way onto every U2 song. While it does have a very upbeat sound, it is giving me a lot more Joey Fatone than Joey Ramone. This song isn't completely terrible, but it is failing to keep my interest and I am mostly now thinking about why N'sync won't do a reunion. I love you Joey Fatone.  One song in, and I am still feeling alright, it is a short album so I have high hopes that I will come out unscathed.
Track 2 – Every Breaking Wave:
This seems to be U2's attempt at reaching to the summer road trippers. You can tell Bono had his "Beyonce" sized fan pointed at him while writing this song so he could feel like he was driving to the beach. I am not sure exactly what story Bono is trying to tell through this song but I keep hearing something about love, a captain and a boat so I am pretty sure he is admitting to fucking the captain of a ferry. I am still feeling pretty sane. I am two songs in and nothing odd happening yet, aside from a slight twitch in my eye. I am sure that is normal though, maybe I am just sleep deprived?
Track 3 – California (There is No End to Love):
Oh exciting! They've some how found a way to mix Lady Smith Black Mambazo with The Beach Boys for their intro to their song about California. Once again I am not too sure on what Bono is trying to say, and I am drawing the conclusion that he must be Ariana Grande's enunciation coach.  I am not sure why a bad from Ireland is singing a song about California but I am going to let is slide and not look too far into it.
Track 4 – Song for Someone:
Ah yes, time for the ballad of the album. This is nothing like Cher's Song for The Lonely – this upsets me. I wish I could be listening to Cher right now. I love you Cher. I have come to the conclusion that the "someone" that Bono is singing about is himself. This song sounds like every ballad off every U2 album ever made, which is making me lose sense of all space and time.
Track 5 – Iris (Hold Me Close):
5 tracks into the album and everything is starting to sound the same. The only lyrics that are managing to stand out to me are "your light inside of me" which has made me come to the conclusion that Bono is the little spoon and a possible bottom. The twitch in my eye has moved its way to my sinuses, I don't know if this is changing of the seasons or if U2 has started to take its toll on my health.
Track 6 – Volcano:
I am really hoping there wasn't supposed to be a metaphor in this song because the lyrics are starting to make me hate most living creatures and I am praying that Mount Rainier decides to erupt to make this end. While the song is a very upbeat it is the longest 3 minutes and 14 seconds of my life. I am fully committed to making it through this album and I will not skip to the next track, even if it is taking a toll on my mental health.
Track 7 – Raised by Wolves:
What the actual fuck? This sounds like it could be the worst Thirty Seconds To Mars song ever made. The lyrics are quite depressing and I am starting to understand Britney Spears circa 2007, I have some clippers in my closet and might end up with no hair by the end of this song.
Track 8 – Cedarwood Road:
I am not sure if the lyrics in this song make sense or if I have actually lost the ability to comprehend words and sentences. The only lyric I keep hearing is "If the door is open, it isn't theft" which will be what I tell the jury when I am arrested at Best Buy for trying to steal any other album. Bono made me do it. 
Track 9 – Sleep Like a Baby Tonight:
Bono's small role in 2007's Across The Universe as Dr. Robert must have gone to his head in this psychedelic tune. He probably had his fanciest pair of tinted sunglasses on while belting out this lullaby which is only putting me to sleep because my body my be shutting down as a defense mechanism, much like when you freeze to death. No Ambien needed for me tonight!
Track 10 – This is Where You Can Reach Me Now:
Based on the title of this track alone I am expecting it to be a song about losing his phone and making a Facebook post about his new phone number. However it seems that this is a rebellious youth, anti-war song written by a middle aged man. I can't tell if he is singing about shoulders, soldiers or someone name Sonja. Enunciate Bono, quit your damn yelling and enunciate. Only one song left, I can do this.
Track 11 – The Troubles:
Well I guess it is fitting to end the album with a song titled The Troubles, as it is making me look back at all my troubles and life choices that lead me to sitting alone on my bed listening to a U2 album in its entirety. I do have to be honest and say that this is my favorite track on the album only because it features Lykke Li and her haunting voice that is leading me back into the real world.
I made it! I listened to the entire album without stopping so you don't have to.  If you do decide to listen to U2's Songs of Innocence,  you can either find it forcefully downloaded to your iTunes or join the 15 people who don't have an iTunes and buy the album on 10/13/2014 when it has it's physical release.  Now if you don't mind I am going to go bury myself in a tub of Trader Joe's Cookie Butter ice cream and forget this ever happened.
(Visited 5 times, 1 visits today)