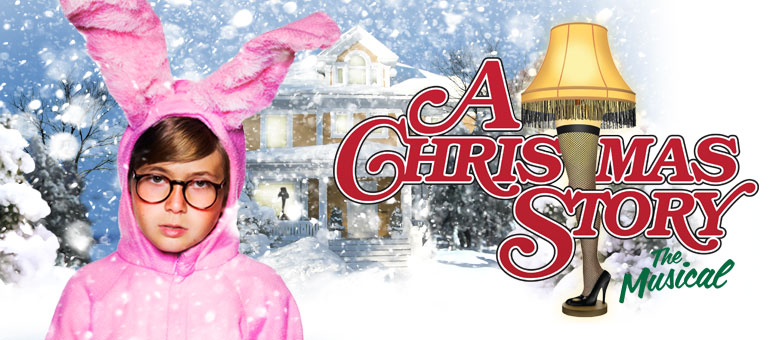 America's favorite holiday tale is back at Seattle's 5th Avenue Theatre. "A Christmas Story" has had a long and circuitous journey starting out life as a series of autobiographical tales by humorist Jean Shepherd before being transformed into a sleeper hit film in 1983 that gradually grew into a cherished holiday tradition thanks to marathon screenings on television. The 5th Avenue had a big hand in faithfully transforming the material into a stage musical back in 2010…that production led to a nationwide tour and two holiday seasons on Broadway. Now, just in time for the 2014 holidays, the show returns to the 5th Avenue with an all new cast including local star musical theater couple DANE STOKINGER and his wife JESSICA SKERRITT as "The Old Man" and "Mother", perhaps the youngest and most glamorous duo to take on these iconic roles. Dane had a chance to chat with us about working on this cherished holiday show which opens Thursday, December 4 and runs through December 30, 2014…grab tickets HERE!
***********************************************************
ED: What do you think of the show so far?
DS: I love it, honestly! I get nervous around large groups of children and there are seventeen of them in this show. I was just wondering what that was going to be like in a rehearsal process. I have never worked with more than three or four kids at a time. I think after the first day of rehearsals that I realized that it is really nice to remember how fun it is to work in theater. I think after a while you just buy into the pressure of it or the work aspect. It is just so nice to be reminded of the fun. These kids are just running around having the greatest time of their life. That has been really fun. I have enjoyed that a lot.
ED: What is it like to work with Brandon Ivie?
DS: He was actually one of the first directors I worked with when I moved to Seattle. Wow, that was almost ten years ago. We worked on William Finn's A New Brain together. Brandon actually grew up with my wife. They have been friends forever. I have been looking forward to working with him again. A lot has changed in the last ten years. He has directed a lot more. He just finished doing an Off-Broadway show. He is great. I love the guy. He brings a really nice sort of playful energy to the room. It is also really nice to have someone that knows the show so well.
ED: Is there anything unexpected for you in the show?
DS: Not so much unexpected since I grew up with the film. I also saw the original production when they opened here in Seattle. So, I sort of knew it. I guess an unexpected bit would be how hard it is to be gruff. The Old Man is kind of a curmudgeon the entire time. There are just a couple of times that his armor sort of cracks and his playful side comes out. That has been tough for me because I am just a goofy guy in general. That's been a little tricky. Brandon has been really nice in keeping me honest and telling me 'Nope. Curmudgeonier.'It has been sort of an odd thing. I have never played a curmudgeon before.
ED: What would you tell someone to get them interested in seeing the stage production?
DS: Hmmm. It is sort of a glimpse of days gone by. There is just a nostalgia to it and it is so sweet. Maybe, that is a cliché of a simpler time. I think there is just something sweet about the nostalgia of it and how they captured the time. I think it is just really charming.
ED: What is it like working with your wife while she is also playing your wife on stage?
DS: (Laughter) It has been great. When we are working on different shows, we really don't get to see a lot of each other. We will both come home after a ten or twelve hour rehearsal day and sort of collapse on the couch then go to bed. So, it is nice to be able to spend time together. I am just a big fan of hers in general. I think she is just fantastic on stage. I always get excited when I get a scene partner that I think is wonderful. She is also used to my shenanigans, so I can't get away with much.
ED: What is your favorite part of the show?
DS: There are probably two parts I love. There is the furnace fight, which I think is just hilarious how it is staged. I sort of disappear into the basement that doesn't really exist outside of just imaginary scene land and reappears covered in soot. The fake swearing is really fun. It is pretty unbounded as long as you don't actually curse. So far I haven't, knock on wood. Then the next would be the big production number when he wins the leg lamp. I think it is brilliant the way that it is realized on stage. It is just such a contrast to his normal life. He is normally just such a grumbly guy then he gets this lamp and it is sort of his own little dream sequence. There is this dichotomy of brilliant dancers and me just running around like a crazy man.
ED: What has been your favorite role so far?
DS: I did a production of The Full Monty that I really enjoyed. That was a lot of fun. I think it would be a toss-up between that and playing Lancelot in Spamalot last year. That was a movie that I grew up on that my dad introduced me to. That one never ever felt like work.
ED: What would be your dream role that you haven't played yet?
DS: I would love to play the Baker in Into The Woods. I love the music so much. I have always loved that show. That is something that I would really like to do. That is definitely on the list.
Tags: A Christmas Story, Dane Stokinger, sgsapp, The 5th Avenue Theatre