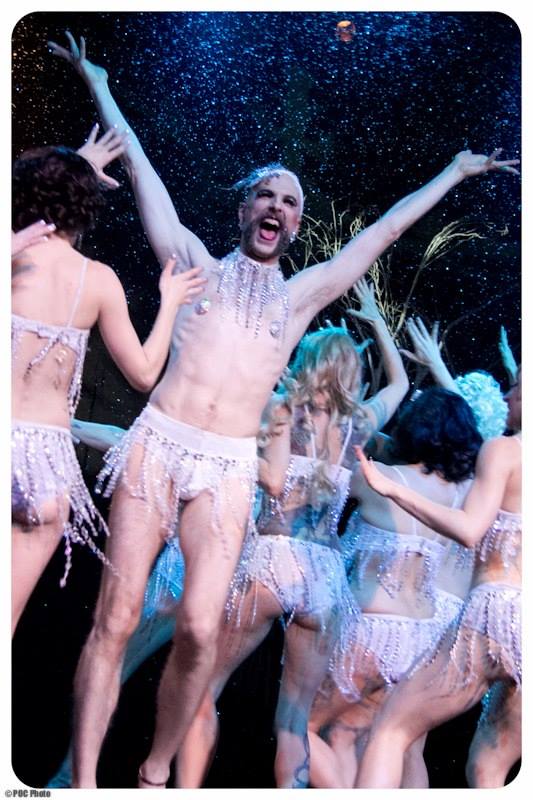 Land of the Sweets: The Burlesque Nutcracker. What more needs to be said? Bah, I'm sure I'll find something! 
Holy smokes! I needed a cigarette after some of those performances. Yes, they were that hot. Seriously. From Lily Verlaine's en pointe dancing to a dude that looked straight out of Anne Rice's Vampire Chronicles, opening night was *loaded* with visual enticement. And Waxie Moon? Yes. All the yes.
Gotta love burlesque. What other art form or display lets women jiggle, and celebrate whatever body they have while performing? Or lets a drag queen traverse genders freely without judgment? With insatiable jazz in '20s and '30s styles, this Nutcracker left everyone taunted, laughing, and completely entertained. How can I describe to you the pure joy it is to see men in pasties and women having so much fun on stage?
The Snowflakes were by far a crowd favorite. Sure, the main acts were amazingly well done. An aerial performance left everyone a little breathless. But the Snowflakes? SO adorable you might've puked up snow. No, literally. 'Cuz it might've ended up in your drink if you were in the front row. Full of cute and pantomime, the girls brought the oodles of energy Disney fairies could only hope to achieve.
Waxie as The Rat King was completely hilarious, incorporating an "itch" factor to his boylesque. Jasper McCann, the narrator and emcee, sang wonderfully and played to the crowd fantastically. Highlights included a shadow performance, tap dancing, ballet, traditional burlesque fans, and same-sex dancing. At least three acts, including "Bazaar" and "Rushettes," left me needing a cold shower!
As for the Verlaine & McCann "new dance language"…I could see it. Though I would say it wasn't so much storytelling as it was "you know the gist of the story, so here's the essence of it put to performance art." And it was all great! The fun and artistry was the point, and it showed. I'm proud that Seattle has this type of dinner theater to offer. Just one more thing I can show off to out-of-towners.
The Triple Door staff was great as always. Food was fabulous, though I wish the prices would come down so I could *really* drink.
All in all, the entire cast looked like it was having a blast! No trace whatsoever of opening night jitters. It was truly a spectacle to behold, and I hope you do get tickets this season. Can't say much more without spoilers! Go! Your eyes (and libido) will thank you!
Korra Q is a Seattle-based nerd who plays fetch with her cat. She's into sci-fi, un-sparkly vampires, and fictional chicks who kick ass. To support her habits, she's the sassiest server you'll ever order from.
Random musings: @Kittyslap27 on Twitter.
Tags: Boylesque, Burlesque, Christmas, drag, nutcracker, The Triple Door