Be honest. You didn't get nearly enough awesome horror flicks this past Halloween. And most of time the movies that do get released in October suck ass and are never as scary as your ex.
Never fear! SIFF will save you!
For one weekend only, January 23-25, SIFF Film Center and SIFF Cinema Uptown will be holding a Frankenstein love fest. Celebrating the classic tale with the original films as well as comedic inspirations, you can easily get your black & white horror movie fix. There just isn't enough popcorn in the world! Or in your daily calorie intake!
Kicking off the weekend in true Fridays-of-yesteryear style, the Film Center will be showing a double feature of Universal's original Frankenstein (1931) and the subsequent Bride of Frankenstein (1935), both starring the indomitable Boris Karloff. Feel free to discuss them with film critic Robert Horton (does he hear a Who? *golf clap*). On Saturday the 24th, dig out all of your notebooks from Film Studies 101 for talk, talk, and more talk, with said Horton and for a panel discussion! The panel will feature the first film involving the monster from way back in 1910, done by Thomas Edison himself. Woot! Also, please do watch the ubiquitous and yummy Benedict Cumberbatch perform both as Victor Frankenstein and his monster from Danny Boyle's 2011 NT Live shows. He's so cute when he's got his rage face on. The evening will top off with 1973's Flesh for Frankenstein, true to '70s sci-fi weirdness. You might need some *ahem* prescriptions for that one.
Sunday the 25th is simply not to be missed. A second showing of the NT Live productions will cap the Frankenstein Uber Comedy Day! We will be treated to Tim Burton's Frankenweenie in 3D, Abbott and Costello Meet Frankenstein, and Mel Brooks' perennial favorite, Young Frankenstein, starring Gene Wilder. If you're not completely amused by the end of the day, you're probably a robot.
So grab a date, and get your tickets! Start stashing your movie candy! Beat the January doldrums with a fun li'l film fest, because no film lover should miss this. No goth should miss this. Nor nerd. Nor lover of laughter, joy, and proof of life. Because that's what Mary Shelley's book is about: Who is more the monster, and what makes us truly human? /end soapbox
And remember, kids: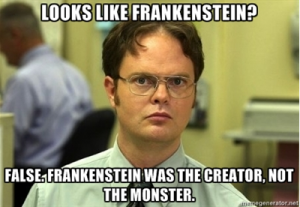 Tags: Frankenstein, Goth, nerd, SIFF, SIFF at The Uptown, SIFF Cinema