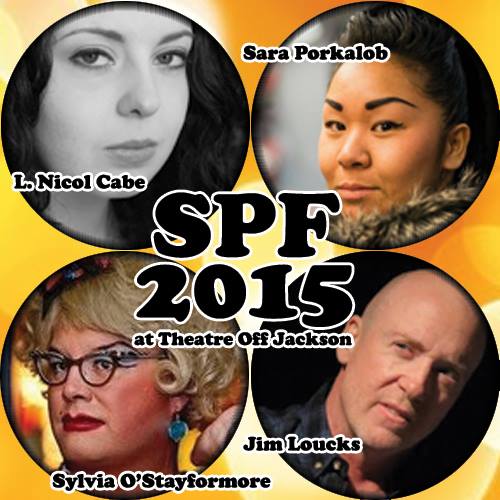 The lovely and awesome Keira McDonald brings her baby back to life for the 192nd year….yes, it's time for the annual Solo Performance Festival, aka "SPF" the annual spring showcase for solo performance pieces held at Theatre Off Jackson in the International District. Ms McDonald is a gifted actor herself but she's also a beloved instructor at Cornish College of the Arts where she's nurtured many of you favorite performers…including Jinkx Monsoon (who had a solo show at SPF a few seasons back).
This year's SPF kicks off Friday, March 20 with two shows…the 7:30pm slot is taken up by the popular "Shorts Night" which features shorter works by six artists, all curated by Keira McDonald and Gypsy Award winning actor and writer Sara Porkalob (who has her own separate solo show, "Dragon Lady" debuting on March 26.)
The line-up:
Dances with Circles
by Mary Gargett
This is a piece that Mary performs with her circus/band fusion spectacle as they tour the globe nationally and internationally on a mission to inspire. It is a circus style hula hoop dance to traditional Balkan grooves played by March Fourth Marching Band. Original song done by Zlantne Uste Balkan Brass Band.

Life Bites
by Cameron Hodges
Childhood can be difficult. Especially if no one can understand you. This piece is about a little boy with very special needs and his speech impediment, misunderstandings, three unruly removals, and how he keeps daring to be himself.

Barely Famous
written by and performed by Andrew Lee Creech
Barton the Bear knew from the start he was destined to be a star. Now middle-aged and still unsuccessful, Barton goes from gig to gig, hoping the next one will be the one to send him into superstardom. Until then, he's just your average city bear, trying to make it big before that final hibernation sleep in the sky.

Eggs
by Jennifer Jasper
Performed by Shannon Kipp
A cautionary tale about the perils of parenting in the not-to-distant future.

Prissy and Puppet
constructed and performed by Kalea Salvador
Priscilla Montgomery the 18th is a high maintenance clown. Monsieur Depardieu is no different. These clowns are the best of friends. But when Depardieu wants a girlfriend, Priscilla will stop at nothing to make sure that never happens. A solo clown lazzi.

Blonde With The Wind
conceived by Keira McDonald and Jayson McDonald
written by Kelleen Conway Blanchard
Scarlett O'Hara wakes up abandoned in a modern day mental hospital far from her beloved Tara, farther still from that dashing scoundrel Rhett Butler, her Beloved Ashley and even, mealymouthed Melanie. To free herself, Scarlett must let go of her past and face her terrible secret. As God is her witness, they're not going to lick her! Why, she'll lie and cheat and steal!
After the Shorts package, hang around for a Solo show starring one of our dearest friends and beloved entertainers… reprising her January show, Sylvia O'Stayformore returns to Theatre Off Jackson with her naughty solo piece, "Come Fly With Me!" which pairs Miss Sylvia with a video collage of all the corny "Airport" films from the 70s. Shane & Michael from Re-bar's beloved video clip show, Collide-O-Scope provided the film clips and Miss Sylvia herself provides the songs, dances and comedy you're used to seeing from the "Hostess with the Mostest".
Grab tickets HERE and check out this trailer:
SPF continues through April 4th. Check out the website for the entire line-up!
(Visited 1 times, 1 visits today)