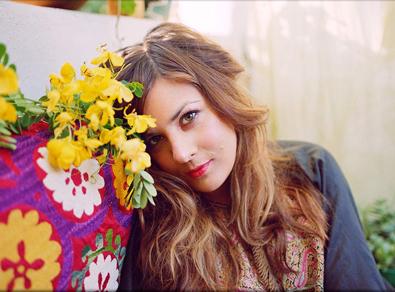 Singer-Songwriter, Rumer has led an extraordinary life, to say the least. Her sultry voice and dramatic experiences combine to provide a one-of-a-kind musical holiday for listeners. Her lyrics are interesting and completely relatable. You can find her new album "Into Coulour" everywhere you buy music. She is currently touring America and playing in Seattle at The Triple Door this evening, Thursday, April 16, 2015! . You might still be able to get a ticket here if you act fast. (She's also on a West Coast Tour: Portland can catch her at Mississippi Studios on Sunday, April 19 and she continues on to Oakland and Los Angeles next week.)
From her bio: Rumer's third studio album, 'Into Colour', continues a personal path which already sounded like something out of a romantic novel. Sarah Joyce was born in 1979 north of Islamabad, where her dad was a British engineer working on the nearby Tarbela Dam (she later found out her real father was the family's Pakistani cook). Rumer spent her twenties in a succession of bands and a variety of service jobs, interrupted by a spell in a rural commune in 2003 following the death of her mother from breast cancer. Following a succession of false starts, a chance meeting with a collaborator and a deal with Atlantic Records, Rumer began her rapid rise. The world swooned at her smoky, soothing tones, compared to those of Karen Carpenter, and the classic arrangements across 2010 debut, 'Seasons Of My Soul'; where every song, as The Guardian put it, already sounded "like a standard".
Earle Dutton: Thanks for taking the time to speak with me while you are getting ready to come to the United States. You sound like a very interesting person. Your bio is filled with all sorts of family stories and public adventures. Could you tell me a bit more about yourself?
Rumer: I have come up with a new cautionary quote. 'Beware of interesting people.' (Laughter) Yes, I have had an interesting life for sure. There have been a lot of interesting people in it as well. As for my family, I was always like the brown child and I couldn't understand why. All of my sisters are blonde. They are very Swedish looking. I knew I was different and no one was telling me the truth. I just couldn't identify with anyone. I felt different. I had an identity issue and a lot of shame around it. When I found out that I had a different father, I was very confused. It just sort of breaks your consciousness. I think that is why I became obsessed with Judy Garland. She was always the brown haired girl that didn't fit in. She was different and didn't know her left from her right. She couldn't dance. I identified with all of that. I think that is when my imagination kicked in and I just started tapping into all of that creativity. In the end, it was all a gift really.
ED: What does it feel like to live in the public eye and have some of your struggles so public?
R: Oh, it is so embarrassing. I regret saying all of those things. You know when you need therapy badly but aren't getting it. Then a nice floppy haired journalist, maybe someone that could have been a friend, comes along with a tape recorder and asks you how you are doing. You are at that point in your life where you really need to talk to someone but you haven't got the time because you are too busy talking to journalist… Then you just do the wrong thing and tell the journalist exactly how you are feeling. That moment in time just ends up on the internet forever more. We are mufti-dimensional beings. We have a thousand different moods. We all change and evolve. It is just embarrassing that I was ever that unstable that I decided to tell a journalist my inner emotions at any given point. I am sure the journalist enjoyed it at the time. (Laughter)
ED: How do feel that those same struggles have sculpted your music?
R: I think that whenever your reality breaks in life, whether you have a tragedy or bereavement that it breaks your consciousness. That becomes a sort of evolution of spirit for you. Whenever you have a spiritual, emotional, or physical challenge you can either break or regroup to consciously expand or evolve. So, it is good for creativity if you can sort of weave some of that energy and inject some light into it.
ED: How was it to perform at the White House?
R: Well, that was very scary. It is such a cool place. The Obama's are really beautiful people. You know when you meet beautiful people. They are just sort of angelic. The actual building is also amazing. You can just look out at the lawn and see a big tree out there. You have to think, what conversations have happened there. It is a really nice place with a good vibe. I was very nervous but it was all very nice.
ED: How does it feel to be compared to Karen Carpenter?
R: It is very flattering. As soon as someone mentions Karen Carpenter, I just think of how lovely she was and how she had such a beautiful voice. I love The Carpenters. I am sure people like to make connections in their mind and that one suits me just fine. I don't really try to sound like her.
ED: We spoke about your likeness to Karen Carpenter. How would you describe your music without those references?
R: I'd say that it is conversational, intimate, maybe soulful music. I think it is Singer-Songwriter music in a smooth style.
ED: What is your favorite song to perform live?
R: Right now it is Todd Rundgren's "Love is the Answer". It makes me feel better with all of the scary stuff going on in the world.
ED: Who do you dream of collaborating with?
R: Hmm, half the people that I would want to collaborate with died a long time ago. I would love to work with Neil Diamond. That would be super cool.
ED: Do you have a message for younger people?
R: Resist the urge to be a victim. I think a lot of younger people think that no one gives a fuck about them. Okay so now that is out of the way. If there is not anything cool going on in your neighborhood, start something. Don't complain. If you want to do something then go make it happen. Being a victim is just too easy. I have so much advice for young people because I was such an idiot (Laughter).
---
Singer-Songwriter
Square Peg and Sherpa Concerts presents
Thursday / April 16, 2015
8:00pm Show – 6:30pm Doors open and dinner service begins in the theater {All Ages}
$20 Advance
$23 Day of Show
Heavily influenced by Burt Bacharach and blessed with effortless velvet-smooth vocals, Anglo-Pakistani singer/songwriter Rumer harks back to the early-'70s easy listening sounds of Karen Carpenter and Carole King. Born in 1979 to British parents living in Islamabad, Rumer (real name Sarah Joyce) was the youngest of seven children, and spent her early years living in an expat community.
http://www.rumer.co.uk/home.htm?force=show
(Visited 1 times, 1 visits today)