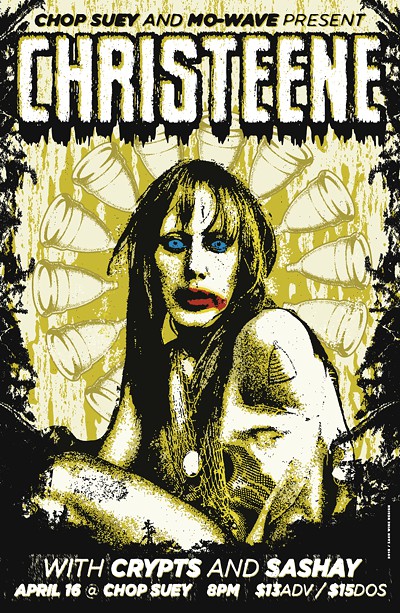 Online tickie sales have closed but we THINK you can still grab a ticket or two at the door of The Chop for tonight's CHRISTEENE show. The magical diva from Texas will be headed up the Hill after opening for Faith No More at The Paramount (which is sold out).
For those sad souls not in the know, Christeene is:
CHRISTEENE is a sexually infused sewer of live rap and vile shamelessness, capable of adapting amazingly well to all styles of music.

Attempts at gathering personal information on CHRISTEENE concerning age, origin, race, religion and even gender have proven fruitless, leaving the public to rely primarily on a highly stylized collection of music videos released through the singer's collaborative efforts with award winning filmmaker and cinematographer, PJ Raval…who remains silent on the subject of their relationship.

It is noted that CHRISTEENE commands a stage presence of furious intensity accompanied by a strict regiment of hardcore dance and destructive choreography. The singer's impressive sound arsenal showcases a wide range of musical appreciation and mastery ranging from Electro to R&B, Hip Hop to Dub Step, with titles including 'Fix My Dick', 'Tears From My Pussy', 'African Mayonnaise' and 'Bustin' Brown'. These songs, written by the artist, offer an intimate and fascinating glimpse into the private and sometimes heartbreaking experiences of this talented nightmare.
Also on the bill tonight: Crypts and "Seattle's premier queer-core band" Sashay…plus DJ Mister Sister.
This will probably sell out….Christeene has legions of fans in town, and was a huge success at last year's 'Mo Wave Festival, also at The Chop.
Added: A few of those awesome 13×19 silk screened posters will be on sale, too! Snag one!
$15 DOS
21+
Chop Suey
1325 East Madison
Seattle, WA 98122
(Visited 1 times, 1 visits today)