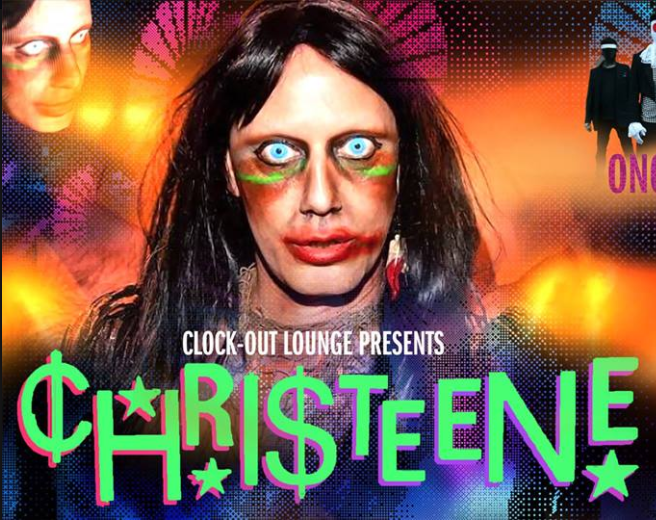 We've been VERY interested in watching the progress being made on the soon to open new club on Beacon Hill. Jodi Ecklund, famed local talent booker at many clubs including Chop Suey announced a few months back that she had gotten partners to open a brand new club that would obviously feature live performances as part of the line-up with an emphasis on music. She announced the location (4864 Beacon Avenue South) and name a few weeks back…CLOCK OUT LOUNGE is the clever, tongue in cheek name of the venue that is set to open in just a few weeks.
And, it's not surprising that Ecklund has snagged an amazing opening night performer for the new club and one she's brought to Seattle in the past as part of 'MO WAVE the queer performing arts festival she co-created and curated with Marcus Wilson for a few years. The one and only queer homocore performance artist CHRISTEENE will break in the new venue with a smashing opening night show that will also include the comeback of local quirky faves ONONOS and a new band on the scene, The Loungettes.
The opening party is set for Saturday, March 17th and tickets will go on sale this coming Friday, February 16th at 10 am. Check out their FB invite for the link to buy advance tickets….they'll go fast!
Some brief skinny on the event:
The Clock-Out lounge presents Christeene. Tickets will go on sale Friday 16th at 10AM.
9pm doors 21+ $15 adv tickets.

Christeene-https://www.facebook.com/CHRISTEENE-105573234529/

Ononos-https://www.facebook.com/ononos

The Loungettes-https://www.facebook.com/pg/TheLoungettes
(Visited 1 times, 1 visits today)