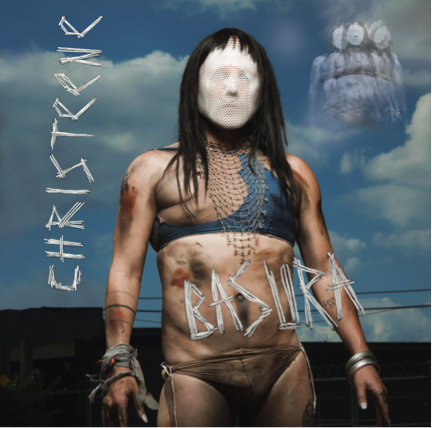 Polarizing and audacious performance artist and provocateur, CHRISTEENE is releasing her second album, BASURA on May 22 and we got the deets. The Texas based performer has a legion of fans who love her shock/trash punk persona (but she also has her detractors…but, who doesn't nowadays!!!??!!) The singer was just in Seattle last month for the opening of the new Clock-Out Lounge on Beacon Hill….we're sure she'll be back in the near future to promote "Basura".
The dope:
Transgressive queer singer/performer CHRISTEENE returns with her second album 'Basura', which will be released worldwide on May 22nd and will be available digitally on all platforms and special edition limited vinyl.'Basura'was produced by Peter Stopchinski in Austin, TX, with contributions from veteran Austin musician/composer Graham Reynolds and Thomàs Suire of the French band Infecticide. Following up her raw and singular 2012 debut album 'Waste Up Kneez Down', this second album (the title of which translates from Spanish as 'trash') contains thirteen new songs that are unapologetically queer, primal, and celebratory.CHRISTEENE will play a special record release live show on 

May 26th

 in Austin, TX, at the Museum of Human Achievement,and appear in select live U.S. shows throughout the summer. On 

July 28

, she will begin a European summer/fall tour at the Milkshake Festival in Amsterdam, and tour throughout Europe. A full U.S. tour will follow in 2019.

CHRISTEENE has gathered tremendous critical acclaim for her high-octane, radical creative vision from the Deep South that continues to destroy all notions of normality. Spin Magazine has called CHRISTEENE "a manic combination of Alice Cooper and Hedwig (of the Angry Inch)" and NOW Magazine compared her to "Beyonce on bath salts." CHRISTEENE "injects both hip-hop and gay culture with a much needed dose of punk-rock humor and attitude," said The New Yorker. Most fittingly, iconoclastic designer Rick Owens (also one of her longtime collaborators) said, "CHRISTEENE to me represents the joy of abandon – abandoning hypocrisy and indulging your id and your primal instincts that are very innocent and very charming. There is a childlike innocence in her provocation, something very cheerful and happy to what she does. CHRISTEENE is theatre, a composition of commedia dell'arte, kabuki, Busby Berkeley Hollywood musicals, grand guignol…She counters false prudishness, false rules."

After galvanizing audiences for years throughout Europe and the U.S with her electric and acclaimed live shows, 'Basura'sees CHRISTEENE maintain her rusty, stained-pop aesthetic while tightening her grip and maturing musically. Further expanding on the raw punk and electro influences of CHRISTEENE's debut album, the new tracks are more dense and personal – packed with fresh aggression, choral screams, live instruments, and a broad spectrum of styles/genres melted down into CHRISTEENE's very own creation.'Basura'employs a dizzy and diverse sonic palette of punk and funk soundscapes, processed vocals, and influences including Laurie Anderson, Trent Reznor, and Yaz.

Well known for her raunchy and unforgettable music videos, 'Basura'marks five new video collaborations that further push the boundaries of her raw aesthetic. Made with filmmaker and longtime collaborator PJ Raval, along with a contribution from Berlin based filmmaker Matt Lambert ('Butt Muscle'), these new videos see CHRISTEENE being stretched and strained to new creative heights through other artist's worlds and experiences. Recently released videos from the new album are 'Fuk v29', 'Aktion Toilet' and the outrageously singular'Butt Muscle'(directed by Lambert, with striking appearances by designer Rick Owens and his partner, creative visionary Michèle Lamy). 'Night Window' and 'TSSP'will be released closer to the album release date.

Ever the provocateur, CHRISTEENE shows us what it truly means to go hard in the face of those who seek to destroy you. CHRISTEENE'S radical and all-inclusive queer vision is more urgent than ever, and she continues to express pure force and emotion against an increasingly dangerous and politicized world that repeatedly tries to compartmentalize, homogenize, and classify. She creates spaces in her songs, videos, and in her live shows that allow all who enter to find a place for themselves. CHRISTEENE strikes down heteronormative structures in the queer, artistic, and outsider communities with an aggressive push to preserve rituals and languages, and allow for the outcast and marginalized to gather, celebrate, and mobilize their voices, identities, and sexualities.  CHRISTEENE is a conductor for other people's energy – their fears, anger, hopes, identities, joys, loneliness. She personifies raw natural 'ugliness', if you, will while maintaining a force of uncanny beauty and sexuality.
All songs and lyrics by CHRISTEENE.

Album produced by Peter Stopschinski.

Whip Slide, Fuk V29 produced by Graham Reynolds.

Aktion Toilet produced by Thomàs Suire.

Aktion Toilet
Topkill
Butt Muscle
TSSP
Traincake
Hong Kong Superstore
Tickles Pickles
Whip Slide
Welcum My Lord
Fuk V29
All Ur Pants R Gross
Stanky Place
Night Window
FOR MORE INFO, TOUR DATES, AND MORE, VISIT: 

BASURA ALBUM PRE-ORDER AND PURCHASE INFO AT:
(Visited 3 times, 1 visits today)