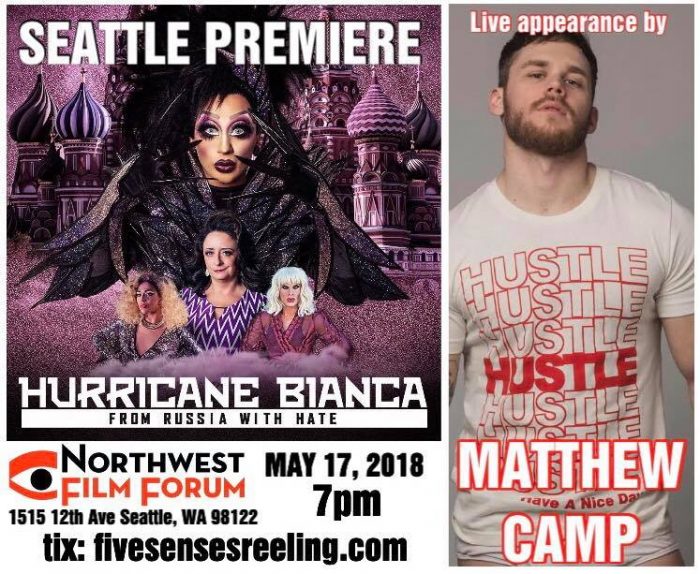 She's not a local queen but we're supporting the local premiere of HURRICANE BIANCA 2: FROM RUSSIA WITH HATE, the soon to open movie sequel to the mostly funny first film starring international drag sensation BIANCA DEL RIO. It's set for a WEEK LONG run at Seattle's intimate Northwest Film Forum on Capitol Hill, starting on Thursday, May 17th with a special appearance from a hottie patottie co-star in the film, MATTHEW CAMP!
You can snag tix for a meet'n'greet with Matthew for that day plus tickets to the film for any of the 14 screenings over the week of May 17 through Thursday, May 24.
Link to buy tix for the Matthew Camp HERE!
Info on that event:
Matthew Camp Meet & Greet @ Seattle Hurricane Bianca 2 Premiere

Meet Matthew Camp!

Model, actor, and clothing designer who launched his own line, Matthew Camp Designs, as well as the fragrances Transgression and 8.5. 

Originally making a name for himself as a go-go dancer in New York City, Matthew has appeared in the films "Getting Go: The Go Doc Project", "Sock Job", and now "Hurricane Bianca 2: From Russia With Hate".

Meet Matthew at the Seattle Premiere of "Hurricane Bianca 2: From Russia With Hate", on May 17, 2018.

Meet & Greet includes early entry into the theater, Meet & Greet and a professional personal photograph with Matthew Camp.

Must select tickets to the movie separately, also available through Brown Paper Tickets.
And, to buy tickets to ANY of the 14 screenings you need to go HERE!!!!
More info on the film!
Hurricane Bianca 2: From Russia With Hate

Thu May 17: 7.00pm
Fri May 18: 4.00pm, 7.30pm
Sat May 19: 2.30pm, 4.30pm
Sun May 20: 2.00pm, 7.15pm
Mon May 21: 3.00pm, 7.00pm
Tue May 22: 3.00pm, 7.00pm
Wed May 23: 3.00pm, 7.00pm
Thu May 24: 7.45pm

Matt Kugelman
US
2018
1h 25m

About

* Special Screening Night on May 17th with guest star from the movie, Matthew Camp *

After winning over the staff and students of Milford High School, chemistry teacher Richard Martinez aka Bianca Del Rio (Roy Haylock) sent her nemesis Vice Principal Deborah Debbie Ward (Rachel Dratch) to jail in a flawlessly executed plan. When Debbie is released from jail, she conjures up a scheme to do away with Bianca Del Rio once and for all, by luring her on a dangerous journey to Russia to accept a teaching award and cash prize. Filled with laughs, celebrity cameos and Americas drag superstars, Hurricane Bianca: From Russia with Hate is packed with surprises and unlikely partnerships that spark friendship and acceptance.
OH! And, the local presenters for this screening, FIVE SENSES REELING, are also donating a dollar from each ticket sale to SEATTLE PRIDEFEST to help keep our Pride festival events FREE!
Five Senses Reeling's other events coming up:
STAND UP FOR PRIDE W/ JESSICA KIRSON & FORTUNE FEIMSTER on June 20th at Q Nightclub/Capitol Hill
and
National Treasures Starring Bianca Del Rio, Lady Bunny, Sherry Vine & Jackie Beat on June 21st at The Egyptian Theatre/Capitol Hill
Snag tix to both of those shows over here!
(Visited 1 times, 1 visits today)