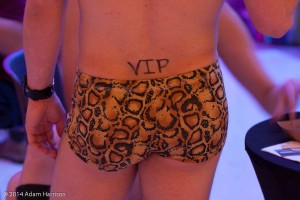 To be honest, I had no idea "sex positive" was a thing. Or that it should be a thing. But now I think it's pretty fucking awesome! Literally.
In that vein, the Seattle Erotic Art Festival will be here this weekend at Seattle Center's Exhibition Hall (funny, that…) starting on Thursday night the 23rd. Its purpose is to explore our sensual and sexual selves in positive, artistic, and safe ways, regardless of body and orientation.
"Seattle Erotic Art Festival encourages the creation, enjoyment, and purchase of erotic art–sparking conversations to ignite personal and cultural evolutions."—SEAF mission statement.
The Foundation for a Sex Positive Culture has been putting this on for years now, and this fest promises to tickle your *ahem*…fancies…via art, literature, and live performances. Some of our fave burlesque performers will be there, such as the Sinner Saint troupe, Paris Original, Crystal Tassles, Boom Boom L'Roux, and Luminous Pariah! The schedule is cock chock full of everything you can imagine to increase your sexual consciousness. And with stuff like live paint-offs and belly dancing, everyone with a libido (or at least a mental sex drive) will find something to enjoy. You can even slap on a pair of headphones to listen to authors read some steamy stories, or just wait for the spoken word performances. Guided tours will engage your sensibilities and open dialogues both highbrow and low. Saturday night even cums comes to a close with a late night dance party till 4am!
Everything kicks off for VIPs Thursday at 7pm. Later on, everyone over 21 will be admitted with their IDs and tickets. 18+ is allowed in the daytime hours Friday and Saturday, but you must be 21+ to purchase all day passes.
Seattle's got a sexy, zexxxy history, folks. Keep it active and swank, you beautiful fiends! Now if I can just find that corset…
(Visited 2 times, 1 visits today)