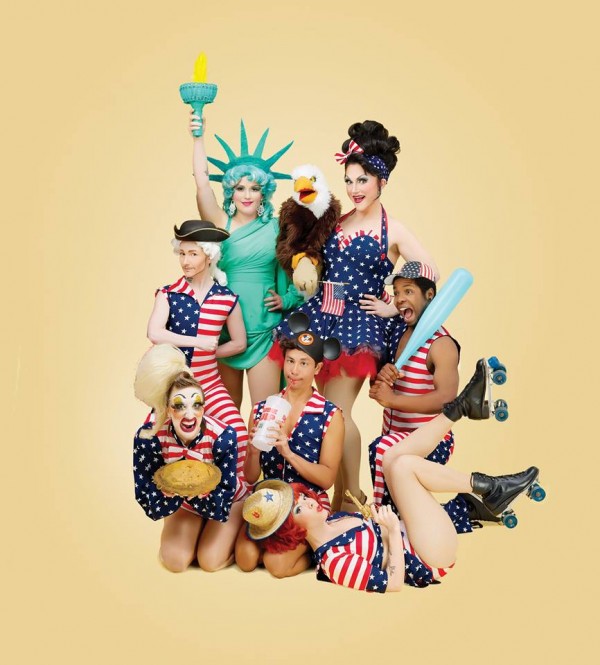 It's a ritual as old as time…the frivolities of Pride Weekend followed by the return of FREEDOM FANTASIA, that delightfully kooky and very very gay pageant of patriotism with a very determined liberal agenda. Leave your conservative granny at home for this one!
(Or, bring her…maybe the old bird will learn something!)
For those under rock dwellers, Freedom Fantasia is a production from DeLouRue Productions, that trio of delightful drag/burlesque superstars more formally known as BenDeLaCreme, Lou Henry Hoover and Kitten LaRue. If you're REALLY dumb (we know our regular readers are exceptionally intelligent but occasionally the dimwitted Alabaman supreme court judge will wander in thinking this is a gay porn site….) then you're not aware that BenDeLaCreme starred on Season 6 of RuPaul's Drag Race or that Lou and Kitten are actually big burlesque stars and a real life wife/wife couple and all three of them are ridiculously clever, charming and talented.
This year's edition is once again at The Triple Door, 216 Union Street and there are FIVE big chances to see the show with an 8 pm performance on Wednesday, July 1, 2015 PLUS two shows on each of the following days, July 2nd and 3rd with your choices being a 17+ performance at 7 pm and the 21+ show at 10 pm. Grab your tickets HERE.
DeLa, Lou and Kitten all return as stars, and the rest of the cast for FF # 5 includes Cherdonna Shinatra, J. Von Stratton, Jim Kent, Markeith Wiley, Josh Harvigson and Scott Shoemaker. Plus, there's a puppet.
For uber fans of this show (and DeLouRue's other big holiday show, Homo for the Holidays), be aware that former cast members, Jinkx Monsoon and Major Scales are NOT in this edition…they're busy with their own act, "The Vaudevillians". You can actually catch pretty much ALL of these ridiculously talented folk, later this summer in Provincetown, Massachusetts as they perform at various theaters in that popular resort town.
The show has been hailed as a: "liberty-encrusted, justice-soaked, apple-pie-scented pageant of patriotism!"
That's a great marketing line but I think they need some new ones and since I love providing pull quotes for shows to use in advertising, here's some new ones for this year!
"Freedom Fantasia recalls those summertime church picnics at the fairgrounds except there's less macaroni salad, a dearth of psalms and a total lack of hypocrisy…"

"Freedom Fantasia is more American than corn-holin' your cousin down by the creek on a lazy summer afternoon!"

"Reeks with the perspiration of a thousand patriotic showgirls fighting for the right to wear a red, white & blue merkin!"

"It's a must see show….not just because it's really good, (which is is) but what the hell else are you gonna do this week? Nobody else schedules anything the week after Pride!!!"
Psst! If you're REALLY poor after Pride or just constantly insolvent, you can get cheap tickets over HERE!
(be aware that discount tickets are usually not the best seats in the house!)
(Visited 1 times, 1 visits today)