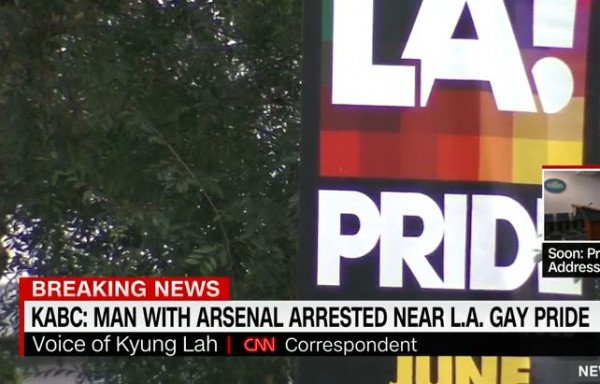 Damn. There's a lot of scary events happening nationwide this weekend for the LGBTQ community. The horrifying tragedy of the Orlando Massacre and now word that a man has been arrested in Santa Monica, California with an arsenal of weapons in his car.
Authorities took a suspect into custody in Santa Monica after discovering an arsenal in his car that included tannerite powder, assault weapons and a camouflage outfit.

The suspect told authorities that he was there for the Los Angeles Pride festival. During a press conference at the L.A. Pride, Mayor Eric Garcetti said the suspect was arrested Sunday with the help of a tip from a citizen.

Police officers conducted a traffic stop in the 1700 block of 11th Street on reports of the car containing possible powder explosives. Officers found five pounds of tannerite-type powder, assault weapons, long rifles, clips loaded and taped together and a camouflage outfit along with a security badge.
A press conference is scheduled to be held Sunday afternoon with more details to be released on this situation.
Update: The arrest of the suspect early this morning led local Pride organizers to discussions about canceling the parade in West Hollywood but with added security, went ahead with the event:
From the Los Angeles Times:
West Hollywood City Councilwoman Lindsey Horvath said in a statement that Los Angeles County sheriff's officials were stepping up security efforts around Sunday's parade and other festivities. But she said officials do not believe there is any threat around Sunday's activities.

The parade began around 10:45 a.m. Usually a joyful affair, this event was colored by the Orlando violence and the Santa Monica arrest.
(Visited 1 times, 1 visits today)