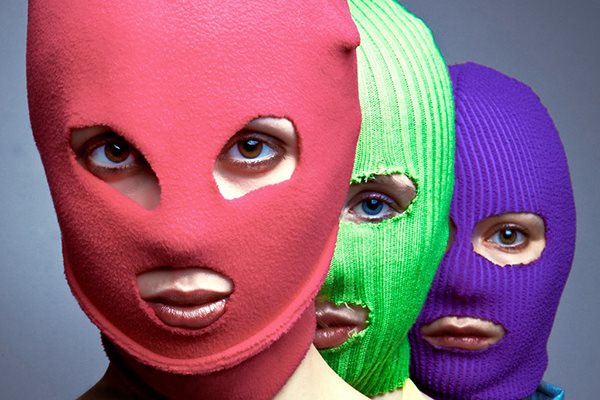 Pussy Riot, the Russian feminist punk band/music collective/activist group has created a new music theater piece called "Revolution" and they're taking it on tour this winter/spring. It will be an autobiographical work detailing their formation and history as a band of musicians and political activists frequently clashing with the problematic regime of Russian dictator Vladimir Putin. That in itself would be pretty awesome but to make it even better, Pussy Riot will stage the world premiere of Revolution here in Seattle on Wednesday, March 8, 2017 at The Crocodile in the Belltown neighborhood. It's an all-ages show with ticket prices at a reasonable $25 (grab them here; it's likely this will sell out so don't dawdle).
Here's some more info on the show:
The Crocodile Presents:
World Premiere: Pussy Riot Theatre Presents "Revolution"
Pink Parts
Wed, March 8, 2017
7:00 pm
All Ages
The Crocodile
2200 2nd Avenue, Seattle, WA

World Premiere: Pussy Riot reveal their psych rock theatre production as Maria Alyokhina & cast tell the story of protest & life in the Russian prison system. This performance will be followed by a discussion with the creative team & cast members.

Pussy Riot presents it's new music-theater project PUSSY RIOT THEATRE. They perform the world premiere of a new piece "Revolution", based on the book of Maria ALYOKHINA – one of the leaders of Pussy Riot. This is Maria's personal story of Pussy Riot, including their legendary protest punk actions in balaclavas, hiding from police, arrest, Moscow jail and police investigation, trial and remote penal colony. The roster of performers will include Maria Alyokhina herself, Kiryl Kanstantsinau, AWOTT (Asian Women On The Telephone) psycho-punk music duo, and VJ Vasily Bogatov. The hour-long piece about protest, art, and political activism in a hostile state will be directed by Yury Muravitsky and produced by Alexander Cheparukhin, with video footage by Taisia Krugovykh and video art by Katya Sсheglova.
(Visited 6 times, 1 visits today)