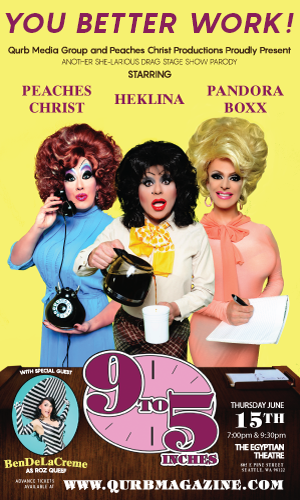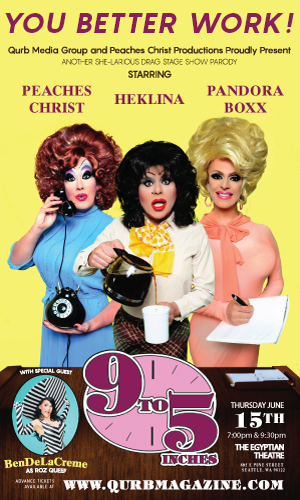 Just announced!!!
THIS PRIDE QURB MEDIA GROUP AND PEACHES CHRIST PRODUCTIONS CELEBRATE ONE YEAR OF BRINGING LAUGHTER AND DRAG COMEDY TO THE PACIFIC NORTHWEST WITH THEIR NEWEST PRODUCTION "9 TO 5 INCHES"

RuPaul's Drag Race superstars PANDORA BOXX and BENDELACREME join San Francisco drag legends HEKLINA and PEACHES CHRIST in the SHE-LARIOUS drag stage show parody of the 1980 cult comedy "9 to 5" starring Dolly Parton, Lily Tomlin, and Jane Fonda!

Seattle, WA May 18, 2017 – Watch these roosters become hens before your very eyes and cheer along as the ladies take on their sexist, egotistical, lying, hypocritical bigot boss "Mr. Fart," in a drag show overthrow like no other!

Peaches Christ's "9 to 5 Inches" comes to Seattle's EGYPTIAN THEATER on Thursday June 15, 2017 for TWO live stage shows at 7:00pm and 9:30pm.

"9 to 5 Inches" features a sensationally talented local cast of Seattle performers including: Mackenzie Miller, Fraya Love, Sparkle Leigh, Strawberry Shartcake, Isabella Extynn, Angel Snowbunny, Visage LaRue, and Tipsy Rose Lee!

Written & Directed by: Peaches Christ

TICKETS ON SALE NOW at https://www.siff.net/year-round-cinema/peaches-christs-9-to-5-inches

Balcony:  $20 (Balcony Open Seating)
General Admission: $30 (Main Floor Open Seating)
Premium GA: $45 (Main Floor Front Left & Right Sections Open Seating)
VIP Meet & Greet: $60* (Main Floor Front Center Section Open Seating)

VIP Meet & Greet Experience includes: premium seating, meet & greet, a professional digital photograph with Pandora Boxx, BenDeLaCreme, Heklina, and Peaches Christ, and a complimentary glass of champagne. VIP Meet & Greet begins immediately following each showing.

VISITING FROM OUT OF TOWN

Please check out our official partner hotel ACE HOTEL SEATTLE and ENJOY your stay!

For General Inquiries or Group Sales please email: hello@qurbmagazine.com

About Qurb Media Group

Qurb Media Group is a Seattle-based LGBT media and events company. Formerly Sinfinite Events, co-owners Arden Turnbull and Jimmy Scarpello have been active in the Northwest LGBT community for the greater part of the past 15 years. From co-chairing the events committee of the Seattle branch of the Human Rights Campaign, to creating game changing nightlife events such as the famed "ElektroPOP" Thursday night themed dance parties at Seattle's Baltic Room, and most recently working with drag icon Peaches Christ to bring her legendary drag parody stage shows to Seattle and Portland, Arden and Jimmy have been working tirelessly to enrich their community with a variety of entertainment and community focused experiences.
(Visited 1 times, 1 visits today)