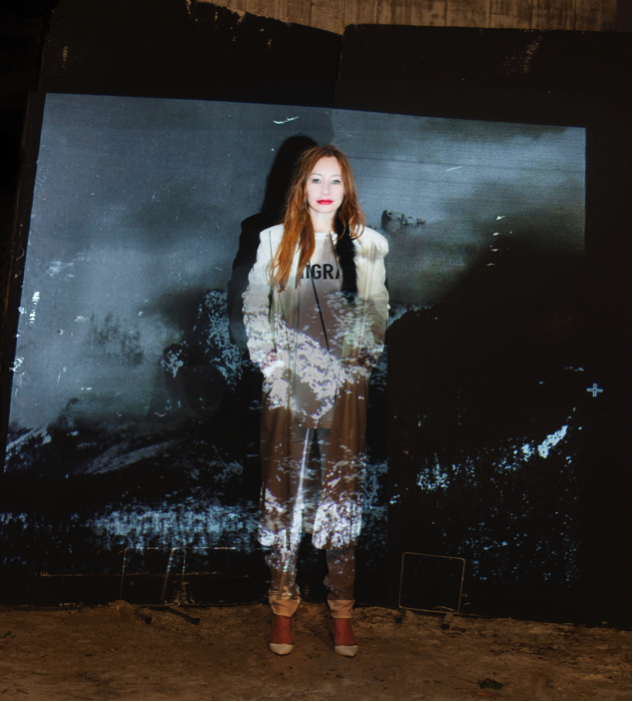 One of the most successful, prolific and influential artists of her generation, Tori Amos will release her hotly-anticipated new album September 8, 2017 on Decca Records. New album track "Up The Creek" debuted with Stereogum and is available to post/share HERE. 
A stand-out track featuring vocals of Amos's daughter Tash, "Up The Creek" is about flood, foreboding – and concern for parts of our world that are changing forever. Impassioned by her questioning of the future and climate change, Amos felt it was important to have Tash's teenage voice represented, speaking for Gaia of Mother Earth. The song's dark electronica recalls the energy of Amos's 1996 dance hit Professional Widow. The chorus echoes her Native American grandfather's favourite saying, "Good Lord willin and the creek don't rise."
Amos's fifteenth album is an intense feast of melody, protest, tenderness and pain. In the summer of 2016, she took a road trip through North Carolina's Smoky Mountains. The intention was to reconnect with the stories and songlines of her mother's family, who were from the North Carolina and Tennessee Smoky Mountain area. That winter, two seismic events knocked the plan off its axis. The fall out from the US Election. And in January her mother, Maryellen Amos, suffered a severe stroke leaving her unable to speak.
The complex influence of America's alt-right Super PACs, lobbyists and think tanks informs much of the tension in Native Invader. "It wasn't going to be a record of pain, blood and bone when I began," she says. "It wasn't going to be a record of division. But the Muses 9 insisted that I listened and watched the conflicts that were traumatizing the nation and write about those raw emotions.  Hopefully people will find strength and resilience within the songs to give them the energy to survive the storms that we are currently in". The sense of semantic distortion permeates Native Invader. Amos talks of the need to form a "militia of the mind" in the face of national lies. Hidden messages and subliminal protests lend themselves perfectly to Amos's natural playfulness. For all its dark themes, this album is a joy to absorb, full of warmth and puzzles.
Tori Amos' extensive North American fall concert schedule kicks off on October 24 (complete itinerary below). The North American concert dates are part of a larger world tour she begins in September in Europe.
 
Following 2014's Unrepentant Geraldines – her eighth Billboard Top 10 album — Native Invader is Tori's fifteenth studio album and will be made available in various physical and digital configurations, as well as vinyl later this fall. The physical CD package will be available in standard as well as deluxe offerings; the latter includes a hardcover book and two bonus tracks.
A pioneer across multiple platforms, Tori was the first major label artist to offer a single for download. Nominated for multiple Grammy Awards, she has had her songs turned into graphic novels and has produced ground-breaking videos throughout her career. In late 2016 she released the title song 'Flicker' to the acclaimed Netflix documentary 'Audrie and Daisy', addressing issues of high school rape. A noted humanitarian, Tori is co-founder of RAINN (Rape, Abuse, and Incest National Network), which is the United States' largest anti-sexual assault organization.
TORI AMOS NATIVE INVADER NORTH AMERICAN TOUR DATES
10/24: Saint Paul, MN @ O'Shaughnessy Auditorium
10/26: Madison, WI @ Orpheum Theater
10/27: Chicago, IL @ The Chicago Theatre
10/29: Cleveland, OH @ State Theatre at Playhouse Square
10/30:  Toronto, ON @ Massey Hall
10/31: Ann Arbor, MI @ Michigan Theater
11/2: Boston, MA @ The Orpheum Theatre
11/3: Washington, DC @ MGM National Harbor
11/4: Philadelphia, PA @ The Tower Theater
11/7:  New York, NY @ Beacon Theatre
11/8: New York, NY @ Beacon Theatre
11/10: Atlanta, GA @ Atlanta Symphony Hall
11/11: Durham, NC @ Durham Performing Arts Center
11/12: Nashville, TN @ The Ryman Auditorium
11/14: New Orleans, LA @ Mahalia Jackson Theatre
11/16: Dallas, TX @ The Pavilion at Irving Music Factory
11/17: Austin, TX @ ACL Live at The Moody Theater
11/19: Denver, CO @ The Paramount Theatre
11/22: Portland, OR @ Schnitzer Hall
11/24: Seattle, WA @ The Paramount Theatre
11/25:  Eugene, OR @ The Hult Center for Performing Arts
11/26: Oakland, CA @ The Paramount Theater
11/28: San Diego, CA @ The Balboa Theatre
11/29: Phoenix, AZ @ The Mesa Arts Center (MAC)
12/1 Los Angeles, CA @ The Theatre at Ace Hotel
12/2: Los Angeles, CA @ The Theatre at Ace Hotel
12/3: Los Angeles, CA @ The Theatre at Ace Hotel