November 18th marks the physical and virtual re-release of the concept album, Boys for Pele.  Tori Amos fans will know this as arguably the last good album by her, before remembering how much they did actually like the fourth album the one with her new band, so maybe that's the last good one, but Boys for Pele is the last important one.  (Seriously, listening to us Tori fans discuss her albums is like listening to fans debate RuPaul's Drag Race episodes.) Non-Tori Amos fans: this is the singer performing "Flicker" at the end of the recent Netflix documentary, Audrie and Daisy, and she has obsessive fans (full album cover tattoos on their backs, and by that I mean an EP cover!).  She was important in the 90s, straddling a piano bench provocatively (there's a 90s word for you), covering Nirvana's Smells Like Teen Spirit, saying no thanks to the Lilith Fair and fighting for sexual assault victims.   After her first two albums, she came back angry and upset and rocked out on a harpsichord and clavichord (and no, I don't know the difference).  Shit got even realer on this one!
After discovering Tori on MTV as an impressionable teen in the early 90s, you know the day the second album was released I was right there at Sam Goody's to get my copy.  Boys for Pele was different; I didn't get my copy until almost a year later.  What happened?  Basically, for two years, I was living out what any Tori Amos song wouldn't want for you: letting someone else control you and keep you from using your creative voice and so on and so forth. (Teenagers in love, can I get a witness?) I knew I had to wait to get the album (I could NOT bring that home and enjoy it in peace), but that it would be well worth the wait.
And it was, because it was a Divorce Album when I totally needed one.  The lyrics were so bizarre and yet seemed to contain phrases and words that were straight out of my life.  How did she know that?  How was this happening?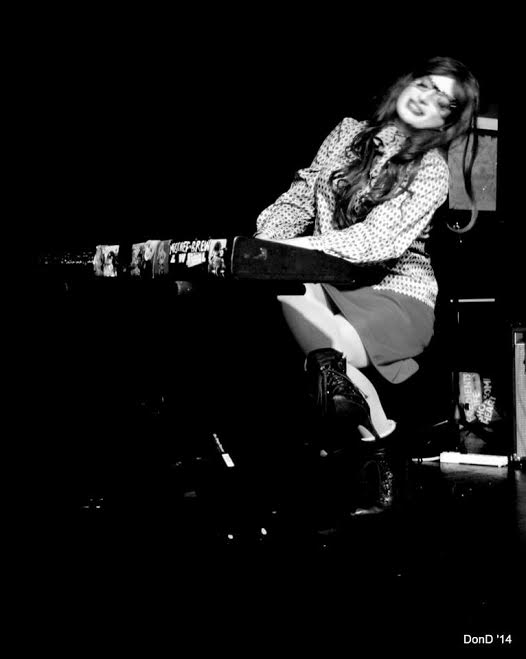 So, of course, I had to try drag for the first time! And while I'd love to say I did a song from Boys, it just seemed right to do something from the first album.  I dressed up as Tori and we stuffed people's coats into an upright piano so it wouldn't actually play and I got really really drunk, forgot to do my "chord hand" and just went for broke while people tossed dollar bills under my piano bench.  A friend told me "you don't really look like you're playing the piano, dude" and the plus sized Madonna drag queen told me "that was the weirdest thing I've ever seen" and I knew I'd found my niche!
I did go on to perform songs from Pele.  I mean, of course!  And I changed my drag name to Anna Rexia, which could be seen as a subtle nod to a Tori lyric: "you're only popular with anorexia / so I turn myself inside out / and pray someone will see".  (from that  awesome fourth album I mentioned earlier)
Now, when I first moved to Seattle, I weaseled my way into my own drag show at a lesbian bar in Kent, WA.  I decided to use my red wig to perform as both Tori and Reba McEntire (I thought I was original but I soon learned that EVERY drag queen has performed Fancy, ah well.).  I didn't have a piano or a fake one to use, so I straight up lip synced for my life to an obnoxious remix of In the Springtime of his Voodoo.  I danced and lip synced while lesbians found creative ways to tip me, such as the woman who laid down on the floor between my legs and placed the bill in her cleavage and had me "come and get it".  (I got it.)
OK, so picture it: I'm taking an acting class and the teacher (who hated my guts) assigned us the task of lip syncing to a song but really being the singer. "I don't want to see Diana Ross in front a wind machine!" Well, she loved me for that one day because I came in with blueprints of how I wanted my fake piano AND my fake harpsichord set up, plus the two microphones and the bench and the teacher's assistant in the rafters happily working the spot light.   I had my friends come to the performance and scream "TORI!" obnoxiously in order to give the class the experience of being at one of her shows.  I had had my makeup done by a theater professional and all I'll say is, mortician's Spackle, and leave it at that.  I freaked the class out but the teacher held me up as a glowing example until finally turning to me and pronouncing, "Tori Amos is really crazy…you should have been crazier."  Oh.
More recently, I started doing drag shows with a group of queens ten years younger than me but who know Tori.  So, I got my friend who performs as Amanduh to help me recreate the music video for Hey Jupiter (the Dakota remix).  The video features Tori crying off her Kevyn Aucoin makeup in a burning building with a blonde girl running around trying to get her to stop rocking in that chair and get in this Lyft! So, my version was to have someone help me onstage to my blow-up Hello Kitty chair, where I proceeded to get too sad to even bother with lip syncing anymore.  Cue the "hoo hoo" part of the song and out comes Amanduh, like a grown up version of the girl in the video, now with a full beard!  She tried different ways to "cheer up Tori".  Our favorite part was an audience conversation during the number: "Who doesn't like Fun Dip?" "Tori Amos, apparently!" Eventually, Amanduh whipped out a tiny keyboard and I sprung to life to finish the song while she led me around the stage.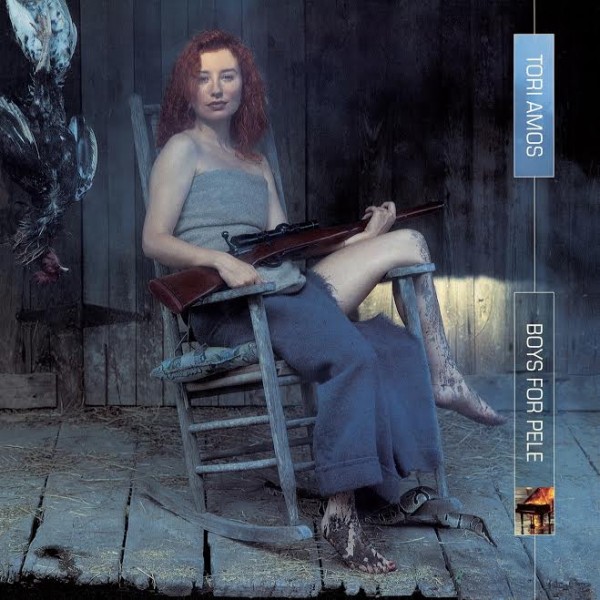 I was also asked to hostess a Tori Amos tribute night in Portland.  (I had to leave town to make this happen, ahem!)  In between each act, I dressed up as a different song or album cover.  Since the Boys for Pele album art included the infamous pictures of Tori "suckling" a piglet (it looks to me like it's sleeping peacefully and she's expressing a maternal yearning…maybe?) and Tori on her porch in her ripped jeans rocking in her chair with a rifle.   So, I came out onstage wearing overalls and suckling a Miss Piggy doll, of course!  At the end of the show, which had other drag queens, I closed the show.  My friend in attendance said I was the only one to borrow the onstage keyboard and stool.  I rocked out to a remix of Talula, at one point kicking away the stool and doing pulse lunges while "playing" the piano.  One of the queens told me "you brought Tori…and then you kept bringing Tori".  Yaaassss, kween!
I've learned over time that no matter how precious I am when I hit the stage as Tori Amos, I'm still doing drag so it's always going to be funny.  That's why I try to keep it lively with all those remixes and by having a sense of humor about it all. (Like when my acting classmates decided to only place only one microphone instead of two, mmmhmmmm.) I feel like I've claimed a singer for my drag that no one else is really going to want to bother with, and like someone once said, "Tori Amos probably loves you for keeping her name out there".  I'm not so sure about her record company lawyers, so that's another reason to keep it in the "parody" area.  But, Boys for Pele was some serious stuff back in the day, and it'll be fun to hear it re-mastered and soak up those bonus never-before-heard tracks and to hear it with wiser ears.
– Craig Trolli
---
From the press release:
Tori Amos has sold over 12 million albums, played over a thousand shows and had multiple Grammy nominations. A pioneer across multiple platforms, she was the first major label artist to offer a single for download, has had her songs turned into graphic novels and a successful musical, and has produced pioneering videos throughout her career. She is renowned for her passionate and broad fan-base, her critically and commercially successful tours, and her ever-evolving live show. Amos is also a noted humanitarian and co-founder of RAINN (Rape, Abuse, and Incest National Network), which is the United States' largest anti-sexual assault organization.
One of the most successful and influential artists of her generation, Tori Amos is as much a force to be reckoned with today as when she made her debut as producer in 1996 on her third studio album, Boys for Pele. To celebrate the pivotal album's 20-year anniversary, Rhino will release a deluxe edition that includes a newly remastered version of the original, along with a selection of B-sides, rare recordings, and four previously unreleased tracks. Boys For Pele: Deluxe Edition will be available on November 18 as a 2-CD set ($19.98) and digitally. A 2-LP set ($31.98) of the original album on vinyl will also be available on the same date.
Stereogum premiered "Amazing Grace/Til the Chicken" alongside a retrospective interview, today. "Amazing Grace/Til the Chicken" was recorded at the Ballywilliam House in Cork, Ireland and is available to post/share HERE.
Amos was so prolific writing Boys for Pele that a number of songs were left off the album and released as B-sides. Many of them can be found among the 21 bonus tracks that appear on Boys For Pele: Deluxe Edition, including "Toodles Mr. Jim" and "Frog On My Toe." Other rarities include the demo for "Fire-Eater's Wife/Beauty Queen" and live recordings of "Honey," "Sugar" and "Professional Widow." Four unreleased gems make their debut on the collection: "To The Fair Motormaids of Japan," "Talula" (M&M Mix), "In The Springtime Of His Voodoo (Rookery Ending)" and "Sucker."
Moving away from the corporate environment to record in a church In Delganey, Co Wicklow, and at the Ballywilliam House in Co Cork, Ireland, Boys for Pele altered the course of Amos' career. As she explains in the album's liner notes, "This is the record where I fought for my life." Greeted with rapturous fan support, this proved this to be a rewarding decision. In addition to album fan favorites "Caught a Lite Sneeze" and "Hey Jupiter", the groundbreaking Armand Van Helden remix of "Professional Widow" was #1 on the UK Singles Chart and US Dance Chart. An ambitious and uncompromising collection of songs about mythology (Pele was a Hawaiian volcano goddess), suppression and self-discovery, the record became one of her most successful, debuting at #2 on the album charts in both the U.S. and the U.K. An international hit, Boys for Pele hit the Top 10 in Australia, Austria, Belgium, Holland, Germany and Sweden.
(Visited 5 times, 1 visits today)