The following are some insights into the making of Boiler Room,  (check it out at the bottom of the post) one of the 60-some short films competing in the recent 48 Hour Horror Film Project. On November 12th, Team Amanduh will find out which award they won this time when Central Cinema screens the winning films.  The following is based on the experience of intrepid actor/writer Craig Trolli. And no, this is not the Boiler Room that Ben Affleck was in, if that even crossed your mind.
(Editor's Note: The Ben Affleck "Boiler Room" is far more horrifying…because Ben Affleck is in it…)

---
*
This team has worked together before
This is Team Amanduh's second award-winning 48 Hour Film Project, having won Best Supporting Actress for 'Sup, Doc? (https://www.youtube.com/watch?v=eZsC42mSMAU), in July.  Winner Christine Shaw White and the rest of the cast and crew regrouped under the leadership of mastermind Shawn McConaghy (never seen in the same room as Amanduh). The group has been simultaneously filming the Amanduh Movie while competing in these weekend competitions.  Doing both at the same time means fatigue but also a crash course in our new craft, film making!  Previously, most of us worked together onstage in Sex Drugs Death Disco, in which I played Club Kid killer Michael Alig. I ended up covered in fake blood in that, too!
*There's a through-line between the shorts and the Amanduh movie
I've been recognized by a couple different bartenders for playing "Hairbrush Victim" in 'Sup, Doc? "Are you OK?" one asked.  In Boiler Room, JenRenee Paulson has a line about me acting like I have a hairbrush stuck up my ass. Also, based on an improv during the filming of the Amanduh Movie it's now a running thing that I say Aaron Allshouse's name in that bitchy, disappointed voice I use on dates.  I'm kidding: I don't go on dates anymore! And both films involve nurses that I verbally abuse in some way. Years from now, film students and cult fans will point these things out to each other.
*12 hours were spent standing on concrete
On Friday night, you go to a meeting where the groups meet each other.  You have all sorts of people there: groups of film maker buddies, loners, kids, gamers, etc. We picked our categories (some were actually really into Sci-Fi and Robot/Android/Cyborg while we heaved a sigh of relief when we got Creature Feature and Virus) and we found out what needed to be incorporated: a line of dialogue ("That's too spicy for me!"), a prop (last time was the hair brush inside of me, this time it was a clothespin not involving my person), and a character name and occupation (a nurse named Hannah).  We then met with the rest of the group to brainstorm.  We had just under 1 million ideas. Shawn went and basically didn't sleep as he pounded out the script.  The next morning we met at a bar to film in their boiler room. The shoot was an almost non-stop 12 hours on our feet on the dusty concrete floor. That's cast and crew. There were allergy attacks and sore backs but we plugged on! (I made sure to go to my stretch/cross fit class the next morning because I'm one of those assholes.) After that, Shawn had that night and the next day to edit everything together into a 7 minute or less video.  This included sound effects, original cello music, various takes and angles to pick from, etc.  He basically got no sleep the whole weekend.
*We went through 3 cans of creamed corn!
I have a puking scene in the film and this was accomplished with creamed corn.  This was the 11th hour of the shoot so I was pretty hungry.  Even though it sounds gross, the corn was delicious.  As the crew was setting up the scene, there were times where it was taking too long for me (divo!) and I just ate what was in my mouth.  I had a suspicion and checked the can: sure enough, corn was the third ingredient, after sugar and high fructose corn syrup!  Why, Carol, I do remember eating corn!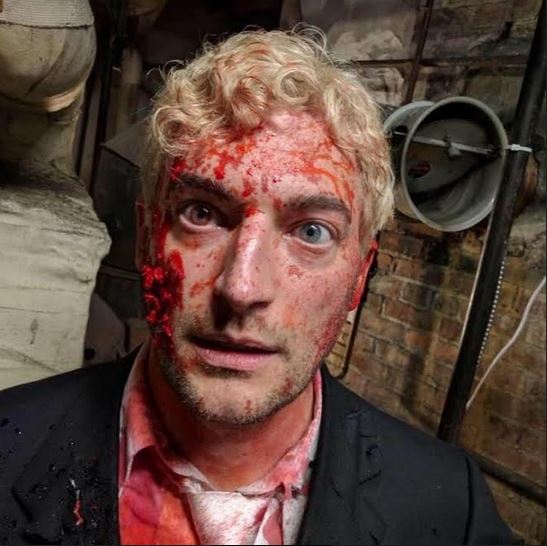 *I had no idea my eyes were changing colors
The characters in the boiler room get bloodier and covered in more gore as the film goes along.  (I got to hold my own intestines, made with condoms, cotton balls and fake blood!) I didn't realize that fake blood had gotten into one of my eyes and coated it.  By the final scene I'm in, I start to look like Pinhead in the Hellraiser movies (and I'm just as bitchy!).  Maybe it's because I'm colorblind, but I didn't notice.  Since they were daily use contacts I didn't sweat it.  At home later, I was watching Fuller House since I was still in a horror movie mood, and I swear to Satan it was in 3D because of my fake blood covered contacts! Trip-py!
*
If you're playing drunk, be hung over!
I went method to play an alcoholic and so I've got that magical hung over bloat, eye bags and scruff.  I didn't feel hung over, fortunately, as I had eaten a larger person's body weight in Dick's the night before, while watching Fuller House. This is why I felt pretty grounded and not very hungry all day (until the corn incident).  This is also why I remain single! As far as acting drunk, I just used sense memory and intently watched my co-stars do real acting.
*
We want to do more!
The group has talked about doing more shorts, even without the deadline of a 48 Hour Film Project.  Plus, we have the Amanduh Movie almost in the can! So, subscribe to Amanduh's Youtube channel and keep an eye out for our movie!
Tags: 48 Hour Horror Film Project, Boiler Room (Seattle Film), Seattle 48 Hour Film Project