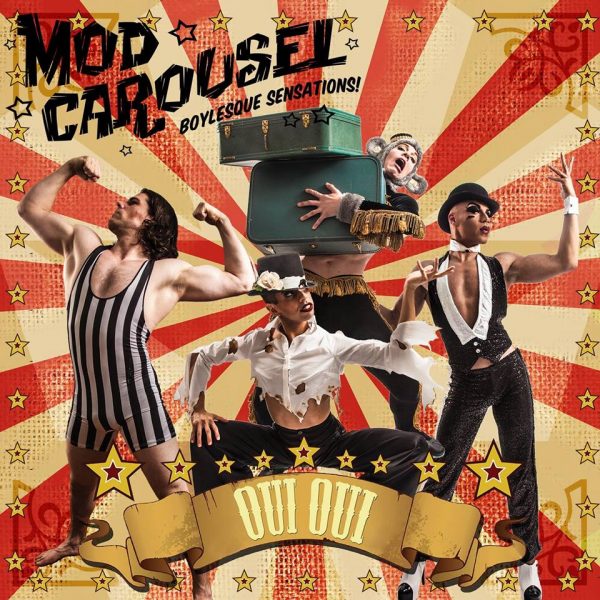 Dozens of popular area based as well as internationally renowned cirque and burlesque artists are lined up for the 15th annual MOISTURE FESTIVAL which kicks off March 15th for the more family friendly shows at Hale's Palladium in Fremont and March 29th for the more adult "Libertease" shows at Broadway Performance Hall on Capitol Hill. NANDA, Mod Carousel, Shanghai Pearl, Miss Indigo Blue and dozens more artists will be onstage at one of Seattle's favorite performance art festivals.
The Poo:
Seattle's longest running comedy and varietè festival turns 15!

Moisture Festival showcases an astounding array of international and local performers whose skills demonstrate why modern variety entertainment and circus arts continue to inspire and delight Seattle audiences of all ages.

Having recently launched a new streamlined website, www.moisturefestival.org is now mobile-friendly, making it fast and easy for patrons to buy tickets on the go. With updated visuals, an integrated calendar listing, and an easily navigable format, Moisture Festival is ready to welcome 2018 patrons.
Now entering its 15th year, Seattle's annual Moisture Festival of Comedy/Varieté continues to build its reputation as a world-wide center for variety entertainment and new circus arts. Performances run for four weekends from mid-March through mid-April; patrons can expect the unexpected. Each show lineup is different, and audiences will see combinations of jugglers, aerialists, comedians, bubble-blowers, magicians, mentalists, musicians, tightrope artists, pole dancers, puppets and clowns of all shapes and sizes. At this year's festival, Seattle's strange clown and crowd favorite, Godfrey Daniels, returns to the stage with his trick balloons and endearing juggling skills. Several world famous clowns are returning from across the globe including: Berlin duo Hacki & Moeppi Ginda, Avner the Eccentric from the coast of Maine, The Great Kaplan of Ohio, and from the Basque region of France, Iman Lizarazu!

Moisture Festival's offerings are two-fold. At Hale's Palladium in Fremont, Moisture Festival presents variety shows where acts are featured in rapid succession of each other, showcasing comedy alongside awe-inspiring physical and mental dexterity, with poignant moments of strength and delicate beauty to make audiences laugh, gasp in amazement, shake their heads in disbelief and truly appreciate how live entertainment can exhilarate and bring real joy. A live showband propels each performance. Hale's Ales is served on tap nightly, plus wine and snacks. A very casual and fun outing, Moisture Festival's matinees and 7:30pm shows are a great way for families to introduce children to the circus arts. There are also late night 10:30pm shows on Fridays and Saturdays at Hale's Palladium which are for 18+ audiences.
At Moisture Festival's Libertease Cabaret at Broadway Performance Hall on Capitol Hill, there is a more sophisticated adult evening where patrons can enjoy a night of cabaret and burlesque acts accompanied by showband The Georgetown Orbits. Stars such as Lily Verlaine and Mod Carousel will grace the stage, plus acts from around the nation combined with many up and coming performers in Seattle's booming burlesque community. Guests can grab a drink at the bar and bring it into the theatre and sit back and be razzle dazzled by sequins, glitter, and well-placed feathers.



WHAT:The Moisture Festival is an annual, month-long celebration of bizarre and unique variety taking place at Hale's Palladium in Fremont and Broadway Performance Hall on Capitol Hill. Presented as a variety show, each act or artist performs their routine within a 3-15 minute time slot while being accompanied by a live show band. With both national and international performers, audiences are likely to see something familiar and something totally new and unique every year.

DATE & VENUE INFO:

Comedy/Varietè Shows:
Hale's Palladium at Hale's Brewery, Fremont ( 4301 Leary Way NW)
March 15 – April 8, 2018 | Wednesday through Sunday | Tickets $20 – $28

Showtimes:
Matinees: 3:00pm (all ages)
Evening: 7:30pm (all ages)
Late Night: 10:30pm (18+)

Libertease Cabaret Shows, 18+, ONE WEEKEND ONLY!
Broadway Performance Hall, Capitol Hill ( 1625 Broadway )
March 29 – 31, 2018 | Thursday, Friday, Saturday |Tickets $25 – $30
Showtimes:
Thurs, March 29: 7:30pm (18+)
Fri, March 30: 7:30pm & 10:30pm (18+)
Sat, March 31:  7:30pm & 10:30pm (18+)

ADDITIONAL INFO
– Youth (12 & under) and Senior (65+) pricing is also available
– $5 day-of tickets available for pre-enrolled teens in the TeenTix program available at the door only
– Tickets available via The Stranger: http://moisturefestival.strangertickets.com/www.moisturefestival.org
– Select ASL interpreted shows will be available, please check www.moisturefestival.org in late February for dates.
(Visited 1 times, 1 visits today)