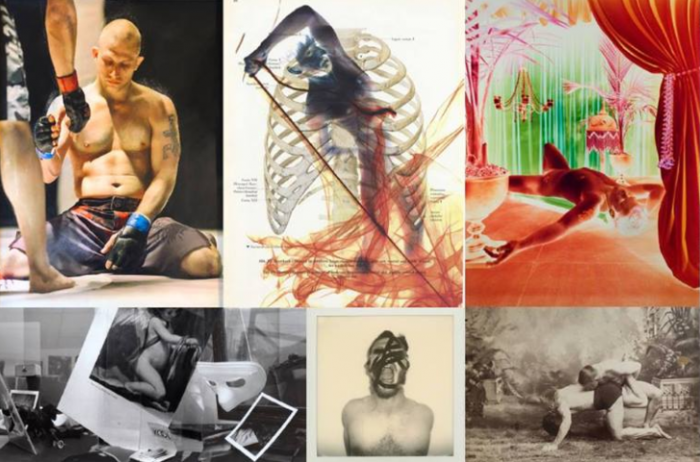 Gallery 1/1, the "unique photographic gallery" in Ballard, is opening a new show this Thursday, May 17, 2018 during this month's Ballard Art Walk. It's THE MALE GAZE and features work "exploring how men see themselves and other men from behind the camera lens…"
Which means some powerful photos of male bodies that range from the beautiful to the disturbing to the erotic.
Check them all out on Thursday from 6pm to 9pm or during the run of this show which extends all the way to July 14th.
Personally, I want someone to buy me the Robert Calafiore Chromogenic Print in the upper right corner of the image above…the gorgeous red tinted one. 
The Male Gaze

 

May 17 – July 14, 2018
In a twist on the traditional feminist interpretation of the "male gaze," GALLERY 1/1 presents a new photography exhibition exploring how men see themselves and other men from behind the camera lens. The featured artists address themes of sexual desire, identity, self-reflection, masculinity, and the dynamics of power that are core critiques of the objectifying male gaze.

GALLERY 1/1 specializes in one-of-a-kind alternative and experimental photographic prints adding an exciting and unique challenge to creating this figurative photography show. Featured prints will include: the debut of a large-scale male nude pinhole camera chromogenic print by CT-based Robert Calafiore, brand new male nude study monotypes on vintage found materials by NYC-based Robert Flynt, unique acid-lift mordancage silver-gelatin self-portraits by Baltimore-based Brian Henry, hand-abraded pigment prints of MMA fighters by Illinois-based Antonio J. Martinez, a vintage Polaroid collage by the Massachusetts-based collage master John O'Reilly, Polaroid self-portraits by LA-based Eric Potts, recent glass-plate ambrotype self-portraits by Virginia-based Robert A. Williams and a selection of vintage snapshots from the collection of Seattle-based Robert E. Jackson.

OPENING RECEPTION: Thursday, May 17th from 6-9 p.m. during Ballard Night Out Art Walk

2221 NW 56th St. Suite #102, Seattle, Washington 98107

We are tucked away in the historic Kress Building at 2221 NW 56th St. Suite #102 in Downtown Ballard. Enter the main glass door off 56th and take the stairs down to the lower level and follow the signs to #102.

(note: 56th Street is the first street NORTH of Market, Ballard's main commercial street…Gallery 1/1 is technically located BEHIND Bop Street Records which is fronted on Market, but to access Gallery 1/1 you'll need to go around the corner. See map for more details!)
FEATURED ARTISTS
(Visited 1 times, 1 visits today)