August 31, 2018

•
by
Craig Trolli
Fall is (mostly) almost upon us and of course horror lover's thoughts turn to…scary books to read while curled up in a ball while stoned out of our minds on pumpkin spice lattes as the wind howls outside our $1800 studio apartment windows. 
Seattle area writer DAVID MASSENGILL has a creepy new book out now, THE SKIN THAT FITS and it seemed appropriate to sip some P. Spice products while chatting with him about the new book, his literary career and why "horror drag" is such a fun idea!
---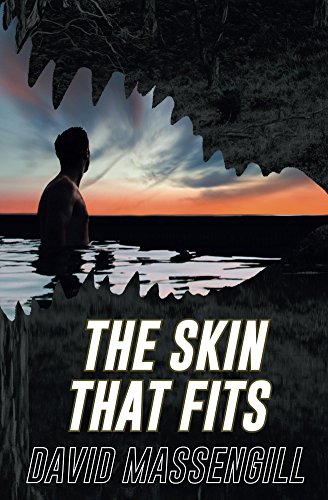 Craig Trolli:  I am currently looking at the front cover of The Skin That Fits. Where did the title come from and who is that model on the cover? He is shirtless and clearly very intelligent! 
David Massengill: I chose The Skin That Fits for the title because it's kinda creepy and true to the book's course of events (which I won't give away).  Somebody asked, "Isn't that an Almodovar movie?"  Nope.  That's The Skin I Live In.  Oh, and there aren't any other books on Amazon with the same title.  That was an issue with my last novel, Red Swarm, which was originally titled Extermination Days. The book's designer, Niall Gray, found the image of the shirtless dude.  He looks like a model, and a model is one of the protagonists of this book.
CT:  I did enjoy your first novel, Red Swarm. It was very cinematic. How has the response been? If SyFy wanted to camp it up would you let them? "Red Swarm starring Deborah Gibson, Vivica A. Fox and one of the Jonas Brothers, all covered in crimson critters!"
DM:  Readers have responded positively to Red Swarm, which is about lethal, cockroach-like insects invading the Pacific Northwest.  But people who have bug issues (and there are quite a few of them) have told me they can't handle the book. Everyone who reads it thinks it should be a movie, and I completely agree.  Netflix series would be even better.  SyFy can camp it up or Lifetime could put Christina Ricci in it.  As long as I get a check.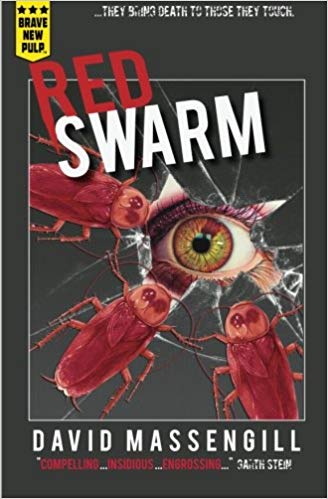 CT:  I see in your book's press material that it also has "fish headed killers"! Tell us about your fish heads, fish heads, rolly polly fish heads!
DM: Yes, there are murderers in fish-head masks in this novel, and they tend to target wealthy Southern families. I can't reveal their motivation without giving too much of the book away, but I will say I tried to be original with the masks. I wanted something simple yet disturbing, so I went with rubber fish-head masks with bulging red eyes and fins protruding from their tops. I'm a fan of the minimalist yet frightening mask in horror movies, from Halloween to The Strangers.
CT:  You've been on a book tour before.  What is that like? Any strange stories from on the road? What are the readers like who are coming out to see you and what are they saying? 
DM:  Touring is always a little intimidating because you have no idea how many people will show at your events. But overall I was pleased with the turnout at my Red Swarm gigs. The most humorous (so far) was a signing I did at a bookstore in Leavenworth, where I got to interact with the browsing general public. One woman said her grown son who was in the military might like my post-apocalyptic horror novel. She asked with some hesitation, "Is there much sex in the book?" I said it doesn't have a lot of sex in it, but plenty of people die in disturbing ways. She said, "I don't mind about that. I just don't want to give him a book with sex in it." A man also approached my table and asked for a description of Red Swarm. I said it's about cockroach-like insects that invade the Pacific Northwest. If they land on you, their toxins will kill you within about a day. "Is it nonfiction?" he asked with wide eyes. I told him it was a novel, and he seemed annoyed and walked away.
CT: When and where does your current book tour wrap up? 
DM:  The final stop on the tour is the very lovely and very Bavarian Leavenworth, WA.  On Friday 9/14 I'll be speaking at the library with New York Times bestselling serial killer thriller author Kevin O'Brien, and then on Saturday 9/15 we're signing books at A Book for All Seasons, a gem of an indie bookstore.
CT: Any ideas for your next novel? 
DM:  I've already finished the first draft, and I'm now in the revising phase.  This one's what I call a "slasher novel."  It's inspired by slasher films of the '70s and '80s, like Halloween and Friday the 13th.  In the book, a man realizes the antagonist of the horror story he wrote in high school decades ago has inspired a grisly murder.  This same horror story character—which has a face shaped like a crescent moon and tree branch arms—also seems to be inspiring the stalking of its creator and his two best friends from high school.  My elevator pitch for the novel is "Slender Man meets I Know What You Did 25 Years Ago."
CT: Many years ago, I acted out a short story of yours for a variety show, in drag. Did you ever think that years later you'd be a published author and I'd still be doing drag acting? 
DM:  Back then I had no idea I'd shift from writing literary short stories to horror fiction, but I knew I'd always write.  You're just as much of a natural in drag, and Anna Rexia never seems to age.  Maybe it's time for a horror drag performance inspired by one of the stories from my collection Fragments of a Journal Salvaged from a Charred House in Germany, 1816.  Perhaps the one about the LA housewife who swallows a worm-like critter from Africa with the intention of losing weight?   
---
THE HORROR IS DOWN SOUTH
IN DAVID MASSENGILL'S LATEST NOVEL

"The Family knows a whole lot about sacrifice.  We don't just give up our comfort or our time.  We give our bodies and we give our lives."

Kim Lansing and Todd Regan are about to learn about sacrifice. 

While on a clandestine date with another woman, Kim discovers that her fiancé, Eustace, has killed himself.  Torn with remorse, she fulfills his one last request:  taking his ashes from Seattle to his family members throughout the deep South.

In Miami, struggling male model Todd Regan botches a much-needed photo shoot.  Desperate for income, he accepts a persuasive talent scout's offer of a high-paying role in an "experimental" horror film in Georgia. 

As Kim and Todd's separate paths lead them beneath the shadow-casting Spanish moss of Savannah's Bonaventure Cemetery and into the sweltering, gator-infested Louisiana swampland, they realize the locals may have something in mind other than hospitality.  

Join a haunting journey through an American South of disturbing rituals and supernatural possession, murderers in fish-head masks and an ancient spirit that stalks old plantation grounds in search of THE SKIN THAT FITS.
---
Author bio
David Massengill is a Bay Area native who has lived in Seattle for two decades.  He is also the author of the novel Red Swarm (Montag Press), about lethal insects invading the Pacific Northwest, and the short story collection Fragments of a Journal Salvaged from a Charred House in Germany, 1816 (Hammer and Anvil Books).  His short works of horror and literary fiction have appeared in numerous literary journals, including Eclectica Magazine, Pulp Metal Magazine, Word Riot, The Literary Hatchet, The Raven Chronicles, and Yellow Mama, among others.  He has received grants for his fiction from both Seattle's Artist Trust organization and Seattle's Office of Arts & Cultural Affairs.  He has also written nonfiction for American Book Review and Seattle Weekly, where he served as Books Editor. 
Craig Trolli / Anna T Rexia can be seen in Sept in Tulips of Fury at the Rendezvous, kicking some Axis as a 1940s super heroine. In December Craig makes his Theater Off Jackson debut as Joey the 9-year-old son in The Judy Garland Christmas Special.
(Visited 1 times, 1 visits today)
Craig Trolli is an actor who performs as both a boy but also in various states of drag, including his version of Melanie Griffith, Meredith Baxter-Birney, and Sophia in Golden Girls Burlesque. He's hoping to one day do a show called "Craig: a One Women Show", which would hopefully explain why he thinks any of this is a good idea. If you have an opinion about that, send us your feedback!