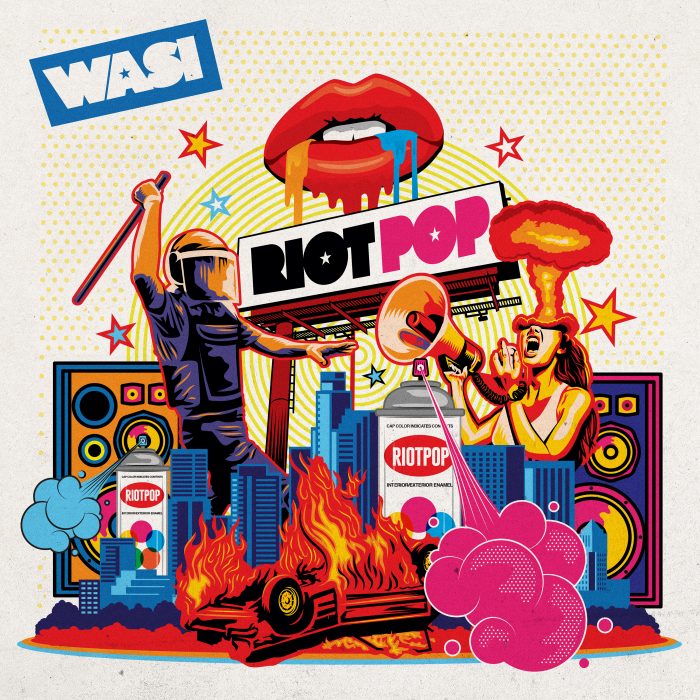 MORE stuff to do for Saturday with the LOVE IS GAY TOUR with headliners WASI, the Los Angeles band who just released their debut album RIOT POP earlier this month. The band is making their way up the West Coast this month, not only in support of the new album, but to celebrate Pride Month and partner with LGBTQ organizations centered on queer youth including Seattle's  Queer & Trans Youth Music Project when the Tour makes its Seattle stop on Saturday, June 22nd at Screwdriver Bar, 2320 First Avenue. 
The tour is being presented locally by  The Seattle Lesbian with $1 per ticket going to Queer & Trans Youth Music Project. 
It's a 21+ show (and tix are only $5!!) with the show beginning at 9pm and going to around midnight.
AND, here's more skinny on WASI and the new album, Riot Pop!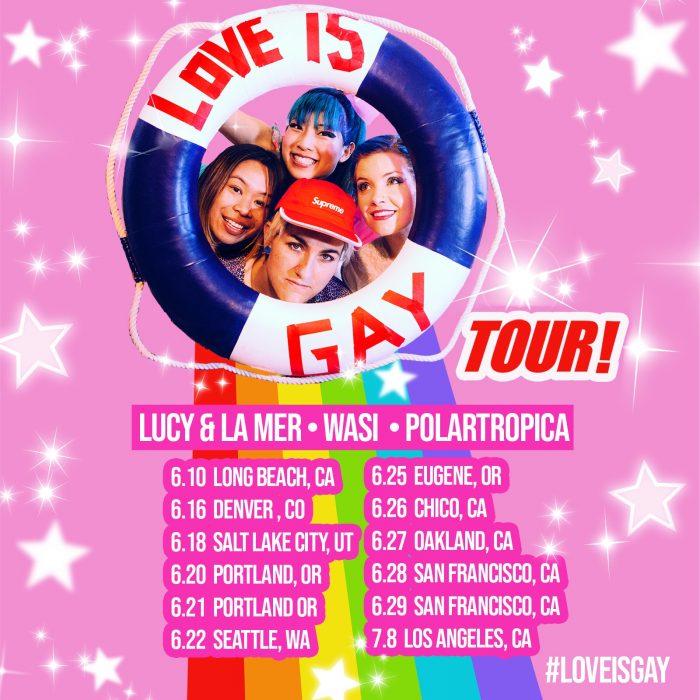 Los Angeles revolutionaries WASI usher in a new movement of empowerment, inclusion and self-love with their debut album Riot Pop out everywhere today. Pushing for change and acceptance, this record comes right in time to celebrate Pride Month. In addition to the release of their debut, the band will head out on the road for their Love is Gay tour starting June 10th where they'll be working with LGBTQ youth centers around the country at every tour stop, meeting with kids in each city to talk to them about music, art and above all, spreading a message of pride and breaking down barriers. To celebrate even further, the band will be DJing the Pride show at the tastemaker Los Angeles showcase night, School Night!

"WASI is the pop band the world needs right now." –AFFINITY MAGAZINE

WASI's anthemic and relatable music is deeply rooted in their experience as outsiders. They own their voice and draw equal influence from the rebellion of the Clash and the pop sensibilities of Tegan & Sara. Not only do they write songs about defiance and shaking up the system, they live it every day. At the helm of the band are newlyweds and human rights activists Jessie Meehan and Merilou Salazar. The group developed and produce the Women Fuck Shit Up Fest that takes place in both Los Angeles and D.C., an event for women to show off their art in a safe, free and empowering environment. Their activism reached new heights last year when they single-handedly got Walgreens to establish a nationwide bathroom discrimination policy. See the video on the ACLU website HERE.

"It's titled 'Riot Pop,' which is WASI's name for their brand of music, which mashes electro-pop, hip-hop, dance-punk and garage-rock into a cocktail of self-affirmation and inclusivity. The band, founded by Buena Park natives (and now newlyweds) Merilou Salazar and Jessie Meehan, has become a beacon of positivity for youth whose identity, body type or politics has left them feeling as if they're on the outside looking in." –BUZZBANDS LA

This record explores themes of fear and isolation but balances that with messages of love and being comfortable in your own skin. "Riot Pop is the optimism we hold onto in the chaos of the world around us and in our heads," says the band. They hope it will provide the same sense of security and reassurance to fans that they've found through their music.

"Like the rad, queer riot bands before them, this Los Angeles duo, comprised of Merilou Salazar and Jessie Meehan, is about more than just sick beats: it's about using the emotive intensity of sound to rock the world into a better, more progressive future. " –CURVE MAGAZINE

LOVE IS GAY TOUR DATES

w/ Lucy, La Mer, Polartropica

6/16 Seventh Circle Music Collective Denver, CO (working with Rainbow Alley)

6/21 Queer Variety Show Portland, OR

6/27 Ivy Room Oakland, CA  (working with Queer Gym)

6/28 Honey Hive Gallery San Francisco, CA (working with Lyric)

Lucy & La Mer
listentolucy.com
(Visited 1 times, 1 visits today)