Good news for Tegan and Sara fans: the beloved twin sister musical duo's ninth studio album, HEY, I'M JUST LIKE YOU is set for release on September 27th and that same week, their first joint memoir HIGH SCHOOL to be published on September 24th.
They seem a tad young for a memoir; they'll turn 39 the week before the book release, but they've had a hugely successful career. Nine studio albums isn't anything to sneeze at. And, since both sisters are out queer women, hopefully they'll discuss queer issues in the book. Both women have been activists for LGBTQ causes and have huge gay and (mostly) lesbian fan bases.
They'll also tour though those plans have not been released yet.
More via the press release:
HEY, I'M JUST LIKE YOU,
TEGAN AND SARA'S NINTH STUDIO ALBUM,
SET FOR SEPTEMBER 27 RELEASE ON SIRE
High School, Tegan And Sara's First Memoir,
To Be Published On September 24 By MCD X FSG (USA)
Tegan And Sara Reimagine and Reinvent Their Earliest Songs,
Discovered While Writing High School – View Album Trailer 
HERE
"This is the record we never could have made as teenagers,
full of songs we never could have written as adults." – Tegan and Sara
Twenty years into their career, Tegan and Sara have recorded a new album that is based on the first songs they ever wrote. Hey, I'm Just Like You – their ninth studio album overall and first since 2016's Love You to Death – will be released on September 27 on Sire. Fans can pre-save the album now HERE.
The album was inspired by a find Tegan and Sara made while they were writing their first memoir, High School, which will be published by MCD X FSG (USA) on September 24, three days before the album arrives.
"While working on our memoir, we discovered lost cassette tapes that had been unheard for over 20 years," recalls Tegan. "They contained dozens of our first songs, written between the ages of 15 and 17…we immediately recognized the songs as an essential part of our high school story."
Hey, I'm Just Like You is a return to Tegan and Sara's rock and punk roots, with a punch of pop production. Recorded in Vancouver, Canada in April and May 2019, the album recasts the remarkable innate songwriting talents both possessed as teenagers, and allows these previously unreleased songs to benefit from the studio expertise they have gained in the past two decades – a period that has seen them release eight studio albums, earning seven Gold certifications and one Double Platinum certification in the process. Defiant and melodramatic, the songs capture the exultation and grief of first loves, first losses, ecstatic kiss-offs, and psychedelic tributes to friendship. Watch the album trailer 
HERE
.
"With only minor tweaks to lyrics and structure, we tried to remain true to the original essence of each song," says Sara.
Hey, I'm Just Like You is a full collaboration between the twin sisters. In some cases, Sara sings songs that Tegan wrote, while on others, Tegan gives voice to Sara's melodies and lyrics. It is also the first Tegan and Sara album created with a team of all women, which included producer Alex Hope (Troye Sivan, Broods); Rachael Findlen (engineer); Beatriz Artola (mixing); Emily Lazar (mastering); Annie Kennedy (assistant engineer); Carla Azar (drums) and Catherine Hiltz (bass).
Tegan and Sara agree, "This is the record we never could have made as teenagers, full of songs we never could have written as adults."
Together the memoir and album will tell the origin story of Tegan and Sara for the first time, bringing unprecedented depth and dimension to their formative years. Tegan and Sara will tour extensively behind both. Dates and further details will be announced soon.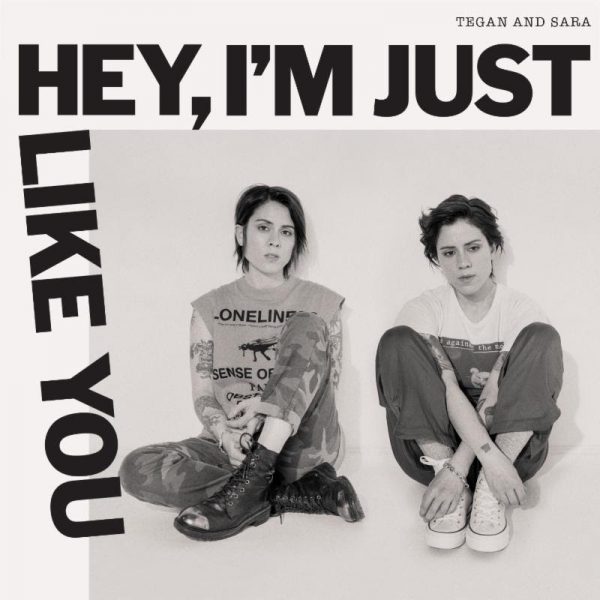 About High School
Named a most anticipated book of fall by O, the Oprah Magazine, Publishers Weekly, and Entertainment Weekly, High School is the revelatory and unique coming-of-age story of Sara and Tegan Quin, identical twins from Calgary, Alberta, who grew up at the height of grunge and rave culture in the nineties, well before they became the celebrated musicians and global LGBTQ icons we know today. While grappling with their identity and sexuality, often alone, they also faced academic meltdown, their parents' divorce, and the looming pressure of what might come after high school. Written in alternating chapters from both Tegan's and Sara's points of view, the book is a raw account of the drugs, alcohol, love, music, and friendship they explored in their formative years. A transcendent story of first loves and first songs, High School captures the tangle of discordant and parallel memories of two sisters who grew up in distinct ways even as they lived just down the hall from each another.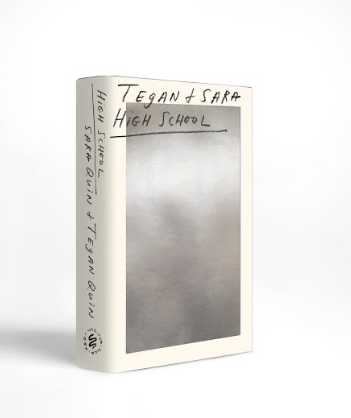 About Tegan and Sara
Tegan and Sara have sold well over one million records and performed on some of the world's biggest stages, from Coachella to the Academy Awards. They have received three Juno Awards, a GRAMMY® nomination, a Governor General's Performing Arts Award, and the 2018 New York Civil Liberties Union Award. In 2016, they created the Tegan and Sara Foundation, which fights for health, economic justice, and representation for LGBTQ girls and women. Learn more about the Tegan and Sara Foundation 
HERE
. Tegan and Sara performed at the 2019 LOVELOUD Festival, a Utah music festival benefiting local and national LGBTQ charities. Tegan serves on the board of LOVELOUD Foundation, which was founded by Imagine Dragons front man Dan Reynolds.
Pre-save Hey, I'm Just Like You HERE
Pre-order (book) High School HERE
Images for book cover HERE
View the album trailer HERE
Find out more about the Tegan and Sara Foundation HERE
Follow Tegan and Sara:
(Photo credit: Trevor Brady)
(Visited 1 times, 1 visits today)