It's the last days of summer/first days of fall OFFICIALLY this weekend and the weather is crisply briskly kinda warmishly tepid so let's enjoy these last few moments before the rains of October descend upon us by doing STUFF this weekend!
For Saturday, September 21st you have quite a variety of options including multiple screenings of the seminal documentary about the world of vogueing, Paris is Burning at The Uptown Cinema as well as the annual birfday party celebrations at the Kremwerk/Timbre Room complex to celebrate the anniversary of their birth.
Check out everything on the SGS Calendar for today!
Events for September 21, 2019
ONGOING
September 20 @ 8:00 am – September 22 @ 5:00 pmSIFF Cinema Uptown, 511 Queen Anne Ave N
Seattle, WA 98109 United States + Google Map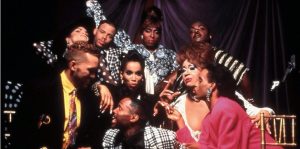 Made over seven years, Paris Is Burning offers an intimate portrait of rival fashion "houses," from fierce contests for trophies, to house mothers offering sustenance in a world rampant with homophobia and transphobia, racism, AIDS, and poverty. Featuring legendary voguers, drag queens, and trans women—including Willi Ninja, Pepper LaBeija, Dorian Corey, and Venus Xtravaganza—Paris Is […]Find out more »
September 20 @ 5:00 pm – September 21 @ 4:00 am|Recurring Event (See all)Kremwerk / Timbre Room Complex, 1809 Minor Avenue
Seattle, WA 98101 United States + Google Map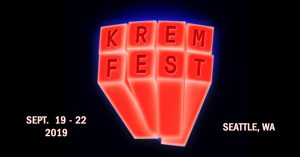 Kremfest 2019 Thu, Sep 19 at 5pm at Kremwerk/Timbre Room 21+ We welcome you to the third annual Kremfest, a multi-day celebration of forward-thinking electronic music & multimedia at the Kremwerk + Timbre Room Complex!   " Kremfest laid down the gauntlet. It cemented Kremwerk as the undisputed monarch of Seattle nightlife, and made a plausible claim […]Find out more »
1:00 PM
September 21 @ 1:00 pm – 3:30 pm|Recurring Event (See all)Julia's on Broadway, 300 Broadway E
Seattle, WA 98102 United States + Google Map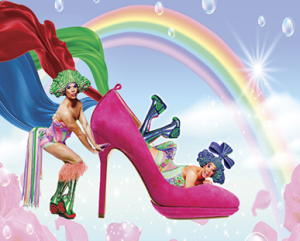 A weekly Saturday & Sunday brunch show. This is Seattle's only disco extravaganza themed brunch show featuring highlights from Priscilla Queen Of The Desert. We've reinvented ourselves to focus on traditional drag stylings of the disco-era. Our over-the-top costumes, giant wigs and outrageous performances make this the only drag show you should see in […]Find out more »
2:00 PM
September 21 @ 2:00 pm – 3:30 pmFrye Art Museum, 704 Terry Ave
Seattle, 98104 United States + Google Map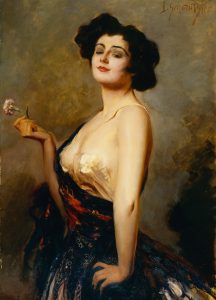 In a discussion of themes addressed by Unsettling Femininity: Selections from the Frye Art Museum, exhibition curator Naomi Hume will explore how painters structured the viewer's relationship to the depicted girls and women. Nineteenth-century European artists usually framed such encounters to reinforce socially accepted power dynamics between men and women. How do subtle painterly choices […]Find out more »
September 21 @ 2:00 pm – 7:00 pmBackyard, 3820 S. Ferdinand St. Ste. 102
Seattle, WA 98118 United States + Google Map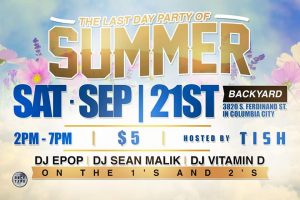 Note: not an LGBTQ specific event Summer is almost gone. <sigh> Come out and kick it with some of Seattle's DOPEST DJs on the LAST Saturday of summer on September 21. Old school R&B and HipHop will be playing nonstop. DJs EPop, Sean Malik and Vitamin D will be on the 1s and 2s for […]Find out more »
3:00 PM
September 21 @ 3:00 pm – 4:30 pm|Recurring Event (See all)Langston Hughes Performing Arts Institute, 104 17th Avenue South
Seattle, 98144 United States + Google Map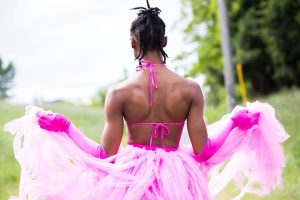 QUEEN STREET is a physicalized experience through the lens of queer, trans, non binary, and gender nonconforming people of color. This full length evening dance show highlights the importance of centering intersectionality by giving audiences a peek inside the physical, mental, and spiritual transitions of its performers. Randy Ford (Au Collective, Black Bois) creator and […]Find out more »
4:00 PM
September 21 @ 4:00 pm – 12:00 amTown Hall Seattle, 1119 8th Ave
Seattle, WA 98101 United States + Google Map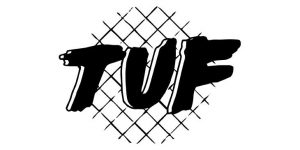 Explore and reimagine what space means in Seattle's rapidly transforming socio-environmental landscape in this immersive and interactive evening with TUF, the Seattle collective that focuses on uplifting marginalized folks including people of color, women, queer, trans, and gender nonconforming identities. Artists from across multiple disciplines take the stage for a showcase of art, dialogue, and […]Find out more »
September 21 @ 4:00 pm – September 22 @ 10:00 am|Recurring Event (See all)Kremwerk / Timbre Room Complex, 1809 Minor Avenue
Seattle, WA 98101 United States + Google Map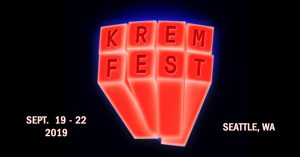 Kremfest 2019 Thu, Sep 19 at 5pm at Kremwerk/Timbre Room 21+ We welcome you to the third annual Kremfest, a multi-day celebration of forward-thinking electronic music & multimedia at the Kremwerk + Timbre Room Complex! " Kremfest laid down the gauntlet. It cemented Kremwerk as the undisputed monarch of Seattle nightlife, and made a plausible claim […]Find out more »
6:00 PM
September 21 @ 6:00 pm – 9:00 pmR Place, 619 E Pine St
Seattle, 98122 United States + Google Map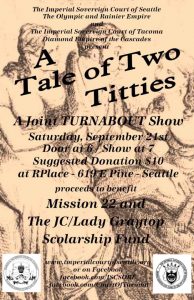 An annual tradition where the male tile line members get to come out and express their inner beauty! An evening of fun and camp and a few surprise guests! You never know who or what will be seen at Turnabout! Proceeds from the event will go to the Court of Seattle's JC/Lady Graytop Memorial Scholarship […]Find out more »
September 21 @ 6:00 pm – 10:00 pmNeighbours Nightclub & Lounge, 1509 Broadway
Seattle, WA 98122 United States + Google Map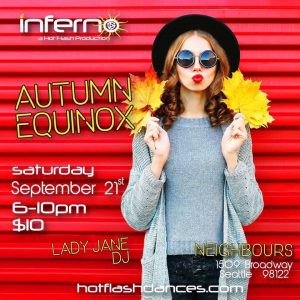 DJ Lady Jane in the house!! Womyn only!Find out more »
7:00 PM
September 21 @ 7:00 pm – 9:00 pmPopuluxe Brewing, 826 NW 49th St
Seattle, WA 98107 United States + Google Map
Note: Not an specific LGBTQ event. Open to all Betty Wetter is bringing the golden age of MTV back for one night only! Test your knowledge of the era when video killed the radio star and knock out the competition to take home the prize! Not the competitive type? Grab a beer and get […]Find out more »
September 21 @ 7:00 pm – 10:00 pmNeptune Theatre, 1303 NE 45th St
Seattle, WA 98105 United States + Google Map
STG Presents Degenerate Art Ensemble's SKELETON FLOWER band CD RELEASE at The Neptune Theatre on Saturday, Sept 21, 2019 Special Guests: Fruit Juice, Tomo Nakayama, The Tiger Tails General Admission All Ages / Bar with I.D. $18.50 (not including fees) Tickets on sale Friday –> bit.ly/SkeletonFlowerSEA19 Skeleton Flower the band emerged from Degenerate Art Ensemble's […]Find out more »
7:30 PM
September 21 @ 7:30 pm – 9:00 pm|Recurring Event (See all)Langston Hughes Performing Arts Institute, 104 17th Avenue South
Seattle, 98144 United States + Google Map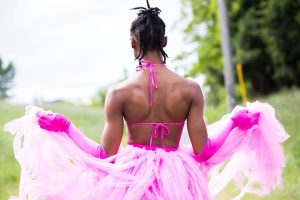 QUEEN STREET is a physicalized experience through the lens of queer, trans, non binary, and gender nonconforming people of color. This full length evening dance show highlights the importance of centering intersectionality by giving audiences a peek inside the physical, mental, and spiritual transitions of its performers. Randy Ford (Au Collective, Black Bois) creator and […]Find out more »
September 21 @ 7:30 pm – 9:00 pm|Recurring Event (See all)Copious Love Productions, 2220 NW Market St
Seattle, WA 98107 United States + Google Map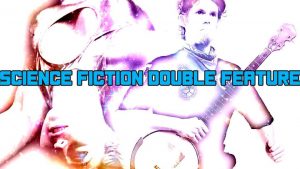 **A note about our location: The front door to Copious is on Market Street, between Bop Street Records and Pie Bar.** Storyteller and solo performer, L. Nicol Cabe, imagines how biology and technology will smash together in "Effing Robots: How I Taught the A.I. to Stop Worrying and Love Humans": Artificial Intelligence is on the […]Find out more »
8:00 PM
September 21 @ 8:00 pm – 10:00 pm|Recurring Event (See all)Annex Theatre, 1100 East Pike Street, 2nd Floor
Seattle, 98122 United States + Google Map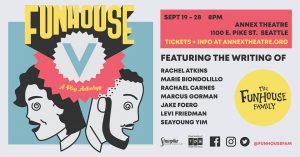 TICKETS AVAILABLE NOW THROUGH INDIEGOGO igg.me/at/funhousev General sale available soon! FUNHOUSE V Produced by The Funhouse Family September 19-28, Thursdays-Saturdays The Funhouse Family produces irreverent and experimental original content characterized by a multi-genre format that reaches beyond traditional theatrical norms. Each live show is comprised of a series of short plays that serve as a […]Find out more »
September 21 @ 8:00 pm – 10:30 pm|Recurring Event (See all)Cornish Playhouse, 201 Mercer Street
Seattle, WA 98109 United States + Google Map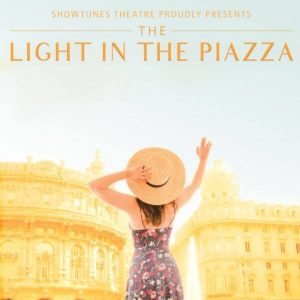 For the opener of its 20th Anniversary Season, Showtunes is bringing this legendary work home to the theatre where it began. Join us September 14-15, 21-22 as The Light in the Piazza returns to Seattle in one of our biggest concerts ever, featuring the full, original orchestration! Tickets are just $20, so grab them now!! […]Find out more »
September 21 @ 8:00 pm – 10:00 pm|Recurring Event (See all)Chuck's Hop Shop Greenwood, 656 NW 85th St
Seattle, WA 98117 United States + Google Map
NOTE: BOTH THESE EVENTS HAVE BEEN POSTPONED. Visage "Legs" LaRue is back at it again to host Drag Queen Bingo! This round benefits Gay City: Seattle's LGBTQ Center, an organization dedicated to promoting wellness in LGBTQ communities by providing health services, connecting people to resources, fostering arts, and building community. Tickets are $20, guaranteeing […]Find out more »
September 21 @ 8:00 pm – 11:00 pmPalace Theatre & Art Bar, 5813 Airport Way South
Seattle, WA 98108 United States + Google Map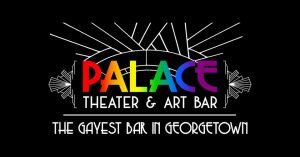 Hey Fabulous! I am trying my hand at Show Production and have curated a very Queer Evening of Comedy! Please show me some love, support Sylvia O'Stayformore and the Palace Theatre & Art Bar! The line-up includes the World Premiere of 'Friends of Dorothy!' Staring Leah, Richard, Shannon, Lee and Michael! But WAIT! There's more: […]Find out more »
8:30 PM
September 21 @ 8:30 pm – 10:00 pmThe Crescent Lounge, 1413 E Olive Way
Seattle, 98122 United States + Google Map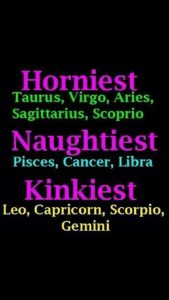 Saturday September 21st. It's the Last monthly Drag/Burlesque Show at Crescent. Theme is Signs- Horoscope Reality. Free Show 21 and over at Crescent Lounge. Supported by Pure Potential Yoga, Heka Hair, Psycho HAIRapist, Pepsi and Crescent Lounge. Anyone in Drag/Burlesque gets %15 percent off drinks. Bring those bills and make it rain on these queens […]Find out more »
9:00 PM
September 21 @ 9:00 pm – 11:00 pm|Recurring Event (See all)"Le Faux" at Julia's on Broadway, 300 Broadway Ave E
Seattle, 98102 United States + Google Map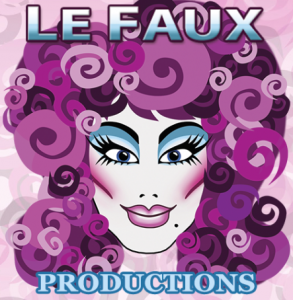 Le Faux at Julia's on Broadway Le Faux at Julia's on Broadway A celebrity impersonation show featuring a full cast of professional impersonators, choreographed dancers and completely outrageous acts. You and your friends will have the time of your lives seeing our Las Vegas style productions of Britney, Cher, Pink, Taylor Swift, Adele, Nikki Minaj […]Find out more »
September 21 @ 9:00 pm – 2:00 am|Recurring Event (See all)The Wildrose, 1021 E Pike St
Seattle, WA 98122 United States + Google Map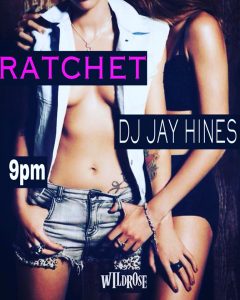 Ratchet w/DJ Jay Hines Weekly Saturday dance party for the women of Seattle…and nice allies. With DJ Jay Hines spinning the hits. $3 21+ w/IDFind out more »
September 21 @ 9:00 pm – 2:00 am|Recurring Event (See all)Neighbours Nightclub & Lounge, 1509 Broadway
Seattle, WA 98122 United States + Google Map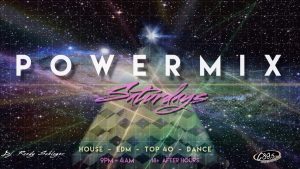 Weekly dance party with DJ Randy Schlager Enter in alley 21+ 9pm to 2am 18+ 2am to 4am CoverFind out more »
September 21 @ 9:00 pm – 2:00 am|Recurring Event (See all)Pony, 1221 E Madison St
Seattle, WA 98122 United States + Google Map
You're cordially invited to the return of AUDIODROME, happening every third Saturday of the month at Pony! AUDIODROME has history at the stable! Years ago, this is where it where it all began, slowly morphing into to a night at Kremwerk called FALSE PROPHET. We're excited that this special night will feature resident DJ Sharlese […]Find out more »
September 21 @ 9:00 pm – 2:00 amThe Seattle Eagle, 314 E Pike St.
Seattle, 98122 United States + Google Map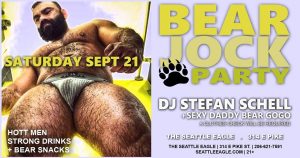 BEAR JOCK PARTY W/DJ STEFAN SCHELL+MUSCLE DADDY BEAR GOGO IN THE CAGE ………………………………………………… A Night For BEARS in Jock Straps A Salacious Vibe By DJ STEFAN SCHELL +MUSCLE DADDY BEAR GOGO IN THE CAGE Bring all your inhibitions and sexy up to JOCKS IN JOCKS HOTT MEN STRONG DRINKS +BEAR SNACKS No Holes Bared A […]Find out more »
September 21 @ 9:00 pm – 11:00 pmQueer Bar, 1518 11th Ave
Seattle, 98122 United States + Google Map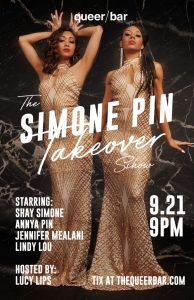 The Simone Pin Takeover Show Sat, Sep 21 at 9pm at Queer/Bar Seattle's optimum women of color owned production company is taking over for a night of #dance and #burlesque! For the first time ever Simone Pin is hitting the Queer Bar stage in The Simone Pin Takeover Show featuring @Lucylips as Cast member and Host! […]Find out more »
September 21 @ 9:00 pm – 1:30 amThe Lumber Yard Bar, 9619 16th Ave SW
Seattle, WA 98106 United States + Google Map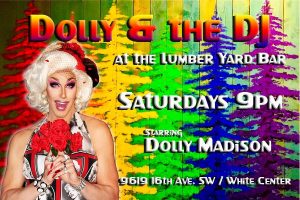 It's that time of year again! Rain, cooler temperatures and a return to the basics. It's Pumpkin Spice time y'all! We are all getting savory and sassy for the season. Join us for a night guaranteed to warm you up as we party to music to celebrate to the season. Come party with all your […]Find out more »
9:30 PM
September 21 @ 9:30 pm – 2:00 am|Recurring Event (See all)RPlace, 619 E Pine St
Seattle, WA 98122 United States + Google Map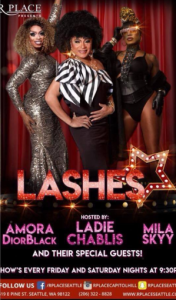 Seattle's looooooooong running weekly drag show every Saturday night at RPlace, with hosts Amora DiorBlack & Ladie Chablis & Mila Skyy plus a slew of special guests. 9:30pm to 2am 21+ w/ID Cover is usually $10/May be higher for nights with out of town guests/special events Followed by Therapy with DJ Flow and Go Gos. Dance […]Find out more »
10:00 PM
September 21 @ 10:00 pm – 3:00 am|Recurring Event (See all)Cuff Complex, 1533 13th Ave
Seattle, WA 98122 United States + Google Map

The Cuff Complex Seattle hosts international DJs every Saturday night from 10pm to 3am! Check website and Facebook for weekly updates on line-up! 21+ w/ID Note: The Cuff advertises itself as a Gay Man's Club. The clientele is mostly gay and male but allies are welcome. Cover varies from week to week depending on talent: […]Find out more »
September 21 @ 10:00 pm – 2:30 amReBar, 1114 Howell St
Seattle, WA 98101 United States + Google Map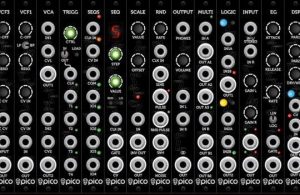 Rising local artists rinsing out house/techno classics and new sounds. Expect heady 4/4 music all night. The following episode contains- Miss Shelrawka https://soundcloud.com/miss-shelrawka thEO (Spa Day) https://soundcloud.com/bottomforty/bottom-forty-mix-078-theo Dane Garfield Wilson (Blue Spectral Storm, Re-bar) https://www.mixcloud.com/DaneGarfieldWilson/ Re-bar 1114 Howell St Seattle WA 98101 www.rebarseattle.com Only $5 21+ w/ ID ADA Accessible. Background The original Baker Street […]Find out more »
September 21 @ 10:00 pm – 12:00 amCopious Love Productions, 2220 NW Market St
Seattle, WA 98107 United States + Google Map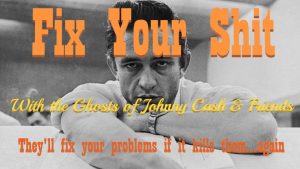 **A note about our location: The front door to Copious is on Market Street, between Bop Street Records and Pie Bar.** Join Johnny Cash and a passel of passed-on celebrity pals as they dish on the afterlife, who they're working with (and under!) in this new chapter of their souls' existence, and the restaurant scene […]Find out more »
11:00 PM
September 21 @ 11:00 pm – 2:00 amQueer Bar, 1518 11th Ave
Seattle, 98122 United States + Google Map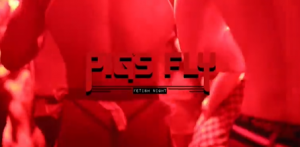 Pigs Fly: a holesome, ⅄∀⅁ and non-toxic dance party for kinkster dudes/dxdes/dudettes/friends and admirers…. Gear, Leather, and Fetish encouraged but not required, coat/top check available, entry discount for getting in your character. XXXmas comes one week early this month! This night is loaded to the rim with thick and meaty fun, featuring special guest dancer […]Find out more »