Three Dollar Bill Cinema has announced both the Jury and Audience Award winners for the 24th annual Seattle Queer Film Festival which ended last week. The festival showcasing dozens of LGBTQ films from around the world ran from October 10 – 20, 2019.
Up next for Three Dollar Bill…their popular Christmas holiday screening of the AUNTIE MAME which moves to On The Boards in Lower Queen Anne/Uptown neighborhood for its Wednesday, December 18th screening. Get tickets HERE! (note: this does sell out! Don't dawdle!)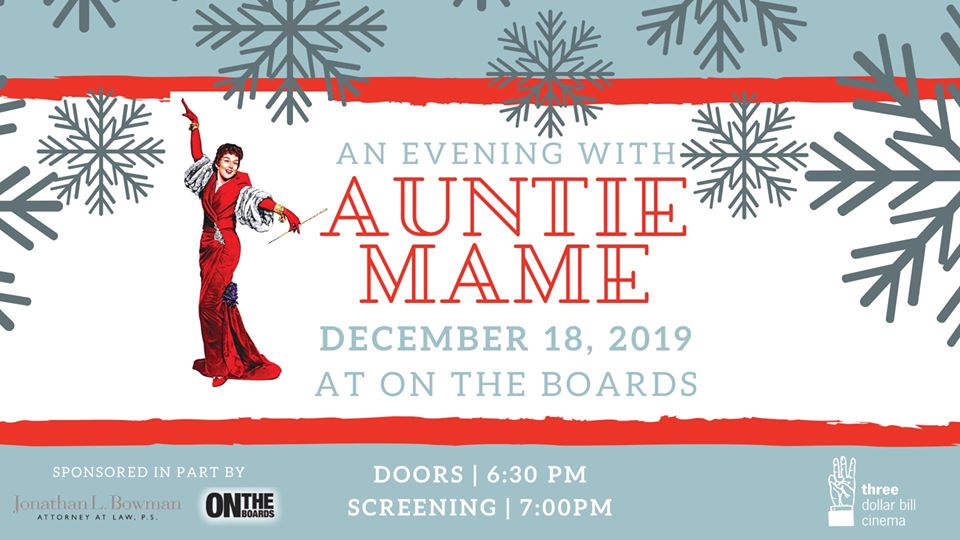 AND, Three Dollar Bill is also gearing up for their big 25th anniversary party in 2020. That gala happens April 4, 2020 at Sodo Park. Info HERE!
This year's award winners for the film festival: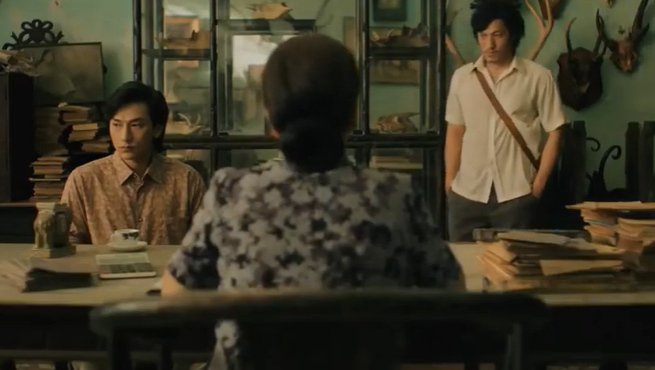 JURY AWARDS
Youth Jury Award – Best Youth Short
LA SERENATA, Adelina Anthony
LA SERENATA portrays young queer love and nontraditional masculinity in a young Mexican-American boy with incredible sensitivity and emotion. Even though the protagonist's family can't completely understand his experience, they work to actively unlearn homophobia and support him in finding his voice— and when the representation doesn't already exist, they help him create his own love song. In a society and media landscape that so often portrays queerness as defined by intolerance and violence, it is affirming to see a representation of coming out and falling in love upheld by support and tenderness.
Best Short Film Award
OUTDOORING, Maxwell Addae
OUTDOORING traverses cultural tradition and the need for family acceptance with beautiful acting and an outstanding narrative
Most Innovative Short Film Award
PONYBOI, River Gallo & Sadé Clacken Joseph
PONYBOI creates a dream scape of survival and escape composed of beautiful cinematography portraying the story of an intersex person who imagines a new life.
Honorable Mention: Documentary Feature Film Award
UNSETTLED: SEEKING REFUGE IN AMERICA, Tom Shepard
We would like to give an honorable mention to Tom Shepard's UNSETTLED: SEEKING REFUGE IN AMERICA. This documentary was emotional and powerful. Like CHANGING THE GAME, UNSETTLED documents the fragility and persistence of the human spirit during a political climate that is challenging the ability to exist and thrive freely. We felt honored to bear witness to the stories presented.
Best Documentary Feature Film Award
CHANGING THE GAME, Michael Barnett
The documentary jury has chosen Michael Barnett's CHANGING THE GAME as the winner of this year's SQFF Best Documentary Feature Film Award. This highly compelling documentary made a deep impression on us with its diverse and earnest character portraits. We were not only moved by the strength of the students, but reminded of the utter necessitation of continuing to advocate for trans visibility and rights- especially in our current political climate. A topical and must-see film, the students and families in Changing the Game won our hearts. They should not have to fight to exist freely and authentically alone.
Best Narrative Feature Film Award
SONG LANG, Leon Le
This filmaccomplishes a tremendous cinematic feat by capturing the beauty of Vietnamese opera, complexity of the cinematography, and deeply intimate emotional connection. Song Lang's exquisite imagery is matched by the tension and frustration of love only partially realized. The transformation of self is a central theme that is weaved in through the streets of Saigon and the Cai Luong opera house. Congratulations Leon Le for sharing SONG LANGwith the world.
---
AUDIENCE AWARDS
Favorite Narrative Feature Film Award
PORTRAIT OF A LADY ON FIRE, Celine Sciamma
Runner Up, Favorite Narrative Feature Film Award
BILLIE AND EMMA, Stephanie Lee
Favorite Documentary Feature Film Award
FOR THEY KNOW NOT WHAT THEY DO, Daniel Karslake
Runner Up Favorite Documentary Feature Film Award
I AM ANASTASIA, Thomas Ladenburger
Favorite Gay Short Film Award
THE ONE YOU'LL NEVER FORGET, Morgan Jon Fox
Favorite Lesbian Short Film Award
GIRLS WEEKEND, Kyra Sedgwick
Favorite Transgender Short Film Award
DANCE, DANCE, EVOLUTION, Jules Rosskam
Runner Up, Favorite Transgender Short Film Award
MILLER & SON, Asher Jelinsky
(Visited 1 times, 1 visits today)