Two recently opened plays in Seattle provide seasonal spooky/magical fun for area audiences. Both look spectacular and yet both have some issues to overcome…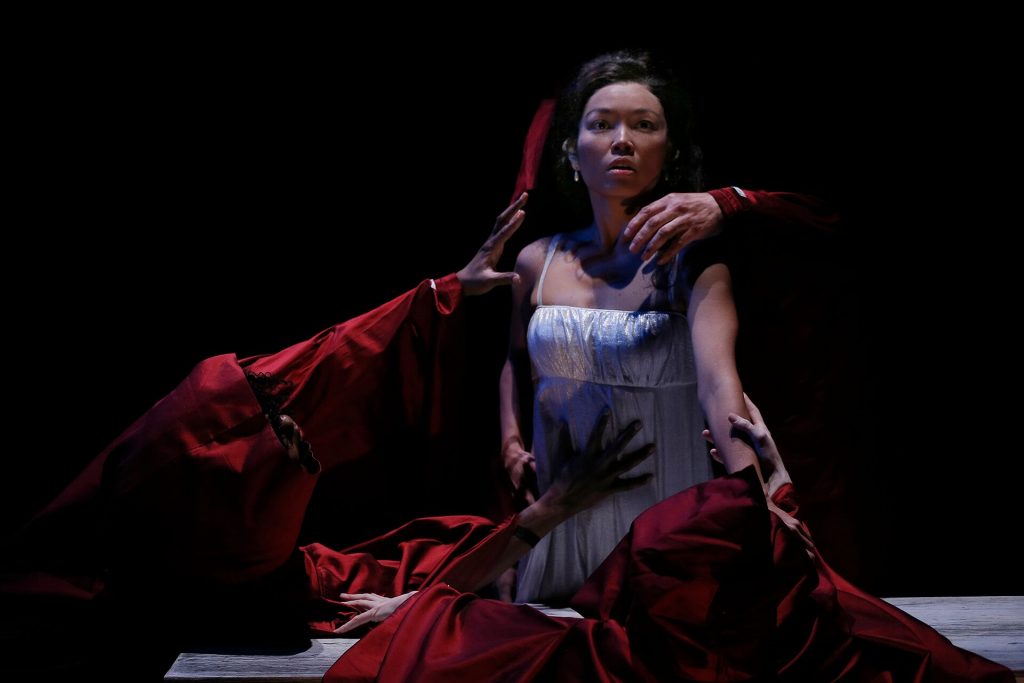 Review: Dracula by Bram Stoker and adapted by Steven Dietz. Produced by ACT. Directed by John Langs. Scenic Design by Matthew Smucker. Costume Design by Deborah Trout. Lighting Design by Andrew D. Smith. Sound Design/Music by Robertson Witmer. Additional Music by Rachael Beaver. With Avery Clark, Khanh Doan, Lindsay W. Evans, Basil Harris, Claudine Mboligikpelani Nako, Brandon O'Neill, Arjun Pande, Rachael Beaver. Onstage from October 18th through November 17, 2019 at ACT.
First up is ACT's new production of Steven Dietz's adaptation of the classic vampire novel, Bram Stoker's DRACULA his 1897 novel that has led to thousands of versions over the years since its release including very popular films and stage adaptations.
As always, Dracula centers on two opposing sides: the menacing, centuries old Transylvanian aristocrat turned vampire Count Dracula versus his adversaries/victims, in a battle that begins and ends in Transylvania but mostly takes part in late Victorian England. We originally meet young lawyer Jonathan Harker who has been sent to Dracula's castle to finalize a property deal…the mysterious and very strange count is buying property in the U.K. Harker is traumatized by what he learns about Dracula and what goes on in the castle, and goes into a shock induced coma.
Meanwhile, back in London, Harker's fiance Mina is joyfully receiving letters from Harker and awaiting his return, while staying with her dear friend Lucy who has a number of beaus including Dr. John Seward who runs an asylum for the insane. Among the inmates in that asylum, is the lunatic Renfield who delights in eating bugs and live animals and perplexes the staff with prophecies about a dark master who approaches…
Soon, Lucy begins to fall ill, victim to a mysterious malady, while Mina rushes off to the Continent to fetch the ill Harker and return with him to England. Lucy eventually and strangely dies as her friends begin to realize that Jonathan Harker's strange Count Dracula is the creature behind Lucy's death and other strange happenings. Once Dracula sets his eyes (and teeth) on Mina, the race is on to destroy the blood thirsty villain before Mina succumbs and becomes a vampire herself.
That, in a nutshell, is the plot of this production of Dracula yet hardcore fans of the story are probably asking a few questions right now since there seems to be some story/characters missing from this familiar tale. Playwright Steven Dietz has done a major edit of the source material to cram this version of the story down to a 100 minute one act format with the result that one major character was removed, (the Dutch vampire hunter Abraham Van Helsing,) as were several well known sections of the story, including Dracula's journey to England, via ship.
To be honest, I didn't really miss what was cut, though the ship sequence was terrifying, it doesn't really advance the plot. And, while I miss the voice of the elder Van Helsing, most of his duties in the plot have been re-assigned to the resourceful Mina, which just makes an already strong character even more powerful. My only regret is I think they should have kept at least one of Lucy's suitors…she had two others in the book, including a rich aristocrat, Arthur Holmwood and a Texan named Quincey Morris. The play works without having both of them present, but the story feels a bit…bare. We need at least one more "voice" here to interact with the other characters. I personally would have kept Quincey…having an American voice and a character full of bravado would have added to the atmosphere of the piece and frankly would have relieved some of the load off of the Seward character who isn't really that interesting.
Which leads to my main "quibble" with this adaptation and this production…it desperately needs an intermission. The show is billed as being "about 90 minutes" but it was more like 100 minutes, which isn't a super long period of time but…when you do this kind of high energy, slightly over the top, suspenseful kind of material I think you (meaning the audience) need a break after an hour or so. In live theater, there is this reciprocal energy that goes back and forth between the audience and the show it is viewing and frankly I think the audience can reach a point where they've absorbed so much information and visual stimulation that they need a break to process it all and prepare the psyche for the next offload of information in the next act. It's sort of like eating dessert at Thanksgiving…you need a break between all that damn turkey and stuffing before you tackle all that pie.
And, there was actually more than one moment in the show that felt like a natural place to stop for an intermission. While I very much enjoyed this production of Dracula; John Langs has superbly staged a first class thriller here, with a delightful tongue in cheek attitude that verges on "camp", I was a bit fussy and irritated by the 90 minute mark of the running time because I was overloaded with stimuli. Personally, I think the play would work better with another character added, an intermission and a bit longer running time; the ending of the story does feel VERY rushed which I was partly grateful for, since I was ready for a break, but it also hurts the pacing of the story.
So, now that I've delivered my "reservations" about the material (pretty good but could be better) we can move on to the gushing about the gorgeous work on hand including Matthew Smucker's delightful scenic design which is centered on a huge wall of what are essentially coffins…that move about in a fantastically terrifying way. And, Deborah Trout's beautifully color coded costumes (white and creme for the "good guys" and black/red for Dracula and his minions). As well as Andrew D. Smith's wonderfully dramatic lighting scheme and Rob Witmer's very nuanced sound design and music composition which includes superb live music performed by an onstage Rachael Beaver, who also contributed music composition to this production. This Dracula looks and sounds like a million bucks and comes complete with lots of terrific stagecraft involving creepy coffins, blood dripping down walls, fun puppetry and all sorts of stage magic craft that delights and dazzles the eye and the ear. These elements are by themselves worth the price of admission.
But, it's also well acted in a tight ensemble of 7 actors playing many roles who manage to capture both the self important seriousness of these melodramatic characters while acknowledging that it's all bit campier than thous. I mean, how else can you play this kind of material? So, while some of the actors can fully explore the very large natures of their characters and be delightfully BIG (Basil Harris is great fun as the bug eating Renfield), others have to maintain a sense of seriousness amidst all the bloodletting. Avery Clark as John Seward and Arjun Pande as Jonathan Harker are appropriately virile as the dashing younger men and Lindsay W. Evans is appropriately Germanic as a maid and other characters.
As for the two main female characters, Claudine Mboligikpelani Nako is having lots of fun as poor love besotted Lucy and Khanh Doan is just superb as the resourceful Mina, combining all the necessary ingredients of beauty, strength, intelligence and sex appeal to make for a very winning heroine who is no shrinking violet/damsel in distress.
Our Dracula is good, too. Brandon O'Neill loves a role he can sink his teeth into (insert groan here) and he's having quite a good time here playing all the various versions of the Count, from an old creepy Muppet version to the virile sex god he is by the end. It's a big hammy role but director John Langs and Mr. O'Neill keep it in check…Dracula is, after all, nothing more than a showstopping Balkan drag queen with a drinking problem and it's appropriate for him to be larger than life…he is, after all….dead.
Other than the lack of intermission, this Dracula is a winner and very much worth your time to check out…if you enjoy big, bold, larger than life, horror spectacles.
And, sweet, delicious, life giving blood…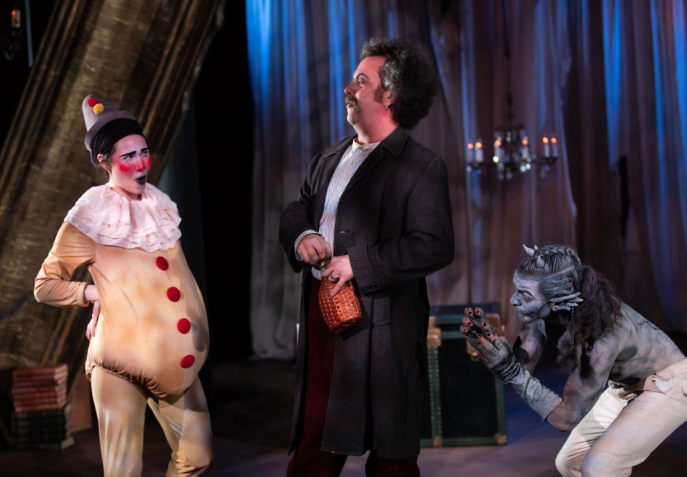 Review: THE TEMPEST by William Shakespeare. Produced by Seattle Shakespeare Company. Directed by Annie Lareau. Scenic Design by Julia Hayes Welch. Costume Design by Kelly McDonald, Lighting Design by Thorn Michaels. Projection Design by Tristan Roberson. Sound Design by Erin Bednarz. Composer and Music Direction by Malex Reed. With Gloria Lee Alcalá, Allyson Lee Brown, Amy Escobar, Marvin Grays, Casey Hartman, Laurence Hughes, Brandon JonesMooney, Sydney Maltese, Benjamin Neil McCormack, Christopher Morson, Eleanor Moseley, Mari Nelson, Peter Dylan O'Connor, Sidney Rakowiecki, Malex Reed, Betsy Schwartz. Onstage from October 15 to November 10, 2019 at Center Theatre at Seattle Center.
The other magic filled show in town is Seattle Shakespeare Company's production of THE TEMPEST, one of the Bard's final plays and one of his most thoughtful and dreamy. It's the story of Prospero, the former Duke of Milan, who had been unjustly banished a dozen years before, with his young daughter Miranda, and set adrift at sea. They land on a remote island only inhabited by a fairy/spirit named Ariel and a deformed "monster" named Caliban. Prospero is also a sorcerer and uses magic to enslave both while raising his daughter and carefully studying and planning for his revenge against his brother Antonio and Alonso, the King of Naples, who were responsible for his banishment.
Antonio and Alonso are at sea returning from a wedding along with Alonso's handsome son Ferdinand and Alonso's court which includes his drunkard butler Stephano and a silly clown named Trinculo. Sensing they are close by, Prospero conjures up a "tempest" or if we're being less fancy, a nasty storm which shipwrecks the party on Prospero's island where the court is separated from one another. Ferdinand is quickly captured by Prospero where the lad equally quickly falls for the lovely Miranda. Stephano and Trinculo meet up with Caliban, who has long vowed to be rid of Prospero and the trio drunkenly plot to take over the island. Meanwhile, the dreary royal party consisting of Alonso, Antonio and the rest are uselessly wandering around providing an excessive amount of backstory in a not very interesting way…
Eventually, all are reunited and all is forgiven and Ariel is set free and everyone returns to Naples to live happily ever after….The End.
And, that's what Seattle Shakes is giving us in this production…except for the fact they've cleverly done some "gender re-assignment" so there are more roles for female actors…Prospero, Alonso, Antonio and Trinculo are all now female. And, in an even more clever move, Ariel is now portrayed by FOUR actors who all act as one entity but with four visible forms of appearance. It sounds gimmicky, and it could be, in lesser hands, but director Annie Lareau has a clear vision on how she wanted to portray Ariel and it very much works here. The entire production is set in an Edwardian English style with the costuming and setting and more specifically, the world of the carnival/music hall with the four faces of Ariel and Trinculo all very precisely styled as those kinds of performers with the appropriate costumes.
And, visually, The Tempest is really a dream. A beautifully designed show with exquisite costumes from Kelly McDonald and overall scenic design by Julia Hayes Welch. Thorn Michaels has created a beautiful lighting scheme which casts the entire production in a lovely gas lighted glow of that period. There's also some terrifically atmospheric sound work from Erin Bednarz and projections designed by Tristan Roberson. All that gorgeous design work and Ms Lareau's carefully composed staging makes for a very handsome evening of theater.
But…
There are some audibility issues in play here and obviously I have to acknowledge that as an adult venturing into my Golden Years, that my aging ears have something to do with this as well, but…there are issues with lack of projection from some of the actors and just being able to hear and understand what is being said at times. Part of this I will attribute to the syndrome of "American Actors Slightly Terrified of Acting in Shakespeare Who Tend to Rush Their Lines Into A Garbled Muck Of Incomprehensibility"….it's something I've noticed in many productions of Shakespeare over the years. But, some of it was just not enough projection on the part of the actors. I'm not sure if it was an issue of direction or actor's choices or both but I should be able to hear an actor while being seated in an aisle seat in Row D in a not very large house.
And, I wasn't the only person straining to hear…I could see others in the audience doing the same. But, there ARE actors in the show that I had ZERO issues with hearing or understanding…every delightful word spoken by Christopher Morson as the very athletic, bouncing around the stage, fantastically made up gremlin/monster Caliban was clearly understood. Peter Dylan O'Connor's Stephano was perfectly understandable as was Eleanor Moseley's crystal clear King Alonso. So, it wasn't just a hearing issue on the part of my old clackety ears.
SPEAK UP, PLEASE!
That said, it's a a strong ensemble with strong performances from everyone…other than audibility, everyone was very much on point. I gushed about Mr. Morson's wonderful Caliban up above but it really is a high point in a show full of them. The trio of his Caliban and Mr. O'Connor's drunken Stephano and the daffy charms of Amy Escobar's clown Trinculo are an acting high light of the evening.
And, the quartet of actors playing Ariel are just very very good. It was a clever concept and well executed not only on the part of the direction but the design as well as the four performers themselves. Gloria Lee Alcalá, Sydney Maltese, Sidney Rakowiecki, and Malex Reed are a superb quartet working as a tight knit ensemble with music created by Malex Reed and staging by Ms Lareau. It was a brilliant creative decision to cast them.
The Tempest is a magical show and under the talented hands of this production team, Seattle Shakespeare Company has a production that is visually a triumph of the imagination and very enjoyable.
Audibly, it could use a bit more work.
(Visited 2 times, 1 visits today)