It's Saturday, October 26th and the Saturday before Halloween so it's pretty scary and spooky out there when it comes to events for today…you have your choice of several costume contests with big prizes attached (but, ya gotta bring your A game when it comes to that…) and since there are still more Halloween events in the days ahead, you can even recycle that costume and where it until it's in TATTERS by All Saint's Day!
You also have the choice of some great theater going on as well including two interesting plays at 12th Avenue Arts (White and The Revolutionists) plus ACT's just opened production of Dracula is a fun hoot.
Today's options or check out the SGS Calendar for future ones!
Events for October 26, 2019
10:00 AM
October 26 @ 10:00 am – 5:00 pm|Recurring Event (See all)Seattle Center Exhibition Hall, 301 Mercer Street
Seattle, 98109 United States + Google Map

A Weekend Celebration Of Everything Cats! 70+ Vendors Vendors from all over the world with meowchandise for cats and humans. Here you will find all the cat-related products imaginable: art, apparel, cat toys, accessories, paper goods, food brands, and MUCH MORE Workshops Art workshops, cat workshops, presentations from educational and entertaining speakers advocates and much […]Find out more »
October 25 @ 12:00 pm – November 3 @ 9:00 pmNorthwest Film Forum, 1515 12th Ave
Seattle, WA 98122 United States + Google Map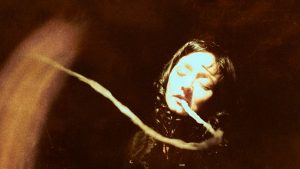 Never before seen films, never to be seen again. Seances presents a new way of experiencing film narrative, framed through the lens of loss. In a technical feat of data-driven cinematic storytelling, films are dynamically assembled in never-to-be-repeated configurations. Each exists only in the moment, with no pausing, scrubbing or sharing permitted, offering the audience […]Find out more »
1:00 PM
October 26 @ 1:00 pm – 3:30 pm|Recurring Event (See all)Julia's on Broadway, 300 Broadway E
Seattle, WA 98102 United States + Google Map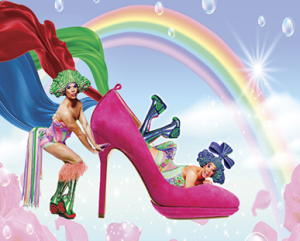 A weekly Saturday & Sunday brunch show. This is Seattle's only disco extravaganza themed brunch show featuring highlights from Priscilla Queen Of The Desert. We've reinvented ourselves to focus on traditional drag stylings of the disco-era. Our over-the-top costumes, giant wigs and outrageous performances make this the only drag show you should see in […]Find out more »
October 26 @ 1:00 pm – 4:00 pm|Recurring Event (See all)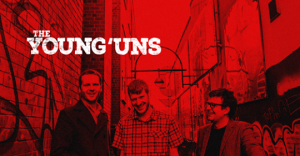 Concert: Saturday October 26, 2019 7:30 pm Keystone Church 5019 Keystone Pl. N; Seattle 98103 $20 contribution requested Workshop:Saturday October 26, 2019 1:00 – 3:15 PM $25 contribution requested. (combo special – $35 for both) Please make Reservations: rebelvoz@aol.com or 206.551.0818*Online reservations through Brown Paper Tickets link in this event* Just as election season is […]Find out more »
2:00 PM
October 26 @ 2:00 pm – 4:00 pm|Recurring Event (See all)12th Avenue Arts, 1620 12th Ave
Seattle, 98122 United States + Google Map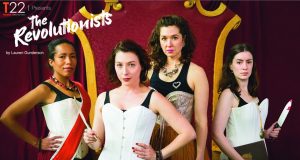 Directed by Julie Beckman THE REVOLUTIONISTS is a story about four badass women who lose their heads (literally) in this irreverent comedy set during the French Revolution's Reign of Terror. Playwright Olympe de Gouges, assassin Charlotte Corday, deposed queen Marie Antoinette, and Haitian rebel Marianne Angelle tell their stories together and try to beat back […]Find out more »
5:00 PM
October 26 @ 5:00 pm – 2:00 amCc Attle's, 1701 E Olive Way
Seattle, 98102 United States + Google Map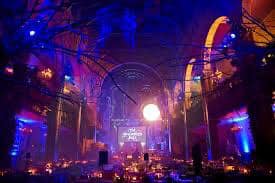 AS ALWAYS NO COVER EVER !!!!!!!! Join the Staff at CC's for a fun filled evening come out wearing body paints or your neon, florescent or bright whites…..we have installed black lights throuugh out the bar so you can show your glow…….As always if there is a line those in costume get priortiy entry……….Find out more »
October 26 @ 5:00 pm – 9:00 pmPipsqueak Gallery, 173 16th Avenue
Seattle, WA United States + Google Map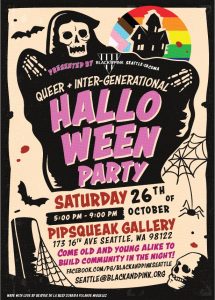 Come out to Pipsqueak Gallery (173 16th Ave) the Saturday before Halloween to join Black and Pink and friends for a Halloween party focused on building queer community across generations! Meet new folks and old friends! Eat a bite, take a sip, have a good talk, show off a dance move or two, learn more […]Find out more »
6:00 PM
October 26 @ 6:00 pmSheraton Grand Seattle, 1400 6th Avenue
Seattle, WA 98101 United States + Google Map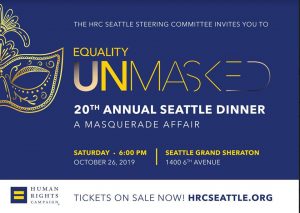 HRC Seattle is excited to announce this year's 20th Annual HRC Seattle Dinner "Equality Unmasked: A Masquerade Affair" will be held on October 26th at the Seattle Sheraton. Mark your calendars for what will be a night to remember. Visit www.hrcseattle.org for more info and to buy tickets!1400Find out more »
7:00 PM
October 26 @ 7:00 pm – 10:00 pm|Recurring Event (See all)Skylark West Seattle, 3803 Delridge Way SW
Seattle, WA 98106 United States + Google Map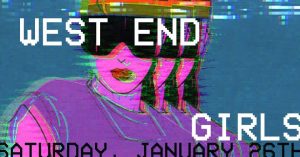 ⭐ West End Girls: A Drag Extravaganza! ⭐ 🎟️ TIX: buytickets.at/theskylark/284336 🎟️ Hosted by Cookie Couture Performances by: Anita Spritzer Betty Wetter Londyn Bradshaw Old Witch Stacey Starstruck Thadayus Poster Design: Alex Thomas | http://alextthomas.com/ Door: 7PM | Show: 8PM $10 online | $13 day-of 3803 Delridge Way SWFind out more »
October 26 @ 7:00 pm – 10:00 pm|Recurring Event (See all)Kremwerk, 1809 Minor Ave
Seattle, WA 98101 United States + Google Map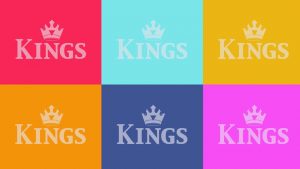 ~ Pop Culture Kings ~ Drag has always defied societies bio-essentialism and gender norms. Drag and LGBTQ people have redefined what Pop looks like again and again and inspired artists around the world. It's time to join the Kings for a special Pop-Culture themed edition of KINGS. Bringing you the best party and drag king […]Find out more »
October 26 @ 7:00 pm – 9:00 pm|Recurring Event (See all)ACT Theatre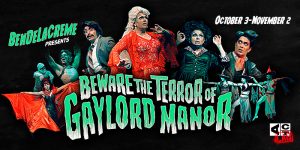 30 Shows! Oct 3 to Nov 2, 2019 Returning to haunt ACT Theatre for a third consecutive year, internationally acclaimed drag artist BenDeLaCreme is joined by an all-star cast of comedy, dance, cabaret and burlesque luminaries for a tale of Halloween horror sure to leave you howling! Pull up a seat in the heart of […]Find out more »
October 26 @ 7:00 pm – 11:00 pmAll Pilgrims Christian Church, 500 Broadway E
Seattle, WA 98102 United States + Google Map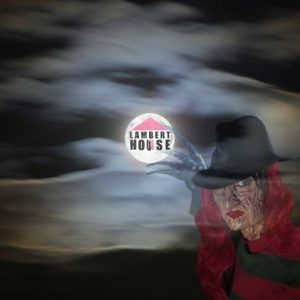 A spookily-fun dance for LGBTQ and ally youth ages 13-22! Come to make friends, with friends, or both and dance in celebration of the most haunted holiday of the year! Featuring lots of food and beverages, DJ Sean from Seattle Parties, a youth drag show, introvert room, coat and bag check, and more! Suggested donation […]Find out more »
October 26 @ 7:00 pm – 10:00 pmTimbre Room, 1809 Minor Ave.
Seattle, 98101 United States + Google Map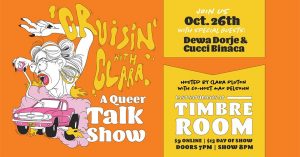 It's Cruising with Clara, baby! Join stand up comedian and podcaster (Hot Takes with Hot Dykes) Clara Pluton and their co-host Max Delsohn for a monthly late night talk show spectacular. Every month they'll be joined by two iconoclastic guests for a night of performance, interviews, and queer celebration! 🚗 TIX: bit.ly/CruisingWithClara 🚗 For the […]Find out more »
7:30 PM
October 26 @ 7:30 pm – 10:00 pm|Recurring Event (See all)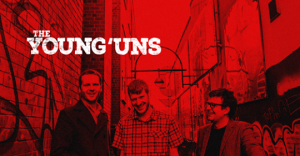 Concert: Saturday October 26, 2019 7:30 pm Keystone Church 5019 Keystone Pl. N; Seattle 98103 $20 contribution requested Workshop:Saturday October 26, 2019 1:00 – 3:15 PM $25 contribution requested. (combo special – $35 for both) Please make Reservations: rebelvoz@aol.com or 206.551.0818*Online reservations through Brown Paper Tickets link in this event* Just as election season is […]Find out more »
October 26 @ 7:30 pm – 10:00 pmReBar, 1114 Howell St
Seattle, WA 98101 United States + Google Map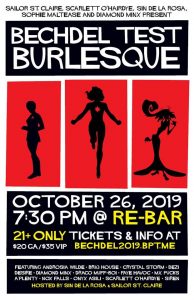 SAILOR ST. CLAIRE, SCARLETT O'HAIRDYE, SIN DE LA ROSA, SOPHIE MALTEASE, AND DIAMOND MINX PRESENT BECHDEL TEST BQ When the forces of white heteropatriarchal capitalism try to get you down, Bechdel Test BQ is here to lift you up with a jam-packed, star-studded evening of pop culture critique powered by thrilljoy feminism. This year, we've […]Find out more »
October 26 @ 7:30 pm – 9:00 pm|Recurring Event (See all)Copious Love Productions, 2220 NW Market St
Seattle, WA 98107 United States + Google Map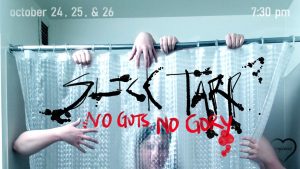 **A note about our location: The front door to Copious is on Market Street, between Bop Street Records and Pie Bar.** Bringing the tricks, tropes, and terror of horror film to the stage with all original content inspired by the best of the genre, Slick Tarp: No Guts, No Gory aims to find the humor […]Find out more »
8:00 PM
October 26 @ 8:00 pm – 2:00 amThe Crescent Lounge, 1413 E Olive Way
Seattle, 98122 United States + Google Map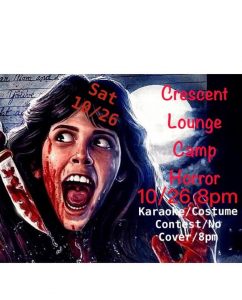 Come celebrate Crescent 80's Camp Horror! Karaoke all day and night starting at 4pm. Costume contest at midnight with cash prizes for 1st, 2nd and 3rd place. Judging will be on Realness, Funniness and Campiness! Playing camp horror movies for the night! Never a cover, come play at the Pacific Northwest's oldest gay and dive […]Find out more »
October 26 @ 8:00 pm – 10:00 pm|Recurring Event (See all)12th Avenue Arts, 1620 12th Ave
Seattle, 98122 United States + Google Map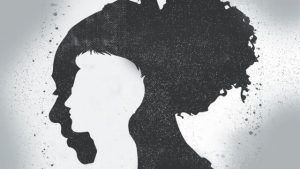 Gus is an artist. A very good artist. He's just not a famous artist. So when a major art museum puts out a call for "new perspectives," Gus – a white guy – decides to seize his opportunity. He hires Vanessa, a black actress, to perform as Balkonaé Townsend, a brash and political artist that […]Find out more »
October 26 @ 8:00 pm – 10:00 pm|Recurring Event (See all)Studio Current, 1100 E Pike St
Seattle, 98122 United States + Google Map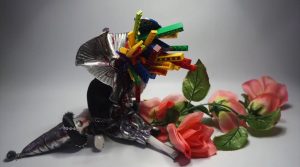 Drag up your Halloween weekend with an authentic scary maze produced by @intima_cabaret Rosa Marchita challenged her sisters to prepare a performance about their worst nightmare. You will be taken inside the dark corners of Íntim@'s world, where all the monsters hide. These latinx queens have gory secrets, and they will share it with you […]Find out more »
October 26 @ 8:00 pm – 3:00 amThe Cuff Complex, 1533 13th Ave
Seattle, WA 98122 United States + Google Map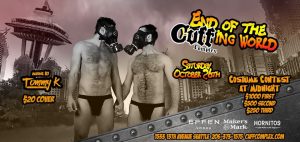 End Of The Cuffing World. The Cuff's Annual Halloween Party and Costum Contest. Saturday October 26th 8:00pm to 3:00am Music By DJ TOMMY K Costume Contest at Midnight. Your Host DJ Disco Vinnie. Prizes are $1000 First Place, $500 Second Place and $250 Third Place. Drink Specials all Night. Cover Charge $20Find out more »
October 26 @ 8:00 pm – 10:00 pm|Recurring Event (See all)On the Boards, 100 W Roy St
Seattle, 98119 United States + Google Map

An experiment in confined space, Ten Tiny Dances® is a performance series dedicated to fostering inventive dance/performance art and providing an accessible performance experience for a diverse audience…all on a 4 by 4 foot stage! Choreography by Arson Nicki, Scott/Powell Performance, Mike O'Neal (Majinn), Etienne Cakpo, KT Niehoff, ilvs strauss, Vis à Vis Society, Cheryl […]Find out more »
October 26 @ 8:00 pm – 11:00 pmPalace Theatre & Art Bar, 5813 Airport Way South
Seattle, WA 98108 United States + Google Map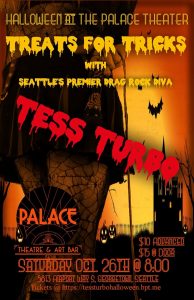 Tess Turbo is doing her first solo performance at The Palace Theatre and Art Bar for a rockin' Halloween show! Seattle's Premier Drag Rock Diva will grab your soul and haunt your dreams with 2 sets of high energy entertainment. Playing dress up is fun, so everyone is encouraged to ransack their costume closet and […]Find out more »
October 26 @ 8:00 pm – 2:00 am|Recurring Event (See all)The Union Seattle, 1200 2nd Avenue
Seattle, WA 98101 United States + Google Map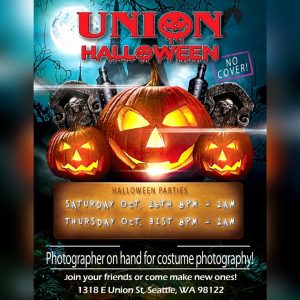 Join us tomorrow, Oct 26th and Saturday Oct 31st at Union to get your free costume photos! Hope to see you there!Find out more »
8:30 PM
October 26 @ 8:30 pm – 1:00 am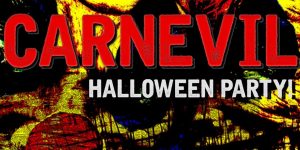 Welcome to the horrors and delights of CarnEVIL, Reboot's SCREAMINGLY popular Halloween party! Spooky clowns, fun house mirrors, and more! The last 2 years we've SOLD OUT, so make sure to get your tickets early! WHAT: Join us for our FIFTH year of hosting the best Halloween dance party in town! Located in SODO at […]Find out more »
9:00 PM
October 26 @ 9:00 pm – 11:00 pm|Recurring Event (See all)"Le Faux" at Julia's on Broadway, 300 Broadway Ave E
Seattle, 98102 United States + Google Map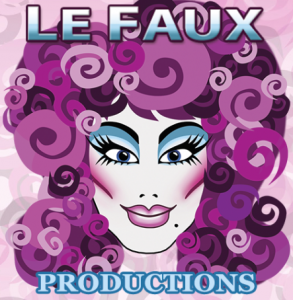 Le Faux at Julia's on Broadway A celebrity impersonation show featuring a full cast of professional impersonators, choreographed dancers and completely outrageous acts. You and your friends will have the time of your lives seeing our Las Vegas style productions of Britney, Cher, Pink, Taylor Swift, Adele, Nikki Minaj and many more concert-like performances that […]Find out more »
October 26 @ 9:00 pm – 2:00 am|Recurring Event (See all)The Wildrose, 1021 E Pike St
Seattle, WA 98122 United States + Google Map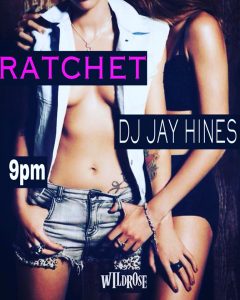 Ratchet w/DJ Jay Hines Weekly Saturday dance party for the women of Seattle…and nice allies. With DJ Jay Hines spinning the hits. $3 21+ w/IDFind out more »
October 26 @ 9:00 pm – 2:00 am|Recurring Event (See all)Neighbours Nightclub & Lounge, 1509 Broadway
Seattle, WA 98122 United States + Google Map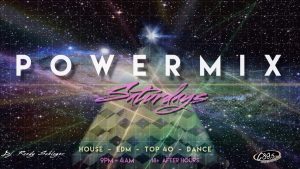 Weekly dance party with DJ Randy Schlager Enter in alley 21+ 9pm to 2am 18+ 2am to 4am CoverFind out more »
October 26 @ 9:00 pm – 2:00 am|Recurring Event (See all)Pony, 1221 E Madison St
Seattle, WA 98122 United States + Google Map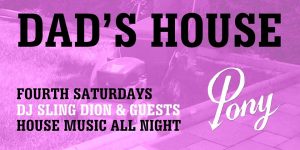 Dad's House brings you house music all night long! Whether you are a fan of the mid 80s house explosion of Detroit and Chicago, or more of a 90s club-house kid, come to Pony to shake your buns. Resident Dad, DJ Sling Dion, brings you the soundtrack, with a steady stream of four-to-the-floor guest DJs.Find out more »
October 26 @ 9:00 pm – 2:00 amFred Wildlife Refuge, 128 Belmont Ave E
Seattle, 98102 United States + Google Map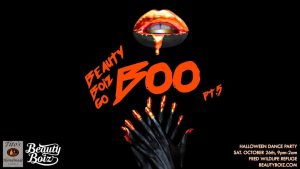 Get your costume ready queers, because it's time for our 5th annual Halloween Costume Dance Party! On Saturday, October 26th, the BeautyBoiz are back at Fred Wildlife Refuge (128 Belmont Ave. E, Seattle WA 98102) with BeautyBoiz go BOO, pt. 5. The event will feature a 30min Drag Spooktacular at 10:30pm, a dance party with […]Find out more »
October 26 @ 9:00 pm – 12:00 amClock-Out Lounge, 4864 Beacon Ave S
Seattle, 98108 United States + Google Map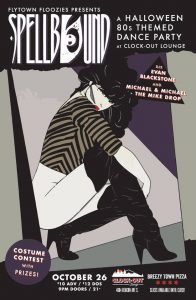 Party in your best Halloween costume, with an 80's inspired theme! DJ's Evan Blackstone and Michael & Michael – The Mike Drop, will be spinning all night long. $10 Advance // $12 Day of Show Costume Contest With Prizes! Note: not a specific LGBTQ event; open to allFind out more »
October 26 @ 9:00 pm – October 27 @ 5:00 amFirst & Bell, 2218 First Avenue
Seattle, WA 98121 United States + Google Map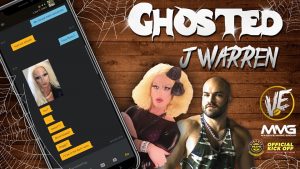 Did that naughty photo drop get no response? Maybe they're busy? Oh, but their status says online. Sorry girl, you just got GHOSTED! Boo to that! But hey, Verotica, the Queen of being ghosted, has got your back. "Not everyone can handle all this woman either babe, and I have tricks….all kinds of tricks." – […]Find out more »
October 26 @ 9:00 pm – 2:00 amQueer Bar, 1518 11th Ave
Seattle, 98122 United States + Google Map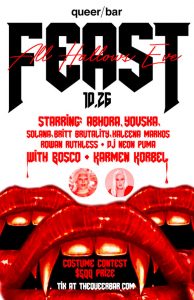 "Join us at the table. It's time to FEAST…" To celebrate the upcoming Samhain, Queer Bar invites you to FEAST: All Hallows' Eve with hosts Bosco and Karmen Korbel. A night of debauchery, decadence, and desire to welcome the thinning of the veil between this world and the next. Local drag legends Kaleena Markos, Solana […]Find out more »
October 26 @ 9:00 pm – 2:00 amThe Lumber Yard Bar, 9619 16th Ave SW
Seattle, WA 98106 United States + Google Map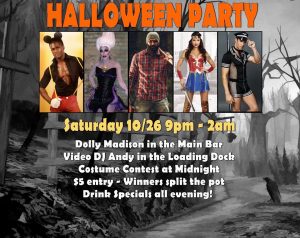 The Lumber Yard Bar is having a Halloween Party and you're invited! Costumes encouraged and we'll be holding a Costume contest at Midnight. Get those creative juices flowing, it's $5 to enter the contest – winners will split the total cash pot!! 🤑💵💰 Dolly & the DJ performing upstairs in the Main Bar Video DJ […]Find out more »
October 26 @ 9:00 pm – 2:00 amSeattle Eagle Tavern, 314 E Pike St
Seattle, WA 98122-3610 United States + Google Map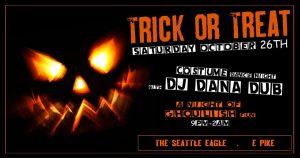 TRICK OR TREAT COSTUME BASH w/DJ DANA DUB A NIGHT OF GHOULISH FUN So excited to be back at the Dirty Bird kicking your Halloween Weekend on Saturday, October 26. Cum undead vamp witchy and expect to dance Dark Synth, Goth, Industrial, EBM, Acid House and other spooktackular favorites! ⚰️⚰️⚰️ Soundtrack by: DJ DANA DUB🎧 […]Find out more »
October 26 @ 9:00 pm – 1:00 amBackyard, 3820 S. Ferdinand St. Ste. 102
Seattle, WA 98118 United States + Google Map
Join us at Backyard in Columbia City for a spooktacular affair complete with karaoke, drag performances, costume contest, photo booth, dancing, themed drink specials, and more! Your bewitching host for the evening is Queen Andrew Scott joined by special guests and Backyard newcomers Rylee Raw and Phoenyx. KJ Fehronemo will keep you movin' and groovin' […]Find out more »
October 26 @ 9:00 pm – 2:00 amThe Wildrose, 1021 E Pike St
Seattle, WA 98122 United States + Google Map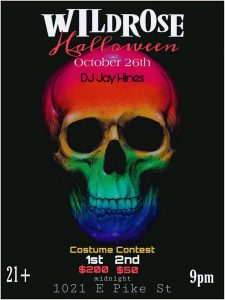 With DJ Jay Hines Costume Contest at Midnight w/prizesFind out more »
9:30 PM
October 26 @ 9:30 pm – 2:00 am|Recurring Event (See all)RPlace, 619 E Pine St
Seattle, WA 98122 United States + Google Map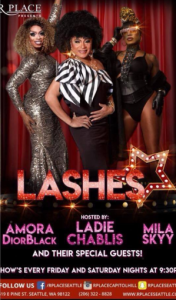 Seattle's looooooooong running weekly drag show every Saturday night at RPlace, with hosts Amora DiorBlack & Ladie Chablis & Mila Skyy plus a slew of special guests. 9:30pm to 2am 21+ w/ID Cover is usually $10/May be higher for nights with out of town guests/special events Followed by Therapy with DJ Flow and Go Gos. Dance […]Find out more »
10:00 PM
October 26 @ 10:00 pm – 3:00 am|Recurring Event (See all)Cuff Complex, 1533 13th Ave
Seattle, WA 98122 United States + Google Map

The Cuff Complex Seattle hosts international DJs every Saturday night from 10pm to 3am! Check website and Facebook for weekly updates on line-up! 21+ w/ID Note: The Cuff advertises itself as a Gay Man's Club. The clientele is mostly gay and male but allies are welcome. Cover varies from week to week depending on talent: […]Find out more »
October 26 @ 10:00 pm – 12:00 am|Recurring Event (See all)ACT Theatre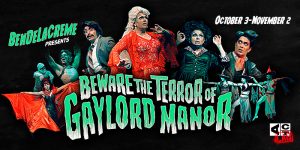 30 Shows! Oct 3 to Nov 2, 2019 Returning to haunt ACT Theatre for a third consecutive year, internationally acclaimed drag artist BenDeLaCreme is joined by an all-star cast of comedy, dance, cabaret and burlesque luminaries for a tale of Halloween horror sure to leave you howling! Pull up a seat in the heart of […]Find out more »
October 26 @ 10:00 pm – October 27 @ 4:00 amKremwerk, 1809 Minor Ave
Seattle, WA 98101 United States + Google Map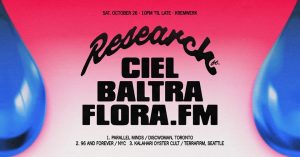 Join us for an evening of Research with… Baltra https://soundcloud.com/baltra Ciel https://soundcloud.com/cl_lit Flora FM https://soundcloud.com/florafm Visual Enhacements by Gia Valente http://giavalente.com/art Advanced Tickets are available now: http://bit.ly/ResearchBaltra ……………………………………… Research seeks to provide a safer space for attendees to thrive on the dancefloor. Those who exhibit racist, sexist, homophobic, transphobic, ableist, ageist, and/or physically/sexually/verbally aggressive behavior […]Find out more »
October 26 @ 10:00 pm – 2:00 amReBar, 1114 Howell St
Seattle, WA 98101 United States + Google Map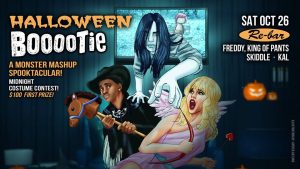 Re-bar, 1114 Howell St, Seattle $15 before 10:30 PM . $20 after . 21+ w/ ID 💀 It's a Monster Mashup Spooktacular, with a Midnight Costume Contest with cash prizes! Plus, scary good mashups to keep you on the dance floor well past the witching hour! 💀 ► MIDNIGHT COSTUME CONTEST $100 First Prizes for […]Find out more »
October 26 @ 10:00 pm – 2:00 amTimbre Room, 1809 Minor Ave.
Seattle, 98101 United States + Google Map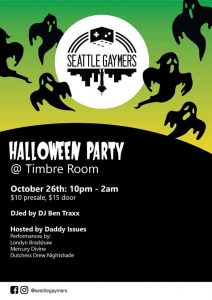 For the 4th year in a row, Seattle Gaymers is thrilled to bring our annual Halloween Party in conjunction with our fabulous peers at Timbre Room. Join us at this fun-filled event featuring music by DJ Ben Traxx and hosted by our very own Daddy Issues. PLUS Performances by Londyn Bradshaw, Mercury Divine, and Dutchess […]Find out more »
October 26 @ 10:00 pm – 2:00 amTrain Car House Party, 2963 4th Ave S
Seattle, WA 98134 United States + Google Map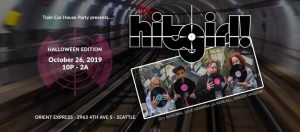 TCHP and HITGIRL (Julie Herrera, LA Kendall LaBree, Aundrea Stoyanov, and Ginger Vaughn Hollinga) GET SPPOOOOOKY for OUR ANNUAL HAUNTED TRAIN EDITION!!!Find out more »
October 26 @ 10:00 pm – 12:00 amCopious Love Productions, 2220 NW Market St
Seattle, WA 98107 United States + Google Map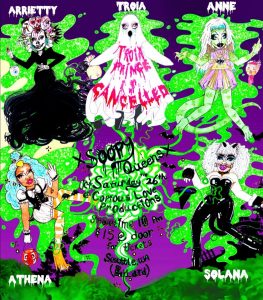 **A note about our location: The front door to Copious is on Market Street, between Bop Street Records and Pie Bar.** Seattle's up and coming queens are here to give you a ooky kooky spooky fright this hollow eve! Tonight's Cocktail: Pumpkin Bussy — Accessibility: Our freight elevator can be accessed from the entrance to […]Find out more »
11:00 PM
October 26 @ 11:00 pm – 1:00 am|Recurring Event (See all)"Le Faux" at Julia's on Broadway, 300 Broadway Ave E
Seattle, 98102 United States + Google Map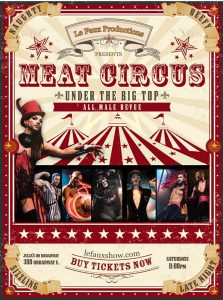 Meat Circus Under The Big Top ALL Male Revue | Circus Arts | Boylesque Le Faux Productions, the longest running cabaret-style dinner theatre in Seattle's history, proudly presents Meat Circus: Under the Big Top. Meat Circus is an adults-only all male revue featuring circus arts, dance, boylesque, music and comedy. It is a celebration […]Find out more »