Well, on stage at least. Theatre22 is staging two plays in repertory at 12th Avenue Arts on Capitol Hill in what they're calling a "Festival of Revolution".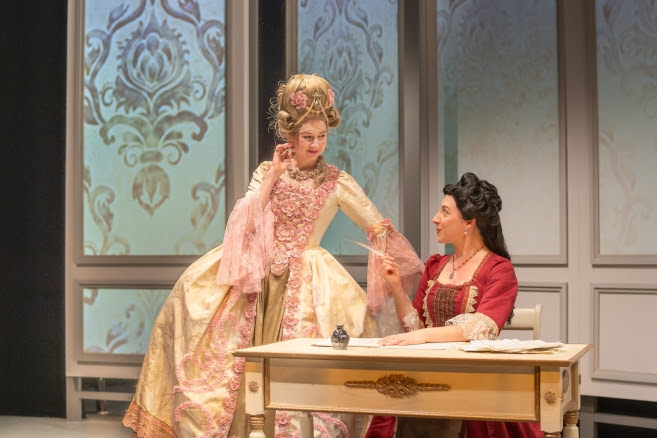 Review: THE REVOLUTIONISTS by Lauren Gunderson. Produced by Theatre22. Directed by Julie Beckman. Costume Design by Jocelyn Fowler. Props Design by Jodi Sauerbier. Scenic Design by Parmida Ziaei and Margaret Toomey. Lighting and Projection Design by Ahren Buhmann. Sound Design by Maggie Rogers. With Angela DiMarco, Shanna Allman, Anjelica McMillan, Anastasia Higham. In repertory from October 18 through November 9, 2019 at 12th Avenue Arts/Capitol Hill.
One of the plays, makes that theme very clear because it's THE REVOLUTIONISTS by the very prolific and popular playwright Lauren Gunderson who has been one of the most produced playwrights in the country for the last 3 years, mostly due to this play (a 4 hander for an all female cast) as well as for Silent Sky, her 2015 play about the real life female astronomer who broke the glass ceiling for…female astronomers.
Ms Gunderson likes her historical female figures…like Silent Sky, The Revolutionists features a bevy of famous women from history, in this case they're all women who were executed during the French Revolution (the first one; not the Les Miz one…). Though they never met in real life, Gunderson has assassin Charlotte Corday (who killed the journalist Marat in his bathtub), and French Queen Marie Antoinette show up at the home of playwright/feminist Olympe de Gouges seeking help in promoting their cause or pleading for redemption. They're also joined by a composite figure, a Haitian woman and former slave named Marianne Angelle who is in Paris seeking freedom for her people and wants to enlist Olympe to write pamphlets for HER cause.
Though not all necessarily bound by the same cause, the four women all meet in the salon of Olympe and form bonds of sisterhood…in a way that's not at all historically accurate but also a lot more fun. This is a Riot GRRRRRL Power Play where the women are teaming up to fight misogyny and oppression! Gunderson has placed her characters in a Meta Theatrical World combining real women but giving them very contemporary voices and motives. The characters are mostly aware they're all characters in a play though the playwright character (and the center of the story) Olympe is the one who most struggles with this peculiarity as she has to face her eventual fate, under the blade of the guillotine.
It all sounds a bit…over the top, but The Revolutionists works as a play because Ms Gunderson is a talented writer who can pack a lot of historical information into a 2 hour play but keep it fresh with her witty dialogue and strong characters. And, the four female characters here are all interesting and varied and come with their own unique voices and personas. Olympe is the sophisticated but passionate writer who sounds like she comes from the Upper West Side of Manhattan; Charlotte is the fierce Riot Girl; Marianne is the impassioned civil rights worker who misses her family.
They're all well drawn, fascinating characters but it's really Marie Antoinette who ties it all together not only because she's the most famous of the four but because Gunderson has so deliciously re-created Marie as a delightfully daffy, somewhat vapid yet adorably street smart persona of a kind hearted Valley Girl who is trapped in an awful situation. The role is written to be very funny but it's also probably the most poignant of the characters. Marie's silly, frivolous life didn't deserve the fate she received.
And, Theatre22's production gives justice to Marie and all the characters with a strong staging by veteran director Julie Beckman who has also superbly helmed other shows with Theatre 22 including their excellent Water by the Spoonful from a few seasons back. There's good use made of the multi-level set designed by Margaret Toomey and Parmida Ziaei (which does double duty as the set for White, the other play being produced in repertory, as well) to stage the various executions which also utilizes Ahren Buhmann's exceptional lighting and projection design. The projections, that suggest the horrors of the guillotine, work hand in hand with Maggie Roger's subtle but evocative sound design.
The quartet of actors are all very good. Angela DiMarco nicely centers it all as the passionate writer Olympe and she's well supported by Anjelica McMillan's fierce portrayal of Marianne and the charming toughness of Anastasia Higham's Charlotte Corday, the "young assassin with great cheekbones".
But, the scene stealer is obviously both written to be just that and fortunately is very superbly portrayed by Shanna Allman as the gloriously daffy Marie Antoinette, the pouty Queen with a twinkle in her eye and a fondness for the finer things in life. Ms Allman has displayed her comedic gifts in many plays around town including very funny work in She Stoops To Conquer and The Government Inspector at Seattle Shakespeare Company but she's never really had a chance to go this delightfully big and bold with a role like Marie and she's just terrific at playing the big comedy but also the tender moments as Marie faces her doom. Marie Antoinette frankly lifts the play with her lightness and the performance does the same.
There's more to The Revolutionists that a cartoon Queen and a message of Girl Power; it's a smart play that engages while it entertains and it's very much recommended.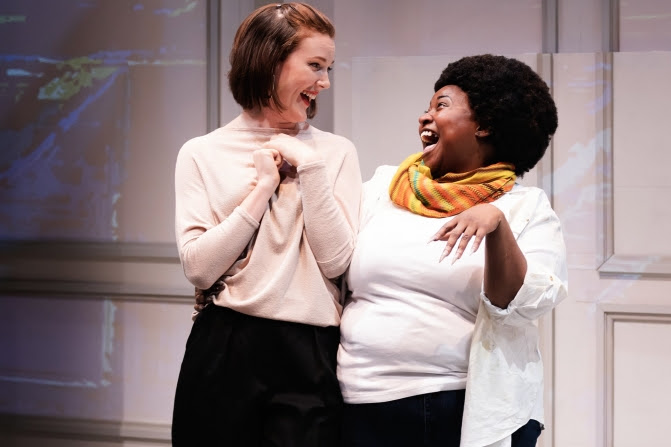 Review: WHITE by James Ijames. Produced by Theatre22. Directed by Corey McDaniel and Tayo Talabi. Costume Design by Patrick Swett. Prop Design by Jodi Sauerbier. Scenic Design by Parmida Ziaei and Margaret Toomey. Lighting and Projection Design by Ahren Buhmann. Sound Design by Maggie Rogers. With Shermona Mitchell, Tyler Rogers, Christian Quinto, Jennifer Ewing. In repertory from October 18 through November 9, 2019 at 12th Avenue Arts/Capitol Hill.
Alternating in repertory with The Revolutionists is a more contemporary set work. It's WHITE by actor/playwright James Ijames and while it's set in the world of contemporary art, it also sets out to be revolutionary…though it doesn't always succeed…
White is centered on Gus, a young white gay male artist with an adorable boyfriend named Tanner, and a promising career as an up and coming painter. He's also confident that his college pal Jane, who has just been named the head of a major art museum, will fulfill his dreams of having one of his works in a show at that museum.
But, Jane wants to "revolutionize" the stuffy mostly white male centric world of art and wants her first major show at the museum to only contain work by under appreciated artists…in other words, she's curating the show with works by artists of color and women.
Gus, being a fragile and apparently quite stupid and selfish white man, finds this unacceptable and concocts a ridiculously dumb scheme to hire a black female actress to present herself as the creator of Gus's art in order to get the work into Jane's show and thus prove a "point" that reverse discrimination is just like, so unfair. So, he hires a sweet young actress named Vanessa and together they create the outrageously over the top character of "Balkonaé Townsend" to pull off the scam.
Now, Gus COULD just wait for another opportunity to submit his work for a FUTURE show at the museum but…that would make too much sense. He needs to do this NOW because he's dumb and self-centered.
Of course, things come unglued when Vanessa finds herself transformed BY the portrayal and Balkonaé starts calling the shots which upsets Gus and screws up his plans for "revenge" against the evil establishment that unfairly discriminates against poor defenseless white men such as himself.
There are many things wrong with this play not limited to its plot which is so dumb and unlikely that Lucille Ball would have rejected it for an episode of The Lucy Show in 1968. There's a zillion plot holes/contrivances/too many moments where we're forced to suspend all notions of common sense. The two white characters are overly broad caricatures and the boyfriend, who is written as non-white and super nice would never be partnered with an oaf like Gus.
Which leaves Vanessa/ Balkonaé who is the only interesting character in the play…she has fascinating layers and depth. We discover Vanessa isn't actually her real name; she named herself after her favorite character on The Cosby Show, which in itself is telling as Vanessa Huxtable was also the classic middle child always searching for her place in the world and so does this Vanessa as well. Once Actress-Vanessa discovers Balkonaé and the power that that character gives her, she starts to develop a more complicated and dangerous persona.
A running joke in the play is the idiotic Gus constantly referring to "releasing the fierce black woman" living inside him, a tired cliché referencing the many inane gay men who make similar statements about themselves (which is mostly based on/stolen from black drag stars they've seen on RuPaul's Drag Race…) In fact, in this play, the actress playing Vanessa/ Balkonaé also plays THAT stereotypical diva supposedly living inside tired white boys wanting to be "fierce". That imaginary character, named in the play as "Diana of Detroit" emerges to give Gus good advice…or so he claims.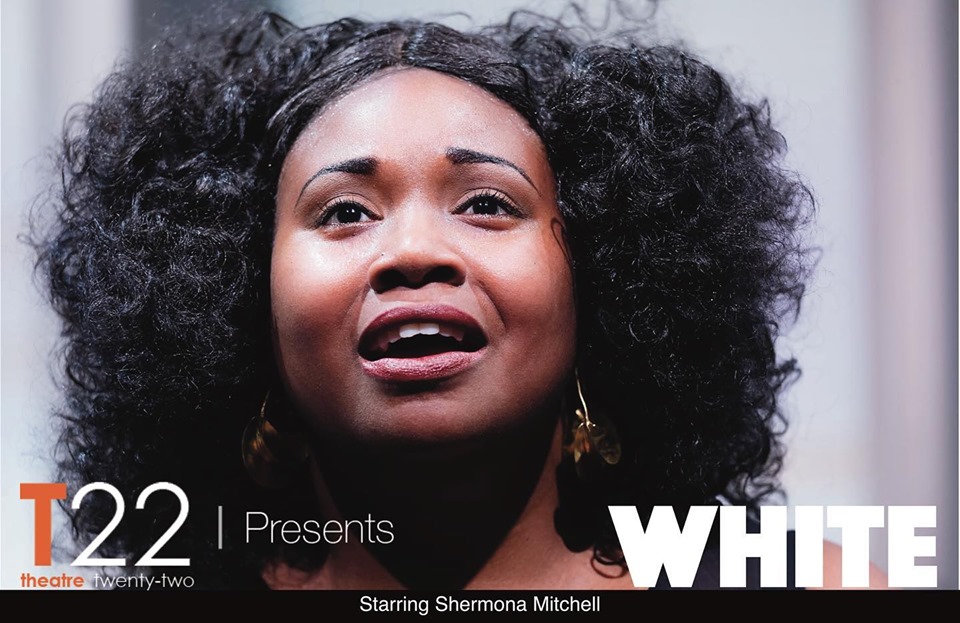 But, the irony of the play, (and really the cleverest writing) is using the Balkonaé character to represent the "fierce black woman" living inside of shy sweet Vanessa, an ACTUAL black woman who only comes alive once she releases the strong diva inside her.
White, the play, mostly works when it centers on Vanessa/ Balkonaé. The rest of the story doesn't really work so much though playwright Ijames does come up with a strong ending for the play involving the attempted "acquisition" of Balkonaé's talents by the museum. There's an obvious reference to slavery here, the ownership of a black artist by a corporate institutional entity. It's a strong way to end a play that is weak in other areas.
My feelings on the material itself are very mixed but this production is strong. It's handsomely designed (by the same artists mentioned above in the review for The Revolutionists) and co-director's Corey McDaniel and Tayo Talabi have done a solid job of staging the piece.
The ensemble is strong even though the characters were awkwardly written, Jennifer Ewing was very funny as the driven museum curator and Christian Quinto was charming as the loving boyfriend who rather unbelievably still supports a partner who is a huge clod. And, even poor Tyler Rogers does a fine job of playing that clod, Gus…it's not easy playing someone so cluelessly awful but Mr. Rogers manages to give Gus a spark of humanity.
But, the night and the play belong to Vanessa/ Balkonaé and Shermona Mitchell is really good playing the many manifestations of the character (including a terrific imitation of Phylicia Rashad's Clair Huxtable from The Cosby Show) as well as the diva "Diana of Detroit". The play is really written as a showcase for the actress cast in the role and as usual, Ms Mitchell is up to the challenge, nicely capturing the uncertainty of Vanessa, the bravado of Balkonaé and the divalicious allure of "Diana". It's a bravura performance very much worth checking out.
Both of the Theatre22 shows, The Revolutionists and White have much to offer…strong design and staging and tight ensembles for both shows. White suffers from some script issues but its center character and performance are exceptional and the play has a powerful ending. And, The Revolutionists, blessed with a stronger script, offers up a quartet of fascinating characters and performances.
(Visited 6 times, 1 visits today)