So, many things to do for the Ides of November!
There are, of course, 20 billion drag shows including our favorite weed infused drag chef, Bitsy Bates hosting a show at the Palace in Georgetown plus a drag tribute to Miss Celine Dion at Kremwerk, and something arty and interesting called "Glory Hole:Exquisite Corpse" at Studio Current on Capitol Hill…
Also: BIG FREEDIA is in town for a show at The Neptune!!!
And, my favorite poster for an event happening tonight is the amazing art for BEARS IN SPACE at Kremwerk…that gorgy poster is by Los Angeleno, Ian O'Phelan…it's DREAMY!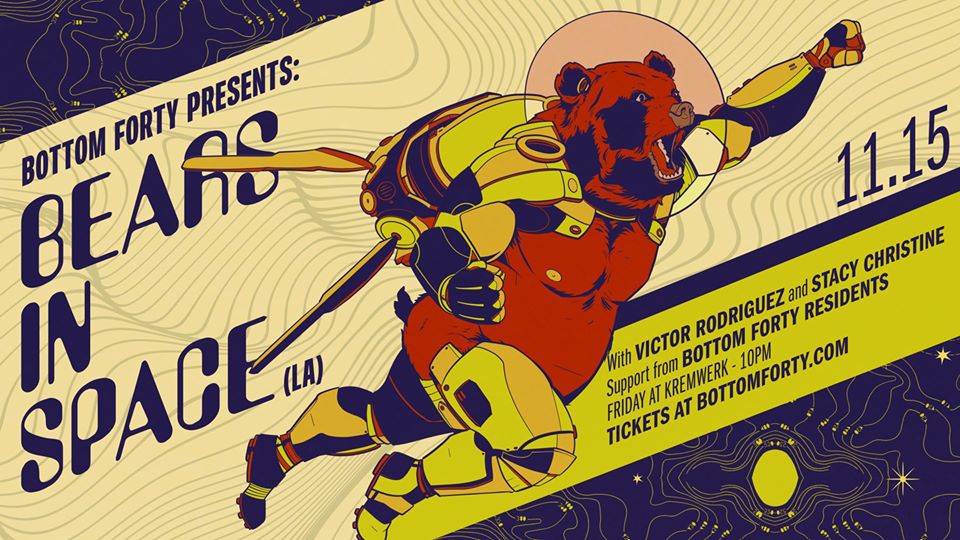 ALL the stuff to do:
Events for November 15, 2019
5:30 PM
November 15 @ 5:30 pm – 6:30 pm|Recurring Event (See all)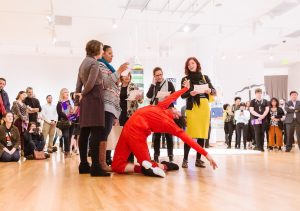 The dancing body will be used to create a temporary living homage to those that dedicated their voice to the AIDS epidemic while also celebrating the lives of those affected by it. This series of pop up performances curated by David Rue will exemplify the physical intersection of exuberance, effervescence, and resilience. Occurring monthly at […]Find out more »
6:30 PM
November 15 @ 6:30 pm – 9:30 pm|Recurring Event (See all)Ray Gun Lounge, 501 E Pike St
Seattle, WA 98122-3617 United States + Google Map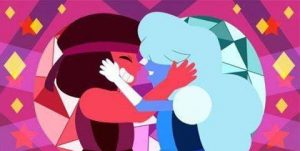 Join us every 3rd Friday for this inclusive event welcoming trans women, LGBTQ women, non-binary and genderqueer folks to Raygun Lounge.Find out more »
7:00 PM
November 15 @ 7:00 pm – 10:00 pm|Recurring Event (See all)Cuff Complex, 1533 13th Ave
Seattle, WA 98122 United States + Google Map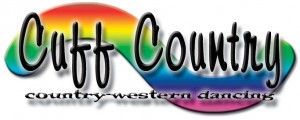 Rain Country Dance Association presents Country Dancing every Friday night at The Cuff. Lesson: 7:15pm to 8:15pm Open Dance: 7pm to 10pm 21+ The Rain Country Dance Association creates a friendly environment for GLBTQ people and friends to meet and dance in the Pacific Northwest. We support the Country-Western dance community by providing opportunities to […]Find out more »
November 15 @ 7:00 pm – 8:30 pm|Recurring Event (See all)Gay City: Seattle LGBTQ Center, 517 East Pike St
Seattle, WA 98101 United States + Google Map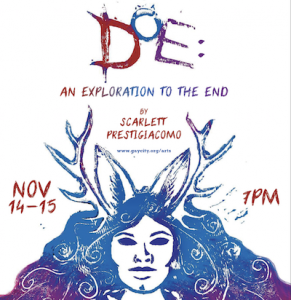 DOE: An Exploration to the End DOE: An exploration of The End is an apocalyptic fairy-tale. It will be performed as a one-woman show by Scarlett Prestigiacomo. Using original poetry and music, she will weave together a surreal, mythic world around a cast of fantastical characters. The story follows the life of Doe, a human-like […]Find out more »
November 15 @ 7:00 pm – 10:00 pmKremwerk, 1809 Minor Ave
Seattle, WA 98101 United States + Google Map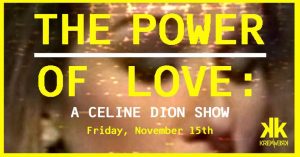 The Power of Love: A Celine Dion Show Hosted by SHE & Beau Degas 🎤 TIX: bit.ly/CelineShow 🎤 Seattle drag does Celine Dion, featuring: Arrietty Fatale Butch Alice Cannoli Mona Real Door: 7PM ⎮ Show: 8PM ⎮ 21+ 1809 Minor Ave.Find out more »
November 15 @ 7:00 pm – 10:00 pmTimbre Room, 1809 Minor Ave.
Seattle, 98101 United States + Google Map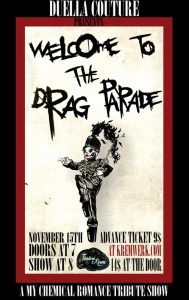 Duella Couture presents: Welcome To The Drag Parade // A My Chemical Romance Tribute Show 🖤 TIX: bit.ly/MyChemicalRomanceDrag 🖤 Are you ready to darken your clothes and strike a violent pose? Are you not afraid to keep on living? Are you not afraid to walk this world alone? Did you wake up DEAD? Are the […]Find out more »
November 15 @ 7:00 pm – 11:00 pm|Recurring Event (See all)Cuff Complex, 1533 13th Ave
Seattle, WA 98122 United States + Google Map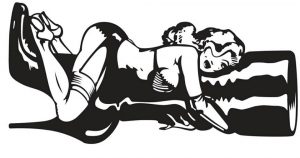 This woman-centric event puts queer Leather women to the front! If you are a queer woman and enjoy spending time with other queer women, you AND your queer guests are welcome! Come on out, every 3rd Friday at The Cuff Complex in Seattle! Invited guests do not need to identify as women but must attend […]Find out more »
November 15 @ 7:00 pm – 11:00 pmPalace Theatre & Art Bar, 5813 Airport Way South
Seattle, WA 98108 United States + Google Map

You have asked for her and well, now you've got her, so Come & Get It! That's right, Seattle's 'Cannabis Queen' has her own show at the Palace Theatre & Art Bar on November 15th and we want YOU there! Enjoy an evening of laugher, song, & oddities with performances by: * NarrowTarrot (Everett's FAVORITE […]Find out more »
8:00 PM
November 15 @ 8:00 pm – 12:00 am|Recurring Event (See all)Century Ballroom, 915 E Pine St
Seattle, 98122 United States + Google Map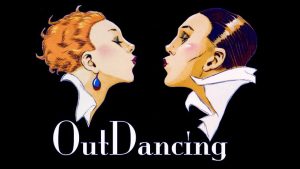 Join us Friday, August 16 for Outdancing with MC Koop! 8:00pm Line Dance Lesson $12 8:30pm-12:00am Dance $12 (FREE with Lesson) 21+ OutDancing is one of the longest running nights for the LGBTQ social dance community in Seattle and certainly the largest floor to spin around on. Owner Hallie Kuperman (MC Koop) plays something for […]Find out more »
November 15 @ 8:00 pm – 11:30 pmNeptune Theatre, 1303 NE 45th St
Seattle, WA 98105 United States + Google Map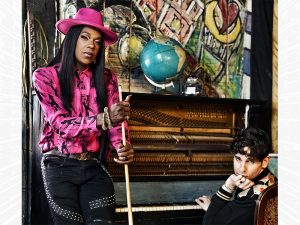 STG Presents Big Freedia Special Guest: Low Cut Connie November 15, 2019 | The Neptune Theatre GET TICKETS PERFORMANCE NOTES Friday, November 15, 2019 Doors at 8:00 pm Show at 9:00 pm General Admission All Ages / Bar with I.D. $23.50 advance $26.50 day of show (not including fees) To Purchase By Phone: 1-800-982-2787Find out more »
November 15 @ 8:00 pm – 10:00 pm|Recurring Event (See all)West of Lenin, 203 N 36th St
Seattle, 98103 United States + Google Map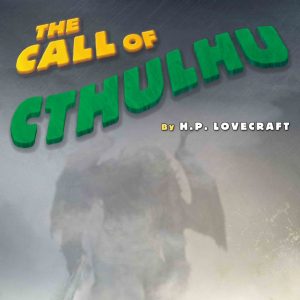 Adapted for the stage from Lovecraft's cult classic, THE CALL OF CTHULHU introduced the world to the iconic huge alien. Set in Providence in 1954, the story follows a university professor who is executor of her great-aunt's estate. While going through her papers she uncovers a mystery spanning eons of time and crossing the world, […]Find out more »
November 15 @ 8:00 pm – 9:30 pm|Recurring Event (See all)The Lumber Yard Bar, 9619 16th Ave SW
Seattle, WA 98106 United States + Google Map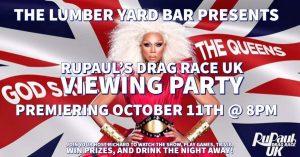 Hey The Lumber Yard Bar RuPaul's Drag Race Fans! The library is open! Please join your host Richard on Friday, October 11th for the Season Premiere of RuPaul's Drag Race UK. Show starts @ 8PM. See ya there!Find out more »
November 15 @ 8:00 pm – 2:00 amCc Attle's, 1701 E Olive Way
Seattle, 98102 United States + Google Map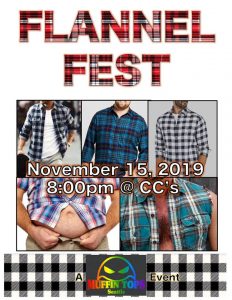 Come Join the Staff at CCs for a fun fall event while supporting the Seattle Muffin Tops. Come on out in your favorite flannel attire. Scarfs, Socks, underwear, boxer shorts, PJ's, Union suits, robes, shirts and more.Find out more »
November 15 @ 8:00 pm – 10:00 pmStudio Current, 1100 E Pike St
Seattle, 98122 United States + Google Map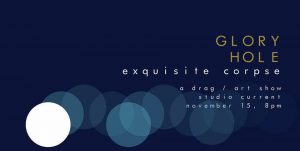 Studio Current presents: Glory Hole: Exquisite Corpse a drag / art show a space for exploration in drag, performance art, dance and other faggotry. this time, it's a movement hole. with pieces by: One Miss Texas 1988 Angel Baby Killkillkill Stasia Coup Cranberry Studio Current 8pm $15 suggested All ages!Find out more »
November 15 @ 8:00 pm – 10:00 pm|Recurring Event (See all)Meany Hall for the Performings Arts, Washington University Seattle, WA 98195 United States + Google Map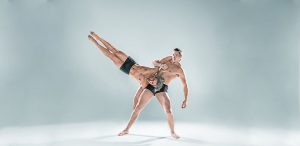 PROGRAM CHANGE: Due to a recent change in Brian Greene's schedule, the program for Pilobolus has been updated from Time and the Creative Cosmos to the company's latest work, Come to Your Senses. Brian Greene will not be performing on the new program. Come to Your Senses is inspired by the company's collaborations with Radiolab […]Find out more »
November 15 @ 8:00 pm – 12:00 amSeattle Art Museum, 1300 1st Ave
Seattle, 98101 United States + Google Map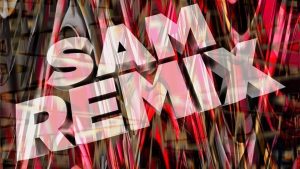 SAM Remix returns for creative late-night performances, art making, live music, and tours produced by the region's best artists and creatives inspired by "Flesh and Blood: Italian Masterpieces From The Capodimonte Museum." This Remix explores how we evoke emotion and tell stories through our bodies, senses, and through the blending of art forms. Throughout the […]Find out more »
9:00 PM
November 15 @ 9:00 pm – 11:00 pm|Recurring Event (See all)"Le Faux" at Julia's on Broadway, 300 Broadway Ave E
Seattle, 98102 United States + Google Map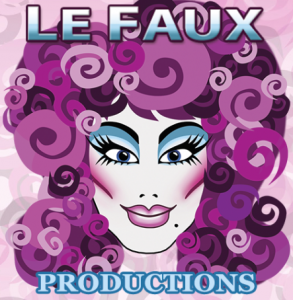 Le Faux at Julia's on Broadway A celebrity impersonation show featuring a full cast of professional impersonators, choreographed dancers and completely outrageous acts. You and your friends will have the time of your lives seeing our Las Vegas style productions of Britney, Cher, Pink, Taylor Swift, Adele, Nikki Minaj and many more concert-like performances that […]Find out more »
November 15 @ 9:00 pm – November 16 @ 4:00 am|Recurring Event (See all)Neighbours Nightclub & Lounge, 1509 Broadway
Seattle, WA 98122 United States + Google Map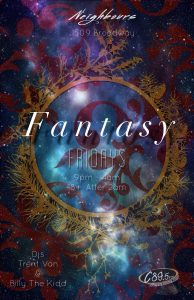 Weekly dance party at Seattle's oldest LGBTQ nightclub Entry is in alley. 21+ until 2am 18+ 2am to 4am DJs Billy the Kid Cover: usually $10Find out more »
November 15 @ 9:00 pm – 2:00 am|Recurring Event (See all)Pony, 1221 E Madison St
Seattle, WA 98122 United States + Google Map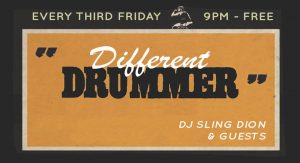 Join us for Different Drummer in its new slot starting in October every third Friday as DJ Sling Dion welcomes a wonderfully eclectic cast of guests. Different Drummer recreates the soundtrack to our sexual histories. From the darkroom of your dreams, comes the synth/disco/italo/bathhouse dance party paying respect to the queers who invented dance culture. […]Find out more »
November 15 @ 9:00 pm – 2:00 am|Recurring Event (See all)The Lumber Yard Bar, 9619 16th Ave SW
Seattle, WA 98106 United States + Google Map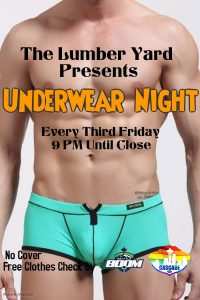 Join us every third Friday of each month as we host underwear night at the Lumber Yard. We will have a guest DJ each month,Find out more »
November 15 @ 9:00 pm – 1:30 am|Recurring Event (See all)Queer Bar, 1518 11th Ave
Seattle, 98122 United States + Google Map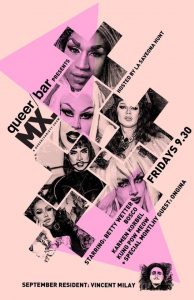 MX. is the hottest weekly drag show in the northwest! Showcasing the most exciting drag-talent in Seattle, MX takes place every Friday at 9pm, on the stage inside queer/bar! Hosted by legendary Seattle queen, La Saveona Hunt, MX stars: Betty Wetter, Kung Pow Meow, Bosco, and Karmen Korbel! Catch these queens slaying the stage together, […]Find out more »
November 15 @ 9:00 pm – 1:30 amSwallow Bar, 9608 16TH Ave SW
White Center, WA 96108 United States + Google Map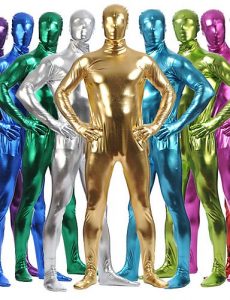 DREAM LOVER :Monochrome w/Rusty Nails Essex + special guest Arson Nicki Swallow is wheelchair accessible with a gender neutral accessible bathroom and another that is up 2 stairs.Find out more »
9:30 PM
November 15 @ 9:30 pm – 2:00 am|Recurring Event (See all)RPlace, 619 E Pine St
Seattle, WA 98122 United States + Google Map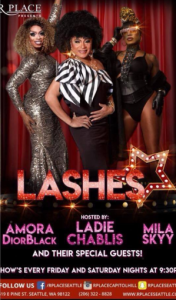 Seattle's looooooooong running weekly drag show every Saturday night at RPlace, with hosts Amora DiorBlack & Ladie Chablis & Mila Skyy plus a slew of special guests. 9:30pm to 2am 21+ w/ID Cover is usually $10/May be higher for nights with out of town guests/special events Followed by Transcendance with DJ E and Go Gos. […]Find out more »
10:00 PM
November 15 @ 10:00 pm – 2:00 am|Recurring Event (See all)ReBar, 1114 Howell St
Seattle, WA 98101 United States + Google Map

Sped Up is drag driven dance party where 4 drag entertainers compete against each other by performing class drag song choices that are sped up. The audience gets to judge who had the tightest lip sync. The top two performers will spin a wheel of speed with songs that everyone knows they just will be […]Find out more »
November 15 @ 10:00 pm – 3:00 am|Recurring Event (See all)Cuff Complex, 1533 13th Ave
Seattle, WA 98122 United States + Google Map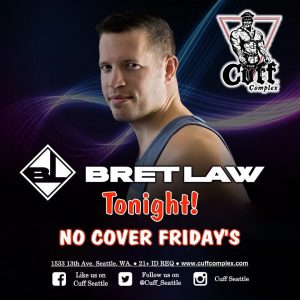 Cuff Complex opens the Dance Floor every Friday night. Country Dancing from 7pm to 10pm Resident DJ spins dance hits/EDM from 10pm to 3am Resident DJs include Dana Dub, Stacey Cooks, Bret Law, and others. Go Gos! 21+ w/ID No cover most nights! (Note: some special events might require a cover)Find out more »
November 15 @ 10:00 pm – 3:00 amKremwerk, 1809 Minor Ave
Seattle, WA 98101 United States + Google Map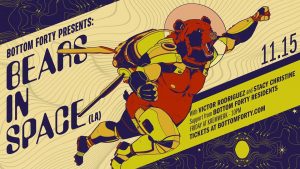 Bottom Forty is stoked to bring you one of LA's most legendary squads of veteran DJs… ✌✌✌✌✌✌✌✌✌✌✌✌✌✌✌✌✌✌✌✌ BEARS IN SPACE (Los Angeles) (Victor Rodriguez & Stacy Christine) ☯☯☯☯☯☯☯☯☯☯☯☯☯☯☯☯☯☯☯☯☯☯☯ w/ Bottom Forty Residents ~art, environment, lighting and sensory experience provided by Bottom Forty ~Bottom Forty is for everyone, everyone is welcome, communities are bonded over dance, […]Find out more »
November 15 @ 10:00 pm – 2:00 amThe Seattle Eagle, 314 E Pike St.
Seattle, 98122 United States + Google Map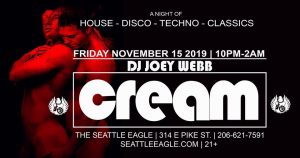 THE SEATTLE EAGLE PRESENTS CREAM with JOEY WEBB FRIDAY NOVEMBER 15 . 9PM-2AM …………………………………………………………………….. Join us for an evening of dark corner, dirty alley – CREAM DJ JOEY WEBB provide the hard edge, sexy & soulful soundtrack. HOUSE – DISCO – TECHNO #LUST#LIPLOCKING#DIRTYGUYFUN#MUSICMANIA#BEQUEER #cashruleseverythingaroundme …………………………………………………………………………………….. THE SEATTLE EAGLE . 314 E PIKE $5 AFTER 10PMFind out more »
November 15 @ 10:00 pm – 2:00 amTimbre Room, 1809 Minor Ave.
Seattle, 98101 United States + Google Map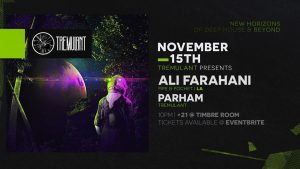 Tremulant Presents Ali Farahani Pipe & Pochet, LA https://soundcloud.com/alifarahaniofficial Parham Tremulant November 15th, 10pm Timbre Room 1809 Minor Ave. Seattle, WA http://kremwerk.com/ 21+Find out more »
November 15 @ 10:00 pm – 11:00 pmSeattle Repertory Theatre, 155 Mercer St
Seattle, WA 98109 United States + Google Map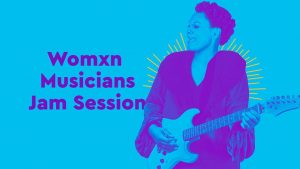 Join Womxn in Music and femme musicians for this inclusive post-show reception and jam session! Bring any instrument, and be a part of making music together in a casual environment after the inspiring musical Shout Sister Shout! about the Godmother of Rock 'n' Roll, Sister Rosetta Tharpe. Free coat check for instruments. Refreshments will be […]Find out more »